Since 1924, scientists have known about the Warburg Effect, when a team of scientists led by Otto Heinrich Warbug provided a groundbreaking glimpse into the unique metabolic behavior of tumor cells, namely their enhanced conversion of glucose to lactate, even in the presence of normal levels of oxygen. At the time, Warburg hypothesized that cancer was caused by damage to the mitochondria that forced the cell to rely on glycolysis for energy. However, due to the inability to pinpoint the exact triggers for this metabolic switch, along with other advances in cancer research and molecular biology, study of the Warburg Effect receded as a primary focus for researchers.
Recently, a growing number of researchers have rekindled an interest in the study of cell metabolism and the Warburg Effect to create treatment breakthroughs for cancer. Since multiple types of tumors use the same metabolic pathways, targeting these pathways may have wide-reaching implications for elevating the efficacy of treatments and quality of life. One such example was a study conducted at St. Louis University, that, for the first time, managed to stop cancer cell growth by targeting the Warburg Effect.
THE BREAKTHROUGH IN ST. LOUIS
The study, Broad Anti-tumor Activity of a Small Molecule that Selectively Targets the Warburg Effect and Lipogenesis, led by Thomas Burris, Ph.D., chair of pharmacology and physiology at Saint Louis University, was conducted in animal models and in human tumor cells in the lab. The researchers were able to stop cancer cells without causing damage to healthy cells or leading to other severe side effects. Unlike other methods of combatting cancer, that focus on the specific mutations of various cancer cells, Burris and his colleagues from the Scripps Research Institute targeted the cells' metabolism, which is considered to be instrumental in fighting almost all forms of cancer.
"Cancer cells look for metabolic pathways to find the parts to grow and divide. If they don't have the parts, they just die," said Burris. "The Warburg Effect ramps up energy use in the form of glucose to make chemicals required for rapid growth, and cancer cells also ramp up another process, lipogenesis, that lets them make their own fats that they need to rapidly grow."
Burris and his colleagues deployed a compound of their own creation, SR9243, which targeted a receptor that regulates fat synthesis. By eliminating the cancer cells' ability to produce their own fuel source, fat, and by suppressing abnormal glucose consumption and cutting off cancer cells' energy supply, SR9243 was able to kill the cancer cells while remaining non-toxic to healthy ones.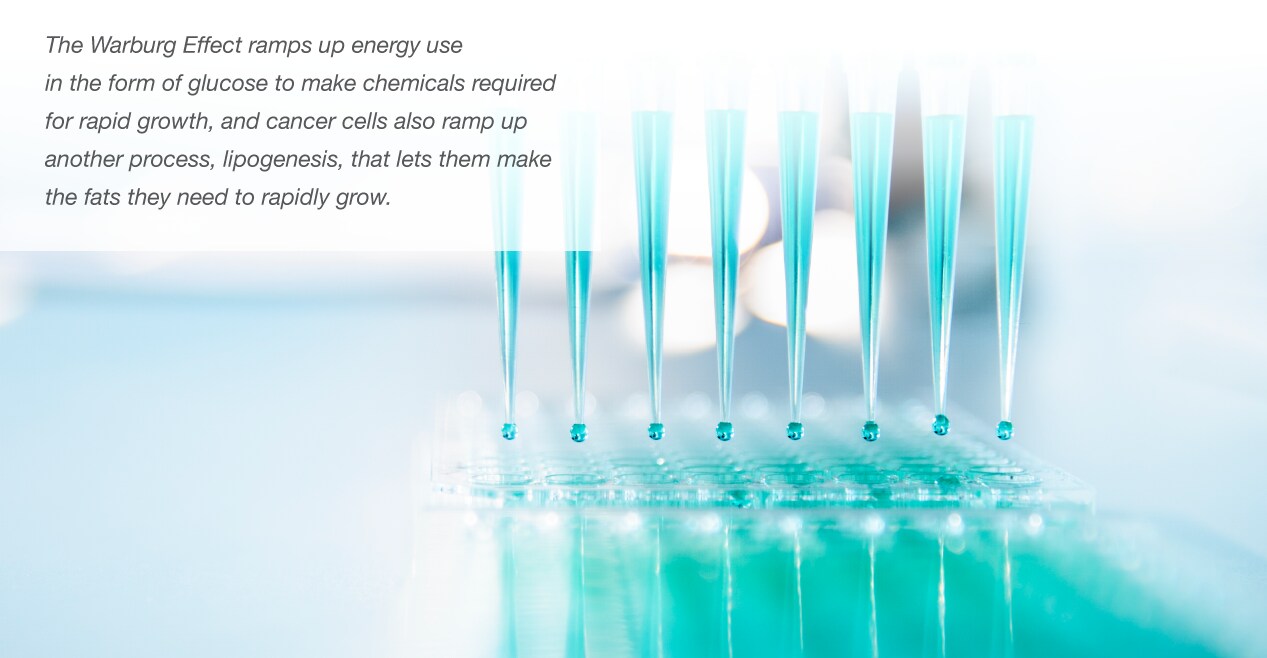 The Role of Cell-Based Assays
In addition to a focus on cell metabolism and the Warburg Effect, research commonly relies on cell-based assays involving cancer (or other) cells cultured in vitro. The importance of cell-based assays in the preclinical development process for drug discovery has risen significantly in recent years, primarily for two reasons:
1. In the preclinical phase, refined cellular models that better represent physiological and pathological conditions for cell-based assays can significantly speed development time, no small matter when dealing with 10-year timelines and steep development costs.
2. The ever-expanding knowledge of cellular pathways is enabled by assays offer up newer targets for drug development.
In addition, innovations in 3D modeling allow assays to be run not only on singular cell identities, as in the past, but on entire cellular systems, leading to more nuanced and effective therapeutic options. The ability to more closely mimic cellular environments in vitro helps refine and predict responses to novel drugs, and has the potential to prevent late stage trial failure of drugs, for reasons of toxicity or efficacy.


ASSAY TOOLS FOR DRIVING ADVANCES IN CANCER THERAPIES
The right mix of tools and technologies are needed to observe, follow, and probe deeper into cancer cellular networks. With the increased focus on 3D culturing and the need to investigate large number of drug candidates at the same time, researchers turn to advanced microplate technologies like Thermo Scientific™ Nunclon™ Sphera, that enables the formation of uniform cancer spheroids in large quantities, and Thermo Scientific™ Nunc™ Edge 96-Well Plates, uniquely designed to reduce evaporation and the risks of edge effect during lengthy incubation periods.
"What's interesting about this study is that it has broad implications for treating cancers and following a study like this, the next step is further pathways and whether or not a particular drug candidate can make it through to the marketplace," said Jeff Goldman, Director of Applications Marketing at Thermo Fisher Scientific. "3D cell culturing is a relatively new technology that enables better, more effective methodology for mimicking the way cells grow naturally in the human body. Thermo Fisher Scientific has a number of resources available to assist cancer researchers. A nice example of this is our variable oxygen control Thermo Scientific™ Heracell™ VIOSTM Tri-Gas CO2 Incubators that, grow cells in hypoxic conditions, closely resembling the natural conditions in which tumor cells grow in the human body."
Advances in plate readers are also notable for assay optimization. The Thermo Scientific™ Varioskan™ LUX microplate reader can feature a gas module designed to precisely and simultaneously control CO2 and O2 concentrations for cell-based assays.
With cell-based assays increasingly on the forefront of drug discovery, researchers require more innovative tools for their work. Combining the right approaches with these tools, like pursuing cell metabolism and the Warburg Effect, they are more likely to accelerate the pace of bringing new and effective treatments to market with long-term benefits for us all.
For more on cell-based assays and to learn how to reduce edge effects for full plate results, explore our on-demand webinar: Take Your Cell-Based Assays to the Edge
1. SLU Scientists Develop Potential New Class of Cancer Drugs in Lab
2. Cell-Based Assays: Technologies and Global Markets, Usha Nagavrapu, BCC Research