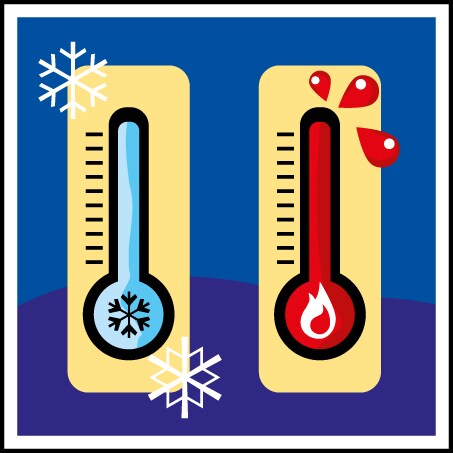 Maintaining ideal culture temperatures is vital for optimal cell growth. Which temperature is selected will depend on the origin of the cells to be cultured. In addition to culturing, there are temperature considerations when it comes to storing cells. Fortunately, there are a number of temperature solutions available to ensure your cells are given the maximum chance of survival and growth.
Providing stability
Overheating can be a much more serious problem than under-heating for a cell culture, so it's good practice to set the temperature just below optimal. An incubator will provide a stable environment, set to accommodate your cells' specific thermal requirements in order to promote cell growth. Exactly what constitutes an optimal temperature depends upon your cells:
         Most mammalian cells thrive at around 37 °C
         Insect cells require lower temperatures of approximately 27 °C for optimal growth
         Avian cell lines normally require 38.5 °C for maximum growth
         'Cold-blooded' animals (e.g., amphibians, cold-water fish) can be cultured anywhere between 15 °C and 26             °C.
When selecting an incubator, it's important to choose one that will not only hold a stable temperature, but also help to minimize the risk of contamination, maintain the correct humidity, and provide stable levels of gases. Ensuring environmental conditions are maintained, even when the incubator door is opened, will help provide the best possible conditions for your cells.
Cold storage solutions
When it comes to storing your samples, you'll need a reliable cold storage method that preserves sample integrity. Depending on the cell type and application, you can use a refrigerator, freezer, or cryopreservation device to store your samples. The desired temperature range needed for the samples and the length of time you need to store them, as well as your requirements for capacity and energy usage, will define the right cold storage solution for you.
Just as with incubation, during freezing or cryopreservation it's crucial to maintain stable temperatures for your cells. It's good practice to preserve cells in single-access aliquots to avoid repeated freeze-thaw cycles that could produce ice crystals and damage your cells.
When working with any cell cultures, maintaining consistent and predictable temperatures – from incubator to cold storage – is critical to supporting their growth.
Next Steps
Looking for more insights on attaining the right temperatures for your cultures? Here are some good resources to explore: View the recorded Cell Culture Cafe Webinar to better understand incubator parameters for sensitive cells. You'll also find additional information here.
Here is another recorded webinar to watch at your convenience to hear what our experts have to say about selecting the right cold storage solutions. Or, you can use the online selector tool that walks you through a short series of questions to help you narrow and tailor your search.