In the early weeks of COVID-19, demand for testing surged across the globe. This surge caused supply and labor shortages and a backlog of samples waiting to be tested. Hospitals and laboratories around the world worked as quickly as possible to provide patients with fast and reliable COVID-19 testing. During a recent Dark Daily webinar, the University of Colorado Hospital recounted its journey to find the right high-throughput COVID-19 testing platform to meet the unprecedented demand. By working as a team, the hospital was able to organize testing protocols and overcome the challenges of delivering COVID-19 testing to their community.
Assessing the capacity shortfall
In December of 2019, reports of a deadly virus rapidly spreading across continents dominated news circuits. To prepare for increased testing demand, the hospital piloted several systems, starting with a solution that allowed them to run nearly 200 tests per week.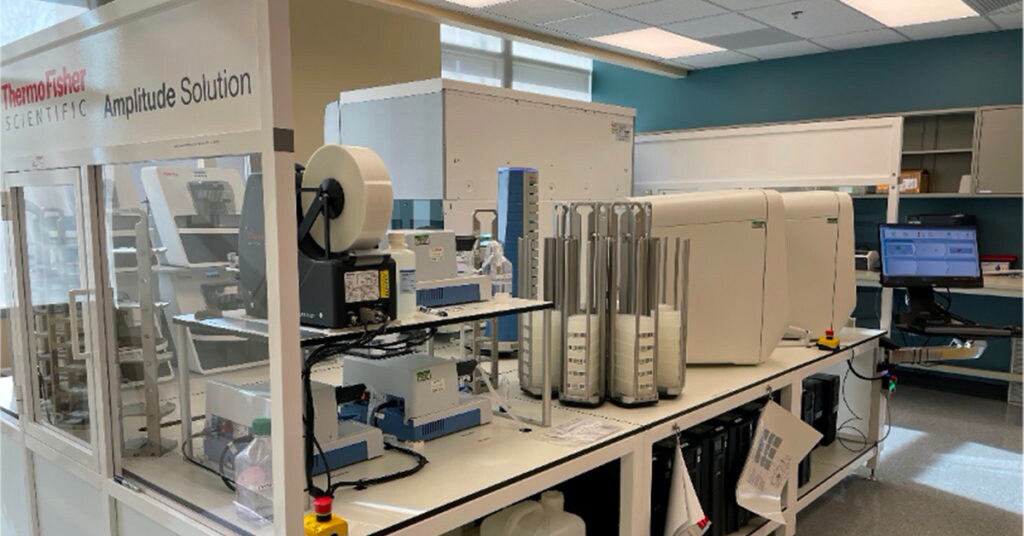 This was nowhere close to what the hospital needed—they estimated the need was closer to 2,000 tests per day.
But with a shortage of supplies and the need to continue routine testing outside of COVID-19, there simply was not enough capacity to meet testing demands.
In July of 2020, the hospital learned of Thermo Fisher Scientific's Amplitude Solution, an automated PCR testing platform designed to analyze up to 8,000 samples in a day. By mid-November, University of Colorado Hospital had made the full transition to using the Amplitude Solution to ease the burden of their testing shortages.
Returning tests faster
One of the hospital's goals was to create a 24/7 testing operation. This was possible with the end-to-end Amplitude Solution, which comes with an assurance of supply from Thermo Fisher Scientific for reagents, consumables and test kits. By supplying all materials needed on an organized pallet, the new testing solution also eased the burden on hospital staff by eliminating the need to search through lines of inventory to piece together one test.
Over the last year, the hospital has remained focused on streamlining its COVID-19 testing workflow and turnaround times. When the pandemic first hit, the hospital was sending many specimens to outside reference labs for analysis and had to wait up to six days for results to return. Outsourcing samples not only resulted in slower turnaround times, University of Colorado Hospital also ran into issues with lost samples.
By bringing all COVID-19 testing in-house with the Amplitude Solution, the hospital has accelerated turnaround times significantly: 79% of specimen results are returned in a single day, and 99% within 48 hours.
Refocusing and reallocating
With a dedicated platform to handle all COVID-19 testing needs, University of Colorado Hospital was also able to refocus on other priorities outside of COVID-19. As part of the hospital's early pandemic response, existing molecular diagnostic testing systems were diverted to handle COVID-19 testing. Once the Amplitude Solution was installed, the hospital was able to reallocate those systems for routine testing for conditions such as HIV, hepatitis, GI viruses and other respiratory infections.
The hospital has administered over 700,000 PCR tests since the start of the pandemic, with many of those tests performed on the Amplitude platform. With COVID-19 cases again rising as new strains including Delta and Lambda continue to circulate, the hospital has the excess capacity to meet testing needs for their healthcare community.
Watch the full Dark Daily on-demand webinar.
To learn more about Thermo Fisher Scientific's COVID-19 Testing Solutions, please visit thermofisher.com/covid19.
To learn more about Thermo Fisher Scientific's COVID-19 Amplitude Solution, please visit thermofisher.com/amplitude.
For Emergency Use Authorization (EUA) only. For prescription use only. For in vitro diagnostic use.