Sweden, like the rest of the world, is grappling with the ongoing coronavirus pandemic. ABC Labs is a private initiative supporting the Swedish government with testing services throughout the country. Up to 25% of all SARS-CoV-2 testing in Sweden happens through ABC Labs, with 1.85 million tests done in 13 of Sweden's 21 regions, including its sparsely populated north. We interviewed Ola Winqvist, ABC Labs's medical director, who is responsible for all activities regarding SARS-CoV-2 testing at ABC Labs.
Why did you choose the TaqMan SARS-CoV-2 Mutation Panel?
In October and November of 2020, Winqvist's team discovered that the TaqPath IVD kit they were already using could differentiate the Wuhan and UK variants from each other based on S-gene dropout. On further investigation, ABC labs determined that some non-UK samples also showed an S-gene dropout, and began developing their own assay to study this matter. Thermo Fisher Scientific was able to provide its TaqMan SARS-CoV-2 Mutation Panel faster than ABC could devise an in-house tool, so ABC used the Mutation Panel.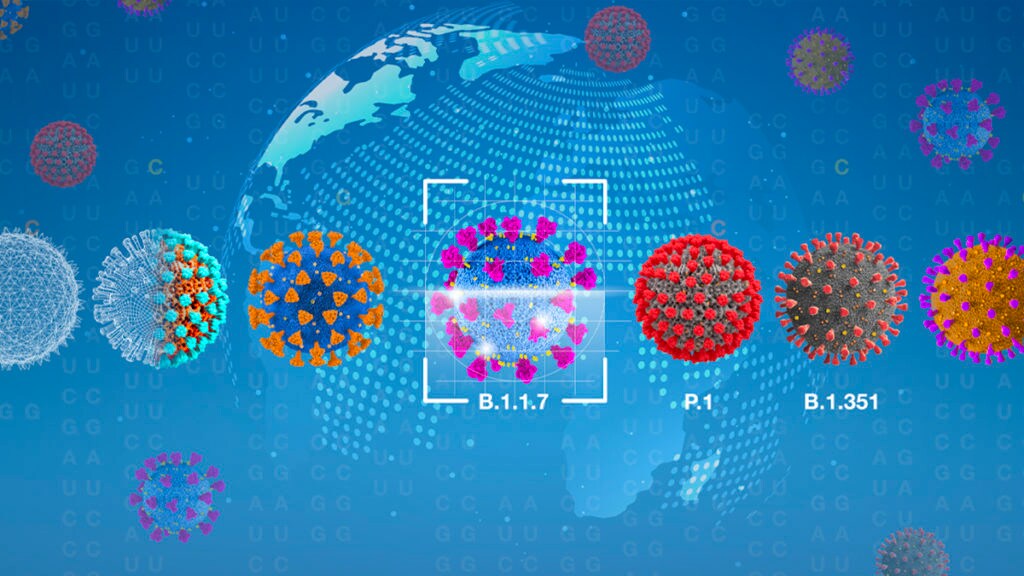 Where does the TaqMan SARS-CoV-2 Mutation Panel fit in your workflow?
So armed, ABC was able to test all positive samples for the UK variant and watch this variant go from 10% of the positives to 95% in a matter of weeks. The mutation panel continued to prove its worth as new variants emerged out of Brazil and elsewhere, enabling ABC to respond quickly to other outbreaks and identify the associated variants more quickly than sequencing could. Routine mutation testing has since slowed for ABC due to the overwhelming prevalence of the Delta variant within Sweden's virus population, but efforts are being made to improve detection of the newer Lambda, Kappa, and Mu variants.
Do you also send positive samples for sequencing?
Genotyping has proven to be an important adjunct to this kind of rapid testing, but sequencing moves far too slowly to provide the same level and speed of public health information, making the TaqMan SARS-CoV-2 Mutation Panel particularly valuable.
What mutations did you choose for your panel and why?
ABC Labs focused on variants that were officially considered as variants of concern or interest. Folkhälsomyndigheten (the Public Health Agency of Sweden) provided suggestions and ABC also sought information on variants from Pango and the World Health Organization.
Thanks to their high throughput, ABC Labs had no shortage of negative samples they could send for sequencing and then use as controls. Sequencing, similarly, provided updated controls they could use for new variants as they emerged.
How do you set up your plates?
Initially, ABC Labs used three different mutation assays, then four different ones on each plate. They run the same sample multiple times on one plate, as it is easier to plate the same sample on the same platform rather than running them on four different plates. They used Tecan Robots to partially automate the workflow for speed and error control. Logistics specialists were on hand to help optimize the workflow with robotic arms, better personnel utilization, and robotics timing.
What is your favorite feature of the TaqMan SARS-CoV-2 Mutation Panel?
ABC's favorite feature is the analysis software associated with the TaqMan SARS-CoV-2 Mutation Panel. The software made the process of generating plots from their data swift and easy. This is important for ABC due to their very high throughput; at their peak they processed 20,000 samples per day for PCR testing, with 10-15% of those being positives checked for variants with mutation panel.
Does your lab receive reimbursement for variant testing?
ABC receives reimbursement from the Swedish government for its testing efforts.
Are there additional targets of interest?
At the moment, ABC Labs is not pursuing new detection targets. However, SARS-CoV-2 testing will not go away and the pandemic remains in force. ABC Labs hopes for better tools for easily distinguishing SARS-CoV-2 from other respiratory infections before more expensive coronavirus-specific tests are invoked.
For more information about the TaqMan SARS-CoV-2 Mutation Panel, visit our web page or contact us using our contact form. Explore the interactive viewer or download a poster about the different types of SARS-CoV-2 variants and mutations that are being discovered around the world.