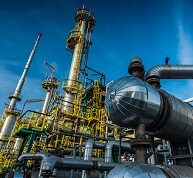 Science happens everywhere, even in remote places like Easter Island and Tierra del Fuego. Empresa Nacional Del Petróleo (ENAP) collects samples from these locations as well as from locations all over Chile to identify new oil and gas fields and optimize their fuel production. ENAP is striving to be a leader in high quality, environmentally responsible, and affordable fuel.
Like many companies, they realized that their existing IT systems were holding them back and that they needed a new, central informatics backbone to manage their geographically diverse operations.
LIMS software simplifies ENAP's data management solution
ENAP is owned by the Chilean government with operations in Argentina and Egypt and focuses on the exploration and production of hydrocarbons and their by-products. Like many oil and gas companies, ENAP had multiple existing systems in place at each of their plants and laboratories and lacked a consistent data structure. ENAP made the
decision to replace these systems with a single solution. The goal was to eliminate manual processes, in turn improving productivity, quality and profitability. By integrating their instruments and equipment directly with a Laboratory Information Management System or LIMS, ENAP knew that they would be able to move toward a paperless environment, reducing the transcription errors that are inherent to manual data transfer. With these goals in mind, ENAP selected Thermo ScientificTM SampleManager LIMSTM software to streamline not just the laboratory, but their total business.
SampleManager LIMS software was selected as part of a two-year initiative to standardize laboratory practices across all laboratories at its three refining plants in Chile. "We compared other options in the market, and we did not find another product that could manage and harmonize all processes across all our sites," said Cesar Farias, Director of Quality Control at ENAP. ENAP was able to use the LIMS to connect the laboratory to the rest of their business.
While the product capabilities were important, the experience and expertise of the services team was equally important. During the selection process, it was clear that the SampleManager LIMS software implementation team wanted to work with the ENAP team to ensure the project's success. "The team had the technical knowledge required to meet the schedule and achieve each of our Milestones" Farias added. ENAP and Thermo Fisher Scientific formed a partnership with the common goal of making ENAP a benchmark for the industry and has plans for future collaborations.
Want to learn more about the ENAP deployment?  Check out the full case study.