Yes, it's true, there may be no replacing the stir of real live face-to-face networking, or the unprompted bartering of ideas over slightly awkwardly poised coffee and finger food in the convention hall breakout space: but as many of us unfurl, de-mask and move forward in our post-COVID-19 world, one thing the pandemic has surely revealed—especially to colleagues in our stellar events teams here at Thermo Fisher Scientific—is that the virtual event format is very much a viable front-runner for equally powerful, if not even farther-reaching community engagement and inspiration.   
 This was very much central in our thinking and rationale for dispatching the second annual International Informatics Symposium 2022, in the digital form.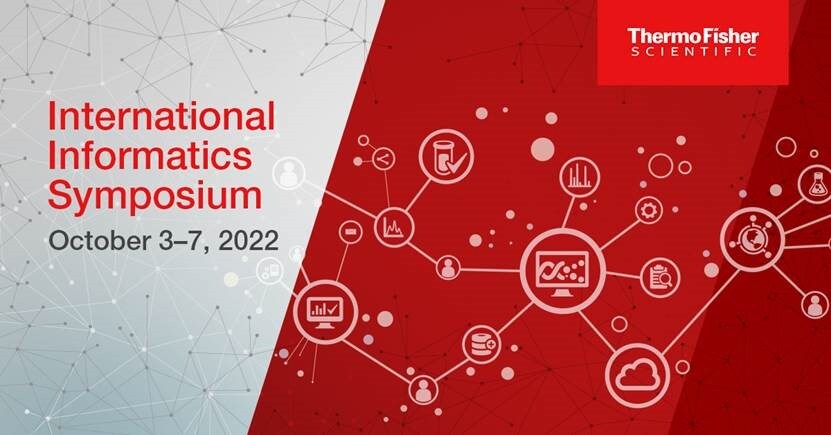 Also because we're fervent about digital science and pooling the best of our global collective knowledge and expertise around informatics, data integration and chromatography data systems, in the most useful, accessible and relevant construct: and we're determined to offer up vital insights, innovations and considerations for 2022/23, that we think can inspire, delight and accelerate your laboratory informatics science, and help illuminate a path to the evolving digital transformation of your business.  
Learn from other
s
to leverage your own lab work
Returning over five jam-packed days from 03 – 07 October 2022, this year's International Informatics Symposium pledges rigorous discussions, critical thinking and lively educational fixtures and yes, (virtual) networking opportunities.  
 With a fresh commitment to equipping our customers with everything informatics and the technology that connects more easily and seamlessly to accelerate their science, the Symposium will converge on the product features and capabilities of our laboratory informatics software and our chromatography data system, including the Thermo Fisher™ Connect Platform, Thermo Scientific™ SampleManager™ LIMS, Thermo Scientific™ Watson LIMS™ software, Thermo Scientific™ Chromeleon™ Chromatography Data System, and the Thermo Scientific™ Ardia Platform. 
Throughout the week, the program will host copious 90-minutes sessions, across time zones, to let attendees schedule content that is of most interest.  Each day will be apportioned into three topical sections. Day one kicks-off with a not-to-be-missed plenary featuring updates about the future directions of our software products, informatics and capabilities. Days two through four will stream spirited sessions focused on trending digital science industry topics, and the final day culminates with real-time educational demonstrations of our software capabilities, solutions, and integration features. 
Sharing is caring
Register now to learn first-hand from the knowledge–sharing of our industry leaders, customers and peers, as well as Thermo Fisher Scientific experts from across the spectrum of our products and software solutions, but also hear from peers including Reckitt and Chr. Hansen, who will be joining sessions as customer presenters – all sharing their real-world experiences and primed to answer your questions. 

Other customer speakers confirmed so far at 2022's Symposium include representatives from: Sterling Pharma, Charles River Labs and NAMSA.  Topic streams will cover enterprise deployment and IT system administration, business continuity and connectivity, adoption and deployment in the cloud, ways to enhance the scientific experience, tips about streamlining workflows, how to ease compliance, advances in mass spectrometry data management, data lifecycle management and data integrity, as well as best practice tips from our support and services experts – all designed to help you get the most out of your software and your digital transformation now, and in the future. 
Don't just think about taking part on the virtual event
While October will be with us in the blink of an eye, there may still be time to take part in the event, by sharing your own encounters and acumen at the Symposium. If you are eager to present your experiences and insights at this, or a future Symposium, please reach out at: melissa.magliola@thermofisher.com. Or if you're looking for presenter inspiration, or an idea of what's to come, check out some of our on-demand presentation content from 2021's event. 
 

A veritable, virtual smörgåsbord of all things informatics 

 

Places are limited at the informatics event of 2022, to inspire you to take charge of your laboratory analysis, and to reach the efficiency, connectivity, data compliance and integrity milestones that matter most. With some of the brightest, innovative and resourceful minds from across the world of digital science and chromatography, offering the sharpest insights and sagest advice on how to tackle the biggest challenges you face in the lab, there is no doubt that this year's International Informatics Symposium will be remarkable. In fact, it's going to be a (virtually) unmissable happening. We look forward to meeting you there!