In Part 1 of this blog, we looked at how Thermo Scientific™ SampleManager LIMS™ software is helping drive efficiency and productivity gains at Marathon Petroleum Corporation (MPC).  As the largest refiner in the U.S., MPC had a critical need to centralize laboratory operations with an enterprise LIMS deployment covering 17 operating units. 
MPC chemist and LIMS Administrator Seth Heupel spoke about his experience with SampleManager LIMS software during a recent webinar with Petro Industry News.  Heupel has over 10 years of experience in MPC laboratories, starting as a laboratory technician and advancing to bench chemist and LIMS administrator.  These roles provide Heupel with a unique, hands-on perspective on process digitalization and its impact on laboratory efficiency.
Heupel credited two SampleManager LIMS software functions for the efficiency and productivity gains realized by MPC: forms and workflows.  Since we discussed forms functionality in our previous blog, let's take a closer look at workflows.
What are workflows
Workflows functionality helps automate your laboratory decisions and improve your ability to respond to the needs of your business.  Workflows can execute processes using a decision tree format, with actions based on the result of a previously executed step. For example, you can configure workflows for an assay where next steps are determined by whether the results failed or passed. Workflows can email a group of stakeholders with results, create a re-test in the event of a failure, prompt an analyst to enter information, and more.
In the past, one of the criticisms of LIMS was that it required extensive customizations to support specific laboratory processes.  This meant that when the business needed to change, either to introduce a new product or change the manufacturing and testing processes for an existing product, the lab had difficulty adapting to these changes because the system was locked into the old process.  With workflows functionality, this is no longer the case.  Workflows are built through a simple, graphical interface and can easily be changed as needs evolve.  They are also version-controlled, so you can prepare and test a workflow before introducing it to your system.
You can configure workflows to control and automate a variety of testing processes, including sample collection and receiving, test execution, results entry, results verification and authorization, exception reporting, and issuance of a certificate of analysis.  These workflows make processes easier and more efficient for users, and help reduce the possibility of error.
Workflows in action
MPC began using workflows for sample login only, but quickly found a variety of uses within their laboratory.  Workflows functionality now helps MPC manage sample lifecycles, methods and jobs.  "One of the best uses we've found," Heupel said, "has been on test methods."  Like most regulated laboratories, MPC has instances where additional regulatory or administrative requirements apply when test results are outside the acceptable range.
This sample workflow helps MPC meet the EPA requirements on aromaticity.  In this workflow, MPC performs a cetane index estimation using distillation and gravity.  If the estimation falls below the defined threshold, MPC must perform an additional test to determine the aromaticity of the sample. Using workflows functionality, the LIMS automatically creates the additional test and alerts the user that the sample requires further testing.  Workflows help automate the regulatory compliance process without requiring a chemist to manually intervene.  "This is very helpful because it takes a good percentage of another chemist's time when it comes to reviewing data, and now this task is automated for them going forward," Heupel said.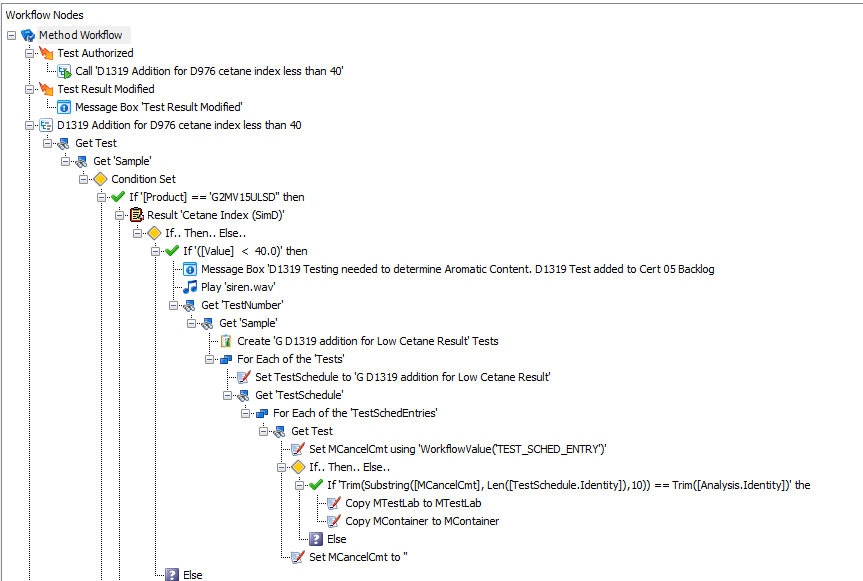 Workflows have not only helped MPC automate compliance requirements, but also helped automate other administrative tasks.  "Workflows allow for a lot of administrative tasks to be automated," Heupel said.  "Any action on a test can be used as a trigger for another action.  So, if the test is cancelled, authorized or completed you can assign steps like send out an email.  Workflows are a good step forward in eliminating that paper-based process and making them digital."
Watch the webinar to learn more
To learn more about MPC's experience with SampleManager LIMS software, and how forms and workflows help automate laboratory processes for improved efficiency, you can watch the webcast replay on-demand.  You can also visit our website for more information on SampleManager LIMS software solutions.