Thermo Fisher Scientific empowers its customers to make the world healthier, cleaner and safer. We strongly promote the power of collaboration in reaching these goals – which is why we're part of the Pistoia Alliance, a global not-for-profit alliance working to lower barriers to innovation for R&D in the life sciences.
On May 21, 2020, the Pistoia Alliance hosted a virtual webinar as part of its 'Lab of the Future' project, which is exploring how industry collaboration can enhance the integration and use of data and laboratory infrastructure. The webinar brought together expertise across analytical methodology and digitalization, systems integration, and laboratory connectivity, with a focus on the value of centralized, scalable ways of working in today's fast-paced global landscape. I joined a host of knowledgeable speakers to discuss how life science laboratories can utilize automation and integration to address key challenges, deliver the best possible performance, and weather stochastic events, such as the COVID-19 outbreak.
If you missed the webinar, don't worry; we've recorded it for you to enjoy in full at your convenience here, and provided an overview of the key takeaways below.
Removing the roadblocks to scale-up
Laboratories are facing increasing demands on their time, manpower and finances. Overcoming these and other challenges requires a new approach to sample analysis – one that incorporates automation, integration and greater connectivity between instruments and software. The value of rethinking traditional ways of working has been clearly highlighted this year by the COVID-19 pandemic; in response to this global and rapidly evolving public health crisis, tens of thousands of scientists are redeploying, laboratories are shifting their focus, and the broader scientific community is seeing unprecedented levels of collaboration and coordination.
Such collaboration is key in scaling up laboratory activity, while also reducing the time from sample to result. In fact, capacity is front-of-mind for many laboratories. A new 'mega-laboratory' in the UK, for example, aims to scale up from processing a few thousand swab samples per day to 100,000 or more. This laboratory is part of a diagnostic laboratory network – Lighthouse Labs – established across the country to support national efforts in fighting COVID-19. However, many testing protocols include numerous manual touchpoints. While this remains a key hurdle in scale-up, it is one that automation can help to overcome.
By reducing reliance on manual processes, automation alleviates the pain points experienced throughout sample analysis, and removes the roadblocks to scale-up. Automated workflows for sample testing can help laboratories accelerate their analysis, overcome process challenges and deliver optimal outcomes. This is critical when testing must be efficient, flexible, scalable and fast – as in efforts to fight COVID-19.
A growing need for integration
Integration is valuable across the entire laboratory workflow at all scales, from the smallest to the widest perspectives – from instrument to system.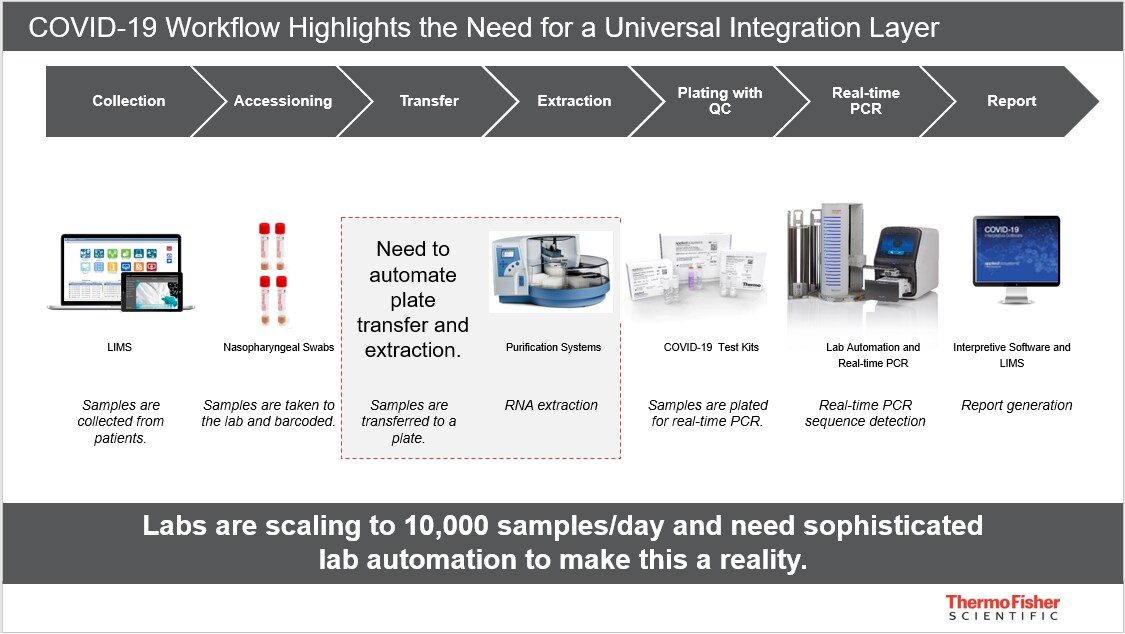 Manual workflows begin with a sample being taken from a patient, a test order being placed, and the sample being packaged and sent to the testing laboratory. The sample is then unboxed by the laboratory, inspected for integrity, accessioned and processed, before data reporting and interpretation takes place further down the line.
Each of these steps introduces opportunity for error – but when these steps are automated and integrated using advanced solutions, this error risk reduces. Thermo Fisher Scientific's laboratory information management system (LIMS) solutions, for example, connect the different elements of a workflow to bring greater software integration and laboratory automation. As these solutions are preconfigured and adaptable, they can be applied by facilities of all sizes.
The value of a universal integration layer
Despite the various workflow solutions available, full integration remains a technically challenging, costly and time-consuming goal, and 'plug and play' solutions that can be 'mixed and matched' between different types and stages of workflow with full functionality are not yet available. As a result, laboratories are introducing automation in numerous different variations and configurations to advance their testing capabilities, whether this be building a new facility from scratch, repurposing existing components, or utilizing a hybrid of new and borrowed instrumentation.
To address this integration gap, there is an immediate need for interoperability of different portions of the workflow – a need for a universal integration layer to bring together both new and existing devices and software in the laboratory. Integration would remove the need for each new device or software product to be fully configured from scratch, and minimize the cross-vendor collaboration required to support a customer workflow by instead providing a centralized system of control.
These advances in automation and universal integration are relevant not only for currently pressing issues, namely COVID-19 testing, but in laboratory environments across the industry (in next-generation sequencing workflows, for example, which have numerous workflow steps, instruments and levels of complexity, and see considerable vendor heterogeneity). Overall, they hold the key to efficient, effective capacity scale-up.
Don't miss out – access the full webinar
Fully integrated, automated, centralized workflows – an area of focus for Thermo Fisher Scientific's Digital Science division – hold the potential to realize a true 'plug and play' approach to laboratory robotics. To find out more about how your laboratory can rethink its response to sample analysis in the face of increasing global challenges, access the full webinar now.