Exploring how digital transformation will revolutionize process optimization and decision-making within the pharmaceutical industry
Digital transformation is enabling the adoption of Industry 4.0 pillars and concepts in pharmaceutical manufacturing. This 21st century industrial revolution, termed Pharma 4.0 by the ISPE, is being catalyzed by the adoption of networked systems, data analytics & advanced automation. Together, these innovations are pushing the limits of efficiency, agility and quality across the pharmaceutical supply chain. With forward-thinking pharmaceutical companies expediting their plans for digital transformation following the COVID-19 pandemic, those that don't yet have a strategy for managing this change risk losing a key competitive advantage. Here, we look at the key factors pharmaceutical companies should consider when preparing for Pharma 4.0.
Enabling Pharma 4.0 through digital transformation
Pharma 4.0 heralds a new era for pharmaceutical manufacturing, characterized by increased efficiencies through process visibility, faster decision-making and real-time system optimization.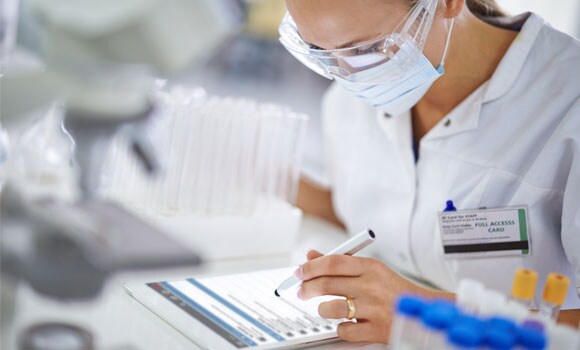 Take advances in automation and robotics, for example. Modern automation now enables work to be performed faster, on a larger scale, and with a degree of accuracy and precision previously unimaginable. These engineering control strategies allow scientists to spend less time on routine, repetitive tasks, and instead focus on higher-value work. What's more, integrating robotics with networked devices and smart sensor technologies is enabling the creation of sophisticated cyber-physical production systems that allow manufacturers to use resources more efficiently and prevent or mitigate supply chain disruption.
Other efficiencies made possible by Pharma 4.0 are expected to come from the closer alignment of product development and production processes. By leveraging data from all phases of the product life cycle, including design, manufacture, and delivery, next-generation value chains will benefit from smarter decision-making and enhanced innovation, helping pharmaceutical companies shorten the time between product conception and delivery.
Many businesses have already taken the first steps toward Pharma 4.0. However, with so many options and technologies to choose from, a seamless transition can be challenging. To help streamline the transformation to Pharma 4.0, it's critical for organizations to leverage sound change management principles and evaluate the transformation from a people, processes, and technology perspective.
1. Putting people at the heart of your change management blueprint
Technology is a key enabler of digital transformation and should be a fundamental focus of any Pharma 4.0 strategy. However, to ensure everyone sees the value in digital transformation, it's essential that people remain at the heart of your change management plans.
Research suggests that 70% of organizational transformations fail, in large part due to poor communication and a lack of buy-in from teams. The lesson for business leaders is, bring your people with you. So, when it comes to setting out your Pharma 4.0 roadmap, it's essential to engage with your leaders and employees and involve all departments in the decision-making process. This will help you plot a path that will benefit the whole organization – including the people who'll be using these new technologies first-hand. In addition to strengthening your strategy, proactively consulting with colleagues will boost trust and increase willingness to engage meaningfully with digital transformation. Conducting regular digitalization upskilling sessions, creating communities of practice, and including digitalization aspects in colleague's development plans are simple but effective ways to create the energy and fluency level that will help the organization to prepare the workforce to embrace the changes.
For some employees, change may be a source of anxiety, especially if it's unclear what the future holds. Therefore, once everyone has been given a voice and your roadmap is agreed, it's important to develop a communication plan that gives colleagues visibility into your digital transformation program. As part of this, you'll want to set out your organization's goals and the strategy you'll take to get there. This clarity of vision should be supported by local advocates and champions who can make the case for digital transformation within individual teams and answer any questions from colleagues, further empowering all individuals to support change.
2. Planning for process change
Digital transformation is already improving throughput, efficiency, quality and visibility across the pharmaceutical value chain. To realize the full potential of connected technologies for process optimization, it's therefore important to consider how workflows may evolve in future, and adopt the right informatics solution to facilitate this transition.
Integrated informatics platforms bring data together in a meaningful, organized way, simplifying retrieval and allowing operations to be managed as a single workflow. These data management solutions also enhance and maintain the integrity of information by eliminating transcription and making data securely accessible to authorized users. For example, with equipment connected via a laboratory information management system (LIMS), laboratory professionals can download instrument parameters direct to the equipment itself, eliminating the errors associated with manual set-up and making analysis faster.
Other solutions, such as laboratory execution systems (LES), are helping organizations drive improvements in quality by walking users through SOPs using on-screen commands, which can be particularly useful when training new colleagues and improving quality metrics such as Invalid Out of Specifications. These systems are designed to ensure the highest standards of data integrity by reducing the potential for incorrect or incomplete information, strengthening digital readiness for the opportunities presented by data analytics. By considering the impact of digital transformation on their processes and adopting the right informatics solutions to support seamless data sharing, organizations will be well placed to capitalize on the benefits of Pharma 4.0.
3. Preparing for emerging (and disruptive) technologies
The growing affordability of exponential technologies such as those that enable artificial intelligence is bringing previously cost-prohibitive tools to the mass market, reducing production costs and enabling the creation of more individualized products and services. Given the disruptive nature of these technologies, it will prove increasingly important for pharmaceutical manufacturing chains to be operationally agile. Informatics solutions that offer the versatility and scalability to extend capabilities as business needs change will give pharmaceutical manufacturers the best competitive advantage.
Ongoing advances in predictive analytics are enabling manufacturers to draw on vast pools of data, including information on warehouse storage conditions and instrument parameters, to troubleshoot problems, optimize processes and boost productivity. Informatics solutions play a key role in the success of data analytics tools by maintaining the integrity of data by automating processes and eliminating manual transcription, ensuring decisions are based on the most accurate information. With data the new currency for success, the most efficient and competitive manufacturers in the new Pharma 4.0 landscape will be those with the most robust and effective informatics infrastructure, who can utilize their data to optimize their processes.
Are you ready for Pharma 4.0?
Digital transformation has arrived, promising a wealth of opportunities for the pharmaceutical sector. By defining your organization's goals, creating a clear roadmap and implementing a strong informatics infrastructure, companies can streamline their digital journey for a more seamless and efficient path to Pharma 4.0.
Look out for the next blog in our Pharma 4.0 series, which looks at the value of an integrated laboratory ecosystem.