Digital technologies are changing the way that we work and are creating opportunities for life science companies to get the next generation of life transforming treatments to market more quickly and efficiently. This year, the Pistoia Alliance is supporting the Lab of the Future Congress, gathering leaders within the life sciences industry to discuss and debate best practices for implementing a connected digital ecosystem and what benefits can be derived from that. I'm honored to join one of the keynote panels to discuss how we can pick up the pace and build for scale in these efforts. As part of this on-going industry conversation, I'd like to share with you some of my thoughts and insights on digital transformation.
The tipping point for Digital Revolution in Pharma
I have been involved in the digitization of the scientific process for nearly 20 years, originally helping with the transformation of the procurement process. More recently, I have been working with customers to understand how digital technologies can be used, not only to support ancillary work processes but to transform the lab environment itself — a prize that has eluded the industry for many years. In a recent conversation with Beth Comstock, the former Vice Chair of General Electric, we were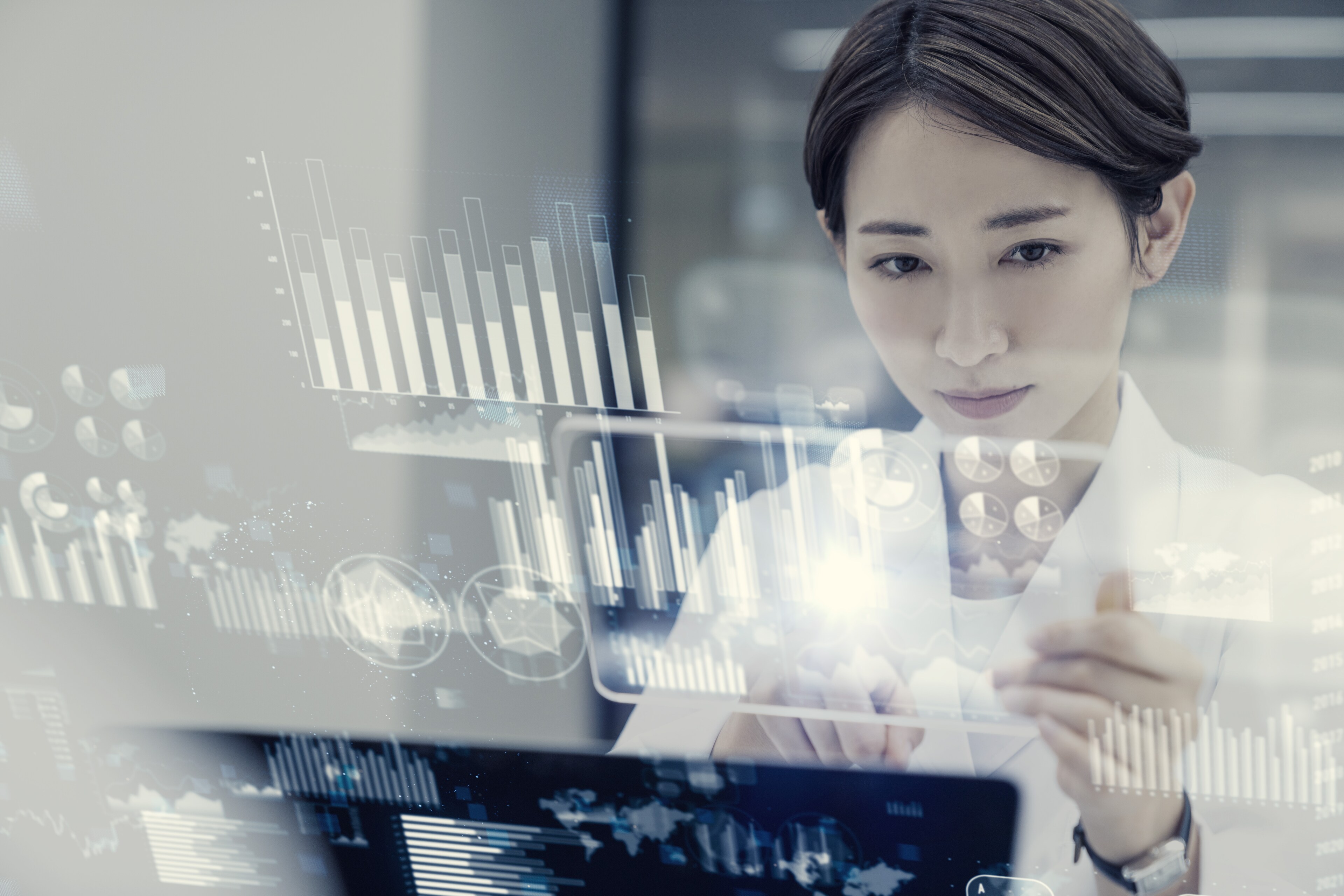 discussing how some industries (banking, retail and others) had embraced productivity through digital capabilities but that our industry seemed to be lagging. I asked her to help me with how to judge the speed and timing of market innovation. My question was, "with all these false starts and missteps, people getting stuck with limited proof of concepts but not achieving scale, why do we believe now is the right time?" Her response was a memorable one – she quoted Ernest Hemmingway – 'change happens gradually, then suddenly.'
This resonated with me. It could easily be used to describe the digital transformation of the procurement process, which I was involved in for many years. It started with the early days of EDI connectivity, then grew into the development of websites, eCommerce and eventually procurement platforms, improving the human experience and adding content and functionality to create capabilities and drive efficiencies that are considered absolutely the norm today. Through this process we created a destination for the industry, built a $5 billion transactional channel for the company and, most importantly, supported a massive change in customer behavior – one where they could find, decide and buy autonomously at their own time and convenience. While it took time to build the infrastructure and lay the groundwork, there was a tipping point and now there is a new normal – imagine life without eCommerce – it's impossible! In the near future, people will say the equivalent in the lab – 'remember when you had to manually transpose data?', 'remember when you had to call a service engineer if a machine had failed'. All the technology pieces are there so that soon, those ideas will seem as outdated as using a fax machine to order reagents..
After many years of promises and false starts, we now find that the stars are aligning – we have the necessary business drivers, coupled with technical maturity, and crucially business readiness to change. As an industry we can realize the step change benefits of large-scale digital transformation that have disrupted and transformed many adjacent industries, but there is a trap we need to avoid often described as 'Proof of Concept Hell', where well-intentioned but ultimately non-strategic projects prove technical viability but don't have a route to scale or provide meaningful business impact. In large distributed companies, this is a very real danger. To achieve scale, we need careful ideation, scope and design. We need to work together using industry bodies to align on open standards – for connectivity, data and data transfer. We have to consider business impact and value realization beyond just the availability and utility of niche technologies. It will require a flourishing ecosystem of players offering unique capabilities to come together to help customers to realize the full opportunity. We have done enough of 'gradually', we are ready for 'suddenly'.
Business drivers look toward digital solutions
I am privileged to work with thought leaders across our industry to understand how digital transformation can revolutionize the way that they do science. As we engage with our customer base – from very large-scale Pharma businesses with incredibly complex organizing structures, supply chains and operations, to emerging technology-driven startup businesses with only a few employees in a single facility developing a novel technology they are taking to market – three common themes emerge in their desired outcomes from digital projects:
Accelerate Discovery – we see this especially when we are working with R&D teams or innovation partners. The driver is to gain quicker access to the data, to make it more useable, to put it in the place it needs to be to foster collaboration, design experiments more effectively or innovate the experimental process. In these engagements, a heavy focus is on the core data architecture and how that can be constructed using FAIR principals to get the maximum value from that business asset.
Drive Productivity – this takes many forms, but it always comes from either a measured understanding or a visceral feeling that their operations are not running as efficiently as they should, that the investments they have made didn't yield all the value they expected or that there are better ways to do things. There is often an emphasis on optimizing the physical assets in the lab, ensuring that Human Resources are able to focus their efforts on scientific value-adding work rather than engaging in low value repetitive tasks, ensuring the lab is correctly provisioned for the work that is being done, and that the equipment required is fully operational and available when it is needed.
Manage Risk – the third driver we encounter is the growing desire to use digital systems to manage risk. A specific problem here is data integrity and the creation of data silos and 'cracks' in the data flow that can lead to data integrity issues caused by manual transcription, offline processes, and lack of data compatibility between systems. Especially as we work in manufacturing environments where formal compliance and risk management standards exist, it is very standard to want to put in a fully auditable system in support of FDA compliance etc.
Organizing for success
Increasingly we are seeing these digital ambitions formalized into recognizable programs, and there is a move away from technology driven conversations in which the feasibility of a particular technology is investigated by a single team or workgroup. We find that the key deliverable now is creating a route to scale. Whilst Proof of Concepts (PoCs), pilot programs and "Digital Lighthouses" have been useful in testing the water, they are limited by their lack of integration, and crucially their inability to grow to support the scale and aspiration that is required to deliver measurable business impact to executive sponsors and C-Suite leaders. We have been working with our partners at Accenture to build a formal process based on agile principals to consider the flow from the initial ideation and North Star visioning through system evaluation and design, technology incubation and finally industrialization. It allows for course correction, timing changes and accelerated value realization, but it conceives ideas in the context of eventually achieving scale and operational impact, not allowing Proofs of Concepts to be self-contained but rather framed as part of a bigger deliverable. We believe there must be a holistic view of the delivery of digital solutions, which not only establishes their business value and business impact but also considers scaled delivery. This requires more work up front in the technical design, the data architecture and formalizing a "North Star Vision" to align the organization around. It requires a programmatic approach with formal program management, a dedicated leader, executive sponsorship, an agreed budget and specific measurable milestones.
Thermo Fisher at Lab of the Future Congress
This is why events like the Lab of the Future Congress and organizations like the Pistoia Alliance are so important. They provide a mechanism for communication between thought leaders and an opportunity to drive real change in the industry. I look forward to talking with you at the Lab of the Future Congress. Leaders from Thermo Fisher will be present at booth 118 to discuss our vision and thoughts on implementing a connected digital ecosystem. We encourage you to come meet with us and see how we can work together to get life-changing therapies into the hands of patients more quickly. You can also download our digital transformation whitepaper to find out how industry leaders are embracing digital transformation and positioning their organizations for success. The future is now, it's time to change the world together.