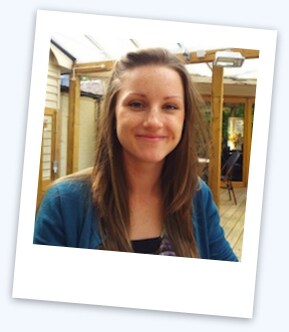 Naomi Osborne is a Senior Development Scientist for the Microbiology Division of Thermo Scientific.
So what exactly do you do?
I am a Development Scientist within the Industrial Culture Media R&D team based at Basingstoke, UK. My role involves developing novel culture media as well as improving existing products for improved detection and enumeration of food-borne pathogens.
What does your average day comprise?
My day is usually quite varied, which I love. Most mornings you will find me at my desk researching and planning experiments and at my bench in the afternoon with a Petri dish in one hand, and an inoculating loop in the other. Starting early, at around 8am, means I can get home by 5pm most days, giving me time to fit in some science blogging, cooking (or learning to) and Pilates.
How did you get where you are today?
Following my A levels, I went on to study at the University of Leicester, attaining a degree in Biological Sciences. I chose not to specialise in microbiology, but this was the subject I found most interesting so I decided to apply for jobs in the field, and was successful in securing a position as a Thermo Scientific intern in 2009. Working within the Novel Reagents team, my role involved researching on novel antimicrobial compounds. After a year as an intern, I managed to gain a permanent role within the company, and have recently moved to the Industrial Culture Media Development team, where I am continuing to develop new skills and expertise.

What have you felt most proud of being involved with in your working life?
My internship was part of a Government funded project, called the Economic Challenge Investment Fund (ECIF), set up to investigate how changes could be made to academia to meet industry needs. Being involved in this project allowed me to provide details on the skills gaps I had experienced on my transition from University to industry that went towards improving undergraduate courses. These altered courses should better equip students for starting out in the BioPharma industry by providing them with more relevant skills, something I feel proud to have been a part of. During the internship, I gained a wealth of experience during my placement at Thermo Scientific, which allowed me to secure a position within the company, and subsequently, transfer the skills I had acquired to other departments.
What are your challenges moving forward?
Failing experiments! But alas, this is part of being a scientist, and the main challenge is staying optimistic when experiments do not turn out as hoped, especially when an experiment from a published paper is replicated but does not yield the same results (I imagine many scientists out there would agree!).
What are your top 3 favourite websites, and why?
Exploring the Invisible. This is a fantastic website on microbial art, where Professor Simon Park displays microrganisms in the most beautiful ways. If this interests you, also check out MicrobialArt.com
Science Daily. Finding time to keep up with scientific advances can be difficult, but Science Daily provides stories based on press releases, keeping you in the loop of research considered important enough for news.
Not Exactly Rocket Science. This is Ed Yong's blog on National Geographic, a fantastic science writer discussing fascinating topics.
Where can we find you? Connect with me on Linkedin, and follow me on Twitter @Naomi_Osborne_
This is one of a series of occasional interviews with some of the minds working within Thermo Scientific for the food and beverage market. If you'd like to know more about how we may be able to help you, please contact us here. If you're interested in working for Thermo Scientific, then get learn more about us and see current vacancies here.