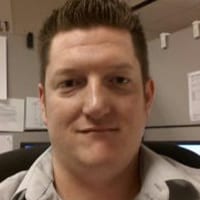 Craig Manthe is a Molecular Technical Service Representative in the Thermo Fisher Scientific Microbiology Division in Lenexa, USA, and a contributor to this Examining Food blog.
So what exactly do you do?
My primary responsibilities are to support our customers who use our Thermo Scientific SureTect and PathoProof product lines. These products make use of the quantitative Polymerase Chain Reaction (qPCR) to detect pathogens in food and raw dairy samples. I work with the Technical Service team for the Microbiology Division in Lenexa, KS. We are a cross-functional team that brings many different backgrounds together, which creates a cohesive and dynamic environment to help our clinical and industrial customers.
I also work closely with marketing to ensure the needs of our molecular customers are closely aligned with the goals of the molecular product management team. This ensures continuous feedback so that real-time decisions can be made to positively affect customer relationships. In the past, I've served on a Practical Process Improvement (PPI) team to help reduce shipping costs for Thermo Fisher Scientific, and I also train my department on the molecular products I support.
What does your average day comprise?
A typical day for me starts early. I'm usually up before the sun without an alarm, which is quite annoying! During the week, I help my wife get the kids ready for school, drop them off, and then it's off to work! I love taking my kids to school for many reasons, but two of my favorite reasons are to give them encouragement before they start their day, and because they go to school before I go to work, it helps me stay on schedule!
Most of my day is spent at my desk answering customer phone calls. We get a wide variety of calls every day and we never know what to expect. This is good because it keeps you on your toes, but at the same time, you have to prepare yourself to know the answer to anything you're asked. Aside from professional experience, the most important part of the job is to know where to find information. If the answer isn't immediately obvious, knowing where to look for answers is a key component to getting the job done. Occasionally, I will travel to customer sites if product training or hands-on technical expertise is requested. It is nice to have the flexibility to travel while maintaining a regular schedule. The hardest part of my day is staying at my desk. I like to be on the go and engage others around me. By nature, I am analytical and creative. My job allows me to entertain both avenues, but I strive to find more creative responsibilities as I grow into this role and with the company.
I live close to work, so I typically go home for lunch. I let my dogs out, play with them, relax a bit, and then head back to the office. Having the ability to go home every day for lunch helps reduce stress and maintains a healthy balance in my personal and professional lives. I relax by going home to my wife and kids every night. The kids keep us busy with sports and homework. When I'm not at work and with my family, I spend my time working on an MBA at Baker University. This is usually accomplished after the kids go to bed during the week and throughout the weekend.
How did you get where you are today?
I have been with Thermo Fisher Scientific for seven months. Before joining the company, I spent the previous ten years doing research in the fields of cancer biology, drug discovery, tissue engineering, and developmental biology. In order to be a Molecular Technical Service Representative, several years of experience are required with qPCR and other molecular techniques. When I interviewed for this job, I was looking for a position where I could use my scientific background and have the opportunity to grow within a company. Thermo Fisher Scientific met both of these requirements and has been a great fit thus far. I'm not exactly sure what the future holds, but I believe it will be a bright one if I stay with the company in this capacity or another!

What have you felt most proud of being involved with in your working life?
There are two accomplishments I've been involved with in my career that I call "My Crown Jewels". The first jewel added to my crown was when I worked in a drug discovery lab as part of the University of Kansas Cancer Center. We published a paper on an experimental drug that was effective in regulating the activity of cancerous proteins important in the progression of prostate cancer. It was extremely rewarding to contribute to a project that has the potential to impact the lives and treatment outcomes of so many people.
The second jewel wasn't added to my crown until I began working with Thermo Fisher Scientific. I had the opportunity to train a new customer on a PathoProof evaluation. I traveled to the customer site with a marketing manager to provide real-time support and ensure successful use and adoption of the product. After the training trip, I continued to work with the customer to resolve minor issues they encountered after we left. The evaluation was a success; they liked PathoProof and appreciated the support they were given and began placing orders. It was extremely rewarding for me to use my background to help a customer with their scientific needs and to bring new business to the company.
What are your challenges moving forward?
The biggest challenge I see in the food safety industry is the adoption of new molecular technologies for pathogen testing. In general, scientists are interested in the latest and greatest technologies, but are hesitant to adopt them because they already have a system in place that is working for them. This challenge will be overcome by superior analytical sensitivity and specificity, time to result, and service.
What are your top 3 favourite websites, and why?
Google – it has everything and then some. From the best search results to innovative apps for virtual collaborations, Google is a technological powerhouse that will only continue to grow and touch our lives on a daily basis.
Twitter – the best place on the web to get real-time updates on news, sports and friends and family. I rely on Twitter to bring me the most up to date stories that I care about, and then follow up on them from other sources. I like to think of Twitter as the "iTunes of news." Just as iTunes began offering songs for individual purchase without having to buy the entire CD, Twitter allows users to get the news or other stories they care about without having to read through or watch an entire news report.
Oligo Calc – when I worked at the bench and was designing PCR primers, this was by far the most accurate tool when it came to calculating melting temperatures (nearest neighbor method), GC content, and other important thermodynamic information. It's great for any molecular biologist who is performing PCR and molecular cloning!
Where can we find you? Here on LinkedIn, and on Twitter @cambio81. Enjoy!
This is one of a series of occasional interviews with some of the minds working within Thermo Fisher Scientific for the food and beverage market. If you'd like to know more about how we may be able to help you, please contact us through the blog contact button.
If you're interested in joining Craig and working for Thermo Fisher Scientific, then learn more about us and browse our current vacancies here.