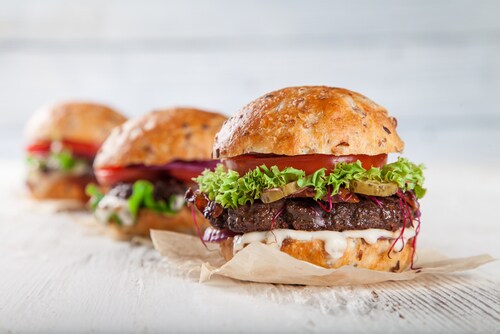 Is that burger truly 100% beef, or might there be a side order of horse or pork lurking under the bun? Ingredient authentication in meat products is an important aspect of consumer service in the meat industry. Meat is also a tricky food to test because visually, especially in a processed final product, all meat looks similar. Luckily, the food safety industry has some useful tools available for producers.
But first: why is it important to check that 100% beef is exactly what it says?
Food hypersensitivity and allergy: Although not strictly a safety concern for most consumers, allergy should always be a prime consideration for ensuring the authenticity of food ingredient labels. Allergies to different meat species are uncommon, but they do exist. This is also the case for veterinary hypoallergenic prescription diets, formulated to limit animal protein exposure. Since these diets are also used as elimination diets in the primary diagnosis of food allergy in pets, failure to list protein sources has serious consequences in subsequent treatment and clinical management.
Consumer preference and religious observance: Traditionally, horsemeat is not part of the British diet, although it is readily available in mainland Europe. Consumer preference makes it a taboo. The 2013 UK tainted horsemeat scandal, where analysis showed beef, pork and other processed meat products contained substantial levels of contamination with horse flesh, caused considerable consumer concern. Consumer suspicion seriously damaged brand loyalty. People also choose to avoid certain species for religious reasons; inadvertent consumption can cause serious distress.
Source and origin: Contamination can be accidental, but it can also be deliberate. Intentional substitution with lower-quality ingredients is sometimes used to fraudulently boost profits from a specialized product. It is possible to check that organic bison is indeed so, and not minced beef, and that wild boar sausages are not just from the local pig farm. As shown by the UK horsemeat scandal, finding stray meat in a processed food product raises questions over traceability of ingredients.
For brand reputation, consumer safety and fair practice, verifying meat product ingredients is important to food industry members and regulators. There are several tools available to food industry inspectors to test and verify species in meat products:
Visual inspection: This is not always reliable. However, a trained meat inspector will be able to spot inclusion of meat from other species based on carcass remnants in a processing plant. For example, horse fat is much more yellow than cow or pig fat, and it appears oilier at room temperature. There may also be distinctive odors. Furthermore, distinctive skeleton features can distinguish different species, as can offal such as kidney and liver. For example, rabbits possess a fused radius and ulna, whereas in cats the two bones are distinctly separate.
Immunology: Testing meat products with antibodies against species-specific proteins is possible and available from commercial laboratories. These involve either ELISA testing or agar gel immunodiffusion, as covered in the US Department of Agriculture chapter revision from 2005 for cooked, canned and raw meat products.
Molecular testing: Several commercial molecular tests available will positively identify and quantify species in meat and meat products from DNA. The Thermo Scientific RapidFinder™ Meat ID Detection Kits detect target species mitochondrial DNA by real-time polymerase chain reaction (PCR). Suitable for low- and high-throughput operating plants, these assays are validated for a wide variety of relevant food matrices. Results show both presence and quantity of contamination present. The PCR kits available for horse, chicken, turkey, beef, pork and poultry show high sensitivity, with limits of detection lower than those required by European Union regulation.
Another molecular assay involves detecting simple sequence repeats (SSR) in genetic material including meat. Conyer et al. (2012) used this approach to detect domestic pork contamination in premium wild boar products, including pâtés and sausages. The researchers constructed SSR statistical probabilities from a suitable reference population before assessing SSR presence in various meat products.
Proteomic testing: Looking at species-specific proteins with mass spectrometric proteomic analysis is also a useful tool for authenticating meat species. It is possible to quantitate adulteration through various targeted approaches, including multiple reaction monitoring, and take the limits of detection low enough to identify hydrolyzed animal proteins used to retain water in poultry products, for example. Proteomic analysis has also been used to determine fish species in seafood.
Most producers have nothing to fear from accidental meat species contamination if they adhere to GMP policies on the processing workflow. Accidental contamination, if detected, can swiftly indicate problems with equipment hygiene and sanitation, workflow errors, and so on. However, proactive monitoring benefits producers by helping to reassure consumers, preventing processing breakdowns and building brand loyalty.
Attending IAFP 2017? Visit us at booth 439 to learn more
about our solutions to p
rotect against food fraud and defend food authenticity.
Further reading: Thermo Fisher Scientific Food and Beverage Community
Food Authenticity and Labeling
Meat Species Detection Brochure