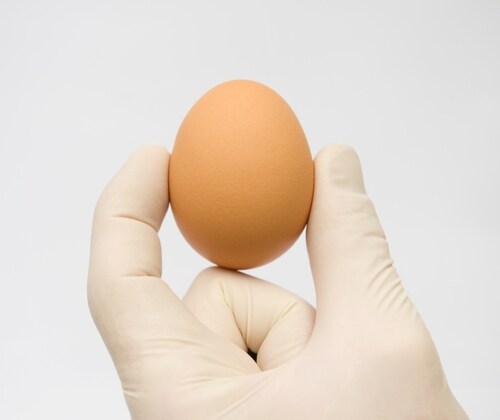 An interesting product that could satisfy consumer preference for natural food safety comes from an unlikely source: viruses. Oh and Park (2017) recently reviewed the role of virus particles known as phages for biocontrol of Salmonella species in food products.1
Salmonella species are a major cause of foodborne disease (FBD), with over 1 million infections registered every year in the United States alone, according to the Centers for Disease Control and Prevention (CDC).2 These approximate to 35% of all hospitalizations and 28% of all deaths attributed—the highest of all FBD pathogens.3 Overall, salmonellosis generates $3.61 billion per year in medical costs.4 Traditionally associated with poultry, pork and eggs, Salmonella species have recently been found in fresh produce such as alfalfa sprouts and cantaloupe melons, as well as in dried foods. Therefore, controlling public exposure through new and effective food safety strategies is important.
Phages or bacteriophages are virus particles that seek and often destroy a wide variety of bacteria. They are highly abundant in nature, and comprise either DNA or RNA enclosed within a capsid protein or filamentous structure. They bind to bacteria with high specificity, then replicate by integrating with the host genome. This results in virus propagation either through lysis of infected bacteria (lytic phages) or by multiplication as plasmids within the microbial cytoplasm (lysogenic phages). Lytic phages kill the host when released; under certain environmental situations, lysogenic phages will also cause lysis.
Phages have several beneficial characteristics that make them attractive for microbial control:
Target specificity, with no bystander effect on local microflora
Low toxicity
Robustness in harsh environments, including food processing and storage
Widespread distribution as naturally occurring agents
Self-replication, which ensures efficient synthesis with ease and economy of production
Used as natural agents within food products, lytic phages have proven effective as biocontrol agents, reducing spoilage and decay, foodborne disease pathogens, and hygiene problems in the processing environment. Phages are also not as susceptible to some of the problems seen with traditional antimicrobials, including development of antibiotic resistance.
The food industry also uses phage biocontrol therapeutically to reduce FBD pathogen burden in animals, for sanitation in the processing environment and also for biorecognition, where the virus particles themselves act as biosensing elements within tests.
Various phages isolated and identified as being specific to Salmonella species bacteria trigger cell lysis; Oh and Park explore their use as biocontrol in foods commonly associated with salmonellosis. The review highlights successful phage use in cheese, chicken frankfurters and apple juice. Phages have shown success when used as sole agents, in combination with other antimicrobials, or in conjunction with antibacterial hurdle strategies that stress the bacteria. Phage technology is also approved as a hide spray for cattle preslaughter and for direct application to foods.
Although resistance can develop, the authors note that the risk can be diminished by using a cocktail of phages or by exploiting synergism with bacteriocins.
In summary, Oh and Park note that it is important for phage biocontrol to gain public acceptance. There is great potential for the methodology in food packaging and for hygiene measures, especially since phages do not alter sensory aspects such as taste or texture in foods.
Learn about the latest technologies to rapidly test for Salmonella species in food samples to protect consumers.
References
1. Oh, J.H. and Park, M.K. (2017) "Recent trends in Salmonella outbreaks and emerging technology for biocontrol of Salmonella using phages in foods: A review," Journal of Microbiology and Biotechnology, 28(27) (pp. 2075–88). doi: 10.4014/jmb.1710.10049.
2. Scallan, E., et al. (2011) "Foodborne illness acquired in the United States—Major pathogens," Emerging Infectious Diseases, 17(1) (pp.7–15). doi:10.3201/eid1701.P11101.
3. Centers for Disease Control (n.d.) "Burden of foodborne illness: Findings."
4. Centers for Disease Control (2014) "Cost estimates of foodborne illnesses."