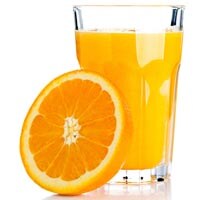 Organic acids are frequently used to ensure both product palatability and preservation in the beverage industry. Analyzing organic acid profiles in fruit juices and other beverages is thus important to establish quality and product pedigree, fulfilling labeling requirements.
However, these analytes are only weakly ionized, so measurement using traditional ion chromatography (IC) and conductivity detection (CD) methods is often difficult. There is competition from strongly ionized anions, such as chloride and sodium. This can result in lower conductivity responses and failure to quantify the organic acid concentration in the sample correctly.
The Dionex QD Charge Detector Cell (QDC) (Thermo Scientific), used in conjunction with CD, overcomes this problem. Using a membrane-based technology, the QDC detects the ions proportionally to their charge and concentration, giving a stronger response for organic acids.
In essence, a charge detector (QD) balances the analyte's charge as it passes through the ion exchange membranes. This means that multiply-charged analytes are measured proportionally to their concentration. Weakly ionized analytes such as organic acids give a much higher response with charge detection than with conductivity alone.
Using the Dionex QD Charge Detector with ion chromatography, beverage samples including guava juice, wine and orange juice were analysed and the results compared with traditional charge detection.
Samples were first diluted and filtered with a 0.2µm syringe filter before passing through a high-pressure Dionex IonPac capillary IC system (Thermo Scientific). Organic acids were detected with suppressed conductivity in series with charge detection. Data were analysed using the Dionex Chromeleon Chromatography Data System software (Thermo Scientific).
Compared to traditional charge detection alone, the enhanced QDC system produced clean and amplified peaks for previously masked organic acids in the resulting chromatograms. The proportionally higher readings from multiply-charged organic acids provided better information for their identification in the resulting data. Moreover, QDC detected peaks that were not identified by CD alone, suggesting that this method offers superior reporting and analysis to the industry.
To read the full application note, please follow the link: https://static.thermoscientific.com/images/D22370~.pdf. If you'd like to know more about our research and ion chromatography systems, let us know.