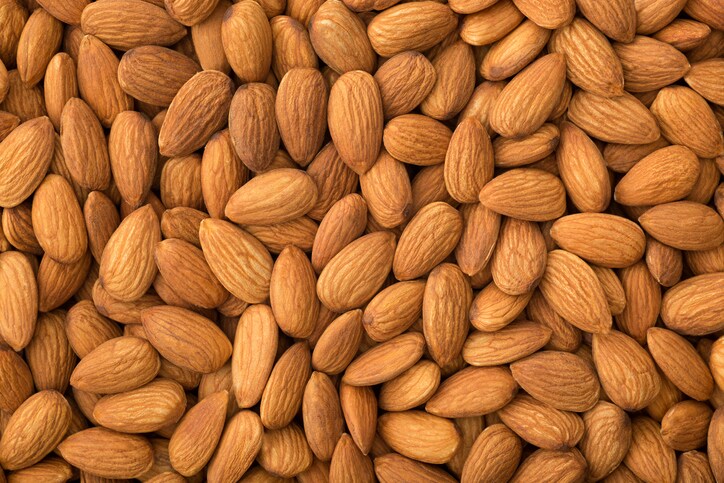 Roasted, honey roasted, salted, unsalted, sriracha, blueberry, toasted coconut, dark chocolate, salted caramel, smokehouse, habañero BBQ, sweet Thai chili, honey roasted chipotle, salt and vinegar, vanilla, cinnamon, pink Himalayan salt, garlic and herb, rosemary and sea salt, black truffle, spicy Cajun, smoked seasoned, chili lime, cocoa, and lemon.
What do all these flavors have in common? Almonds. A quick search on the internet shows that the almond market is exploding with flavors and new snack choices.
The Almond Board of California reported that 2017 saw the "rise in popularity and importance of eating plant-based foods. Consumers are increasingly seeking plant-based foods for a variety of reasons: health, ethical and environmental factors." It's no wonder that almond companies are offering new flavors, as well as almond-based products like milk and yogurt, to meet consumer demands. Those products are in addition to the almonds sold to companies that are already using this tree nut for pestos, glazes, marzipan, cakes, cookies and candies.
As a result, the same report noted that for the first time, more than two billion pounds of almonds were exported.
That is a lot of almonds—and great news for the farmers. However, with larger harvests and increased production comes the possibility that quality control could slip and physical contaminants could sneak into the processing stream, either in the bulk raw materials or on the production line. Since almonds are a high-value product, waste is extremely costly.
We previously wrote about how almonds were harvested and processed. Sometimes rocks, metals and glass particles buried in the dirt are harvested along with the nuts themselves and inadvertently enter into the production process. Also, occasionally, pieces of equipment like mesh screens, nuts or bolts fall into the nut piles as they are being sorted, cleaned, shelled and packaged. And now that additional ingredients are being added to the nuts to enhance their taste and give consumers flavor choices, there are more areas in the plant where potential contaminants may be introduced.
Although government standards tolerate some physical contaminants in the packaged materials, it is a small number—and there's no acceptance of glass or metal. When almonds are being graded, the USDA permits the following tolerances, by weight:
For US Fancy, US Extra No. 1, and US No.1 grades: "For foreign material. One-twentieth of 1 percent (0.05 percent). No part of this percentage shall be allowed for glass and metal."
In order to meet these standards, it is crucial that food processing companies add food weighing and inspection equipment to their plant operations.
We will be discussing food inspection and weighing technology at this year's Almond Conference, being held December 4–6, 2018, in Sacramento, California, USA. The show website notes that its expected attendance of approximately 4,000 people makes it one of the largest events for almond industry professionals in the world. We will be one of the 250+ exhibitors talking about the trends at the forefront of the global almond community.

Stop by booth #839 to learn about the latest technology for food weighing and inspection equipment, including x-ray inspection systems, industrial food metal detection equipment and checkweighers.
If you can't make it to the show, you can read more about bulk flow x-ray inspection in this white paper, which outlines how one producer incorporated a bulk system at the end of the production line to identify contaminants, gain efficiencies, recover more product and trim rework. In this particular case, the machine was able to inspect more than 8,000 pounds of almonds per hour. (The machine's maximum is close to twice that amount.) The almonds were stacked at a half-inch depth on the belt, which allowed the machine to detect metal pieces as small as 1 or 2 millimeters, and glass and stones as small as 3 to 4 millimeters.
You can also visit the Food Weighing & Inspection Equipment section of our website, which offers many white papers, application notes and ebooks. Feel free to snack on some wasabi and soy sauce almonds while you're reading (yes, that's a real flavor too).
Event Details:
The Almond Conference
December 4–6, 2018
Booth #839
Sacramento Convention Center
Sacramento, CA USA
Follow the event on twitter using the hashtag #almonds or @almonds
Download the ebook: A Practical Guide to Metal Detection and X-ray Inspection of Food