In the US, infant formula is carefully regulated and analyzed to ensure it meets nutritional standards as determined by the Food and Drug Admini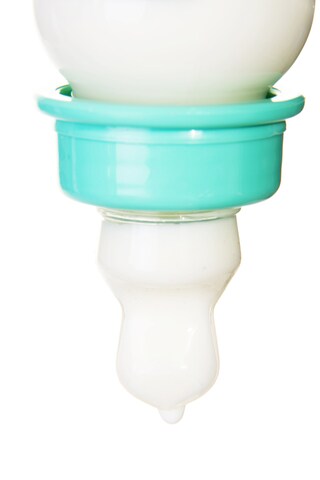 stration (FDA). One significant nutrient, iodine, is involved in many essential biological processes and the production of thyroid hormones. Iodine content must be carefully monitored, as too much or too little iodine content can cause developmental delays or thyroid disorders, respectively.
The International Formula Council (IFC) and AOAC International do not have a standard method of determining the total iodine content in all forms of infant, adult, and/or pediatric formulas including ready to feed liquids and liquid concentrates. To help meet this need, researchers have now developed and optimized an accurate and straight-forward method to determine the total iodide content present in commercially available infant formula1. A recent demonstration of this method included the analysis of four milk-based, and one soy-based infant formula.
Ion chromatography and pulsed amperometric detection (IC-PAD) on a Thermo Scientific Dionex ICS-5000 IC system was used to determine iodine concentrations including free and bound forms of iodide. Infant formula was prepared according to the manufacturer's instructions for feeding. After fats and proteins were removed, the hydrolyzed samples were then injected into the Dionex OnGuard II RP Cartridge at 4 mL/min. Based on the amount of iodide detected, the measured iodide concentrations fell within the safe range of 5 μg/100 kcal and 75 μg/100 kcal. The researchers were able to use this method also to determine the amount of thiocyanate, a competitive inhibitor of iodide uptake present in cow's milk samples.
To demonstrate the accuracy of their results using IC-PAD, the researchers measured the recoveries of iodide in spiked cow's milk and soy-based infant formula for three consecutive days. The amount of iodide recovery between the spiked and unspiked samples ranged from 82–115%. This experimental process was also repeated with samples spiked after the sample preparation steps, which yielded a recovery of 103–110%. These results confirmed the matrix does not inhibit iodide detection after the sample preparation steps, and that the IC-PAD method of identification is robust and sensitive enough to determine the iodine content in infant formula.
References
Basumallick,

L. & Rohrer, J. "Determination of Iodide and Iodate in Soy- and Milk-Based Infant Formulas." Thermo Fisher Scientific, Sunnyvale, CA, USA http://www.dionex.com/en-us/webdocs/4128-AN37-IC-Iodide-Iodate-Soy-Milk-Infant-Formula-AN70355_E.pdf
Have you found this interesting? Click on the paper for more info, and let us know what you think.