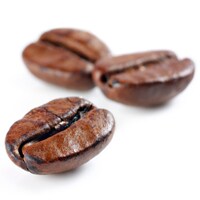 Phenolic compounds possess antioxidant potential that may provide health benefits. In particular, chlorogenic acids (CGA) have been documented to regulate blood pressure1,2 and support weight loss3. Since coffee consumption exposes individuals to high levels of caffeine, whole coffee fruit extracts may offer an alternative source of CGA and minor polyphenolic compounds.  Coffee husks, an industry waste product, may also emerge as an antioxidant source. Recently, Mullen et al.4 used high performance liquid chromatography-mass spectrometry (HPLC-MS) to quantify polyphenolic and hydroxycinnamate compounds in both Robusta and Arabica strains of whole coffee fruits from China, India, and Mexico. They found that the Arabica and Robusta samples from China provided lower levels of CGA (0.6 +/- 0.1 and 3.5 +/- 0.6 mg/g) in comparison with the samples from both India (19 +/- 0.7 and 20 +/- 2.9 mg/g) and Mexico (24 +/- 2.7 and 21 +/- 1.6 mg/g). The samples from Mexico and India presented greater hydroxycinnamate representation with 12 of 12 compounds identified.  Robusta and Arabica samples from China evidenced only 9 of 12 and 7 of 12 hydroxycinnamate compounds, respectively. All Robusta samples exhibited higher caffeine levels than Arabica samples. Of these, the highest levels derived from Mexican and Indian samples (8.2 +/- 1.7 and 7.5 +/- 1.5 mg/g). In terms of minor polyphenolic compounds, the Arabica samples from Mexico and both the Arabica and Robusta samples from India demonstrated the greatest diversity (10 compounds each) in comparison with Arabica and Robusta samples from China (8 compounds and 4 compounds, respectively) and the Robusta sample from Mexico (6 compounds). The highest level of procyanidins was detected in Indian Robusta samples (176 +/- 24 ug/g) while the lowest level was found in Chinese Robusta samples (14 +/- 1 ug/g). Total flavonols in Mexican Arabica samples were higher than all other samples (99 +/- 18 ug/g). The Arabica strain from China presented levels of flavan-3-ols (81 ug/g) that surpassed the levels found in samples from Mexico. Overall, the researchers determined that the Robusta samples from India demonstrated the greatest antioxidant capacity and greatest total phenol content. Mullen et al. also analyzed the variation of compounds in coffee bean and husk samples. They determined that the quantitative CGA profiles for coffee beans were nearly identical to those reported for the whole fruits. However, when they analyzed the husks, the researchers detected low levels of CGA in the samples from Mexico and India with the highest quantities identified in Arabica samples from Mexico (2.6 +/- 0.9 mg/g) and Robusta samples from India (2.3 +/- 0.8 mg/g). The researchers thus determined that the minor polyphenolic compounds (flavonols and procyanidins) identified in the whole coffee fruits most likely originate in the husks themselves. The highest levels of flavonols were present in Arabica samples from Mexico (260 +/- 106 ug/g) as compared to other samples (ranging from 5 to 34 ug/g). Robusta samples from India presented the highest levels of procyanidins (534 +/- 61 ug/g). The researchers point to additional studies5 that indicate that coffee byproducts present a high concentration of polyphenols as well as high levels of both soluble and insoluble dietary fiber. This area of study may prove fruitful for researchers and industry advocates who seek an antioxidant-rich, high fiber product derived from revalorized waste.
Zhao, Y. et al. (2011) 'Antihypertensive effects and mechanisms of chlorogenic acids.' Hypertension Research, 35, 370−374.
Suzuki, A. et al. (2002) 'Green coffee bean extract and its metabolites have a hypotensive effect in spontaneously hypertensive rats.' Hypertension Research, 25, 99−107.
Onakpoya, I. et al. (2011) 'The use of green coffee extract as a weight loss supplement: A systematic review and meta-analysis of randomised clinical trials.' Gastroenterology Research and Practice, 2011. DOI: 10.1155/2011/382852.
Mullen, W. et al. (2013) 'Polyphenolic and hydroxycinnamate contents of whole coffee fruits from China, India, and Mexico.' Journal of Agricultural and Food Chemistry, 61, 5298-5309.
Murthy, P. and Naidu, M. M. (2012) 'Recovery of phenolic antioxidants and functional compounds from coffee industry by-products.' Food and Bioprocess Technology, 5, 897−903.
Are you involved in this field of research? Let us know if you found this interesting, and share with a colleague.