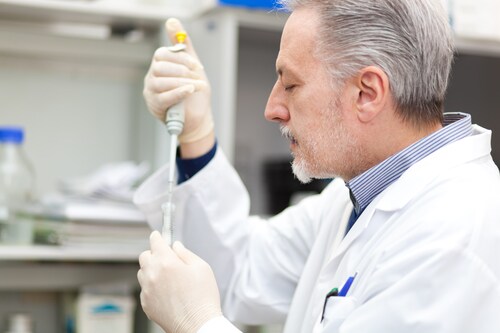 The answer is probably yes: According to a white paper from Thermo Fisher Scientific food research and development (R&D) scientists, additional reagents in your PCR could affect results. The R&D team looked closely at the effect of reagents designed to decrease cross-contamination and stop amplification from non-viable microbes in food safety testing. They found little benefit to using these extra steps in food testing applications, suggesting instead that validated assays are the ideal in foodborne disease (FBD) pathogen detection.
Diagnostic laboratories may use sample pretreatments to avoid amplifying misleading genomic information and giving false results. Although food testing laboratories strive to cut down on the number of false positive results to avoid lengthy verification and delayed results, they also deal with a diverse variety of sample matrices. While these pretreatments are tested in diagnostic lab workflows, they are less well-evaluated in food safety testing.
The two main problems in PCR testing are:
Cross-contamination from previous samples.
Amplification of all DNA, including genomic material from dead or non-viable organisms.
Techniques developed to minimize the effect of these include pre-PCR treatment steps that reduce interference. This usually requires adding additional reagents to the PCR mix.
UDG and dUTP sample treatment
As an adjunct to good laboratory hygiene, researchers may run a pre-PCR step, incubating samples with uracil-DNA-glycolase (UDG) and deoxyuridine triphosphate (dUTP). This step removes contaminating PCR products from prior reactions before thermocycling. In theory, the UDP enzyme recognizes uracil incorporated into single- or double-stranded DNA contaminants and cleaves it to prevent subsequent amplification.
Thermo Fisher Scientific's R&D team found several problems with this approach that could alter results in molecular food safety testing:
UDG treatment reduces PCR efficiency; target FBD pathogen DNA might not be amplified enough for detection.
dUTP uptake by contaminants could be incomplete, leaving product for amplification.
Contaminating amplicons rich in G-C nucleotides do not inactivate so well with UDG treatment, leading to residual material for amplification.
Pre-PCR treatment can interfere with PCR progression and affect accuracy.
Incomplete inactivation of UDG slows PCR progression.
The team concluded that there is insufficient justification for routine UDG treatment in molecular food safety testing.
Amplifiying DNA from only viable FBD pathogens
Food safety testing usually requires identification of only the viable pathogens that can cause disease. However, PCR testing will amplify all DNA within a sample, with no differentiation between living and dead cells. One way to avoid this is to denature the DNA in dead cells by adding photoreactive intercalating dyes. Since cell wall integrity is altered in non-viable cells, the dyes enter easily and bind to DNA, and then destroy it when activated by strong light.
Again, the research team found several problems with this approach in food sample matrices:
Some dyes may enter minimally injured cells; research shows that FBD pathogens can resist and adapt to stresses such as desiccation within a food matrix without losing virulence.
The incubation conditions required for dye uptake can damage viable cells.
Samples with high turbidity block light and prevent dye activation.
Too much dead material will swamp dye concentrations and fail to label/inactivate all non-viable cells.
Cell membrane permeability varies according to the growth cycle; dye could be taken up by healthy FBD pathogens.
Food matrix effects such as salt concentration and pH interfere with dye uptake.
The team suggests using control samples to fully validate results when using dyes in food safety PCR testing.
In summary, the team advises that the use of additional reagents might not be justified. Food safety labs should consider the additional costs and steps, reduced accuracy and the need for full validation in all food matrices before adopting pre-PCR treatments.
Read this and more white papers on molecular food safety testing in our food microbiology learning centre