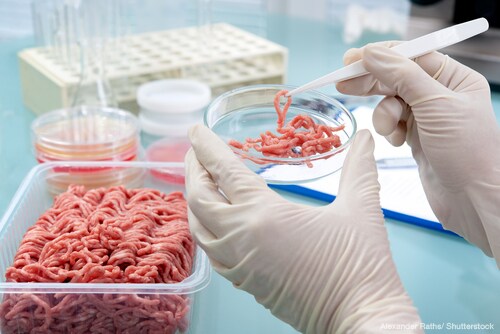 The economic drivers of food fraud are such that fraudsters are constantly evolving new tactics to try and pass adulterated, mislabeled or substituted products into the food supply chain. For food manufacturers, staying ahead in the battle with knowledge and tools to protect customers and brand reputation is essential…but what are the latest tricks and how can you detect them?
The Grocery Manufacturers Association estimated in 2010 that food fraud cost the industry around $15 billion per year globally 1, 2. While the current full scale of the issue is unknown, figures as high as $40 billion per year globally have been quoted 3.
Olive oil, tea, coffee, wine and spices have been subject to fraud for many years, with fish, grains, honey, fruit juices, milk, meat and organic foods also now listed in the US 4 and Europe 5 as foods commonly targeted for economically motivated adulteration.
Meat, particularly once processed into burgers or mince so that the size and shape of the original cut are lost, is a common place to discover adulteration or false information on geographical origin or organic breeding declarations. 22% of meat samples tested by the British Food Standards Agency in a 2018 study contained something other than the ingredients specified on the label in high enough levels to suggest intentional fraud 6.
In an upcoming webinar, Meat fraud, an old crime with some new twists, Chris Elliott, Professor of Food Safety and Founder of the Institute for Global Food Security, Queen's University, will examine the current status of meat fraud and explore methods which can be employed at different stages of the meat supply chain for maximum impact to protect against fraudsters.
While this webinar focuses specifically on meat fraud, the approaches discussed for implementing controls and strategies throughout the supply chain for confidence in food authenticity will be applicable across many of the food groups and products at risk of fraud.
Some of the latest technologies available to support food authenticity testing, such as Next Generation Sequencing (NGS) Food Screening for Species Identification, take an untargeted approach to answer the question "What is in my sample?" rather than identifying if a single specific species is present or absent. This provides manufacturers with greater confidence in outwitting criminals who are trying new approaches, by providing more comprehensive sample screening. New developments mean that the power of NGS multi-species identification can be brought in-house, putting even greater capability to combat food fraud directly in the manufacturer's hands and streamlining response times.
Register to attend Chris Elliott's webinar to join what promises to be a lively and informative discussion.
Learn more about NGS workflows for multi-species ID on the Thermo Fisher Scientific website or visit Booth #327 at IAFP 2019, Kentucky for a personal demonstration.
References
The Grocery Manufacturers Association (GMA) (2010)

Consumer product fraud: Deterrence and detection

.

Kircher, A. (2012)

Tools for protecting the nation's food supply

, National Center for Food Protection and Defense.

Loria, K.

(2017, 27 Jan) Delicious or deceptive? Food fraud's economic and safety costs. Retrieved from https://www.fooddive.com/news/food-fraud-economic-safety-costs/434237/
Johnson, R. (2014) Food Fraud and "Economically Motivated Adulteration" of Food and Food Ingredients. Congressional Research Service.
Hannah, F. (2019, 2 March) Food Crime Unit pledges tougher action on food fraud. Retrieved from https://www.bbc.co.uk/news/business-47664677
Mackay, H. (2018, 5 September) Meat testing: A fifth of samples reveal unspecified animals' DNA. Retrieved from https://www.bbc.co.uk/news/uk-45371852