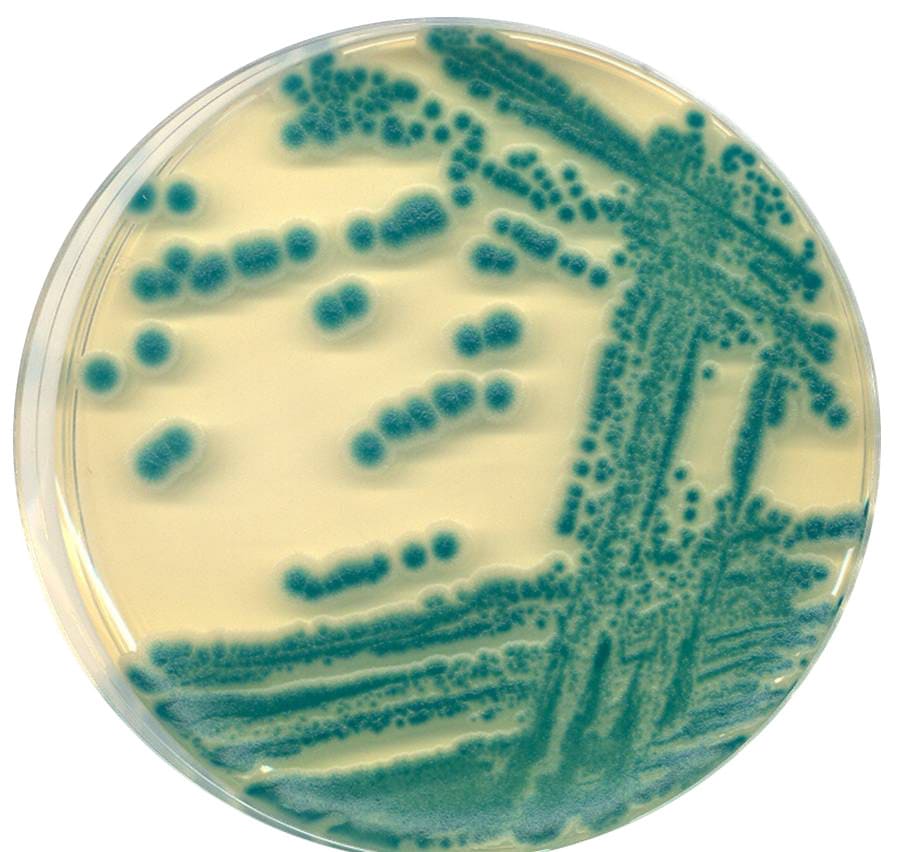 Bacillus cereus produces toxins that, at high levels, can cause food poisoning. Industry professionals recognize the utility of quantitative detection of this microbe as a component of food testing. The conventional media choices for these protocols are mannitol yolk polymyxin B agar (MYPA) and polymyxin pyruvate egg yolk mannitol bromothymol blue agar (PEMBA), which rely on B. cereus' ability to ferment mannitol or hydrolyze egg yolk, respectively. Unfortunately, some strains of B. cereus don't exhibit these diagnostic features, resulting in false negatives. The chromogenic medium Brilliance Bacillus cereus agar (BBC) is one alternative.
Recently Chon et al.1 compared these three selective agars for enumerating Bacillus cereus: MYPA, PEMBA, and BBC (all Thermo Scientific). Here they report on sensitivity and selectivity for each medium in pure culture and in various food matrices, including both pasteurized and unpasteurized food samples.
For inclusivity and exclusivity testing, the team used 34 strains of either B. cereus or B. thuringiensis and 65 strains of non-Bacillus microbes, respectively. They incubated all plates before enumeration. The researchers found identical inclusivity (100%) for all three media but greater exclusivity for BBC. They posit that this higher exclusivity may result from the inclusion of the antibiotic trimethoprim in the BBC agar, rendering it more inhibitory than conventional media.
Exclusivity: Percentage of non-Bacillus strains grown
| | | |
| --- | --- | --- |
| | Gram Positive | Gram Negative |
| MYPA | 93% | 77% |
| PEMBA | 93% | 60% |
| BBC | 47% | 31% |
To evaluate recoverability, they employed a slightly modified standard method2 and calculated recovery rates for plates with 15 to 150 suspected colonies. The team reports similar recoverability values for all three media in pure culture: MYPA (87.6% ± 16.8%), PEMBA (90.2% ± 23.3%), and BBC (91.5% ± 11.4%).
Chon et al. chose three pasteurized items (triangle Kimbab, pumpkin soup, and dried milk powder) and three unpasteurized items (soybean paste, radish sprout, and Saengsik) for representative food matrices. They spiked these samples with B. cereus, ensuring that the bacterial load exceeded the threshold for acceptability before processing and counting suspicious colonies. Aerobic plate counts showed minimal levels of background microflora for pasteurized samples (<2 log CFU/g) and high levels for unpasteurized samples (6.28 ± 0.25 to 7.27 ± 0.17 log CFU/g).
For all three agars, the team reports no significant difference in the number of colonies recovered for all food matrices. However, while all three media presented typical B.cereus morphology in pasteurized food matrices without competing microflora, only BBC agar effectively inhibited background microflora in unpasteurized samples. This means that enumeration of B.cereus on BBC was significantly easier than either conventional agar. The team posits that the reduced selectivity of MYPA and PEMBA on unpasteurized samples again points to the effectiveness of trimethoprim. They also note that cleavage of the chromogenic substrate 5-bromo-4-chloro-3-indolyl-β-glucopyranoside produces a specific color, rendering the colonies easier to identify and count.
Overall, Chon et al. report that BBC agar is a superior option for B. cereus enumeration in matrices with competing microflora and recommend it as a specific tool for these applications.
For further information on BBC agar and rapid detection with chromogenic media visit thermoscientific.com
References
1 Chon, J-W et al. (2014) 'Comparison of 3 Selective Media for Enumeration of Bacillus cereus in Several Food Matrixes.' Journal of Food Science, doi: 10.1111/1750-3841.12594
2 Ahmed, RC et al. (20120 'Evaluation of novel agars for the enumeration of Campylobacter spp. in poultry retail samples.' Journal of Microbiological Methods, 88:304–10.