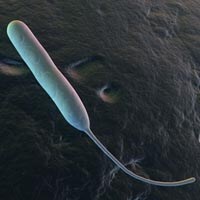 The ability of bacteria to attach to surfaces in communicating communities, otherwise known as biofilms, is something I find particularly interesting. Biofilms are ubiquitous in nature, which is of no surprise considering they are >1000 fold more resistant to environmental stresses and antimicrobials than their planktonic counterparts. They can be hugely problematic in the clinical setting and also in the food industry, where they cause persistent contamination, rendering decontamination difficult. An example of an organism that causes such problems is Campylobacter.
Illness caused by this organism is associated with consumption of contaminated water and poultry. If you have worked with this bug, you will know it is particularly difficult to grow in the lab in the presence of oxygen, requiring growth in microaerophilic conditions such as these from Thermo Fisher Scientific. So why, when this organism is so hard to grow, are there more than 200,000 cases a year of campylobacteriosis in the EU alone? The answer lies partly in the ability of the organism to form biofilms. A 2012 study1 found persisting Campylobacter jejuni isolates in chicken slaughterhouses were able to form biofilms, acting as a reservoir of contamination. Aerobic conditions have been shown2 to induce switching to biofilm states of growth, explaining why C. jejuni is able to survive stressful processes in food manufacture and transit in oxygen rich environments.
C. jejuni is capable of forming biofilms alone, but can also form mixed biofilms and the organism has recently been shown to be a close acquaintance of Pseudomonas aeruginosa. The two co-exist together quite happily in biofilms, which are much more resilient and robust than monocultures of C. jejuni. Researchers found3 oxygen levels were much lower in these mixed biofilms, suggesting P. aeruginosa, an obligate aerobe, utilises the surrounding oxygen making the environment much more favourable for C. jejuni growth. Such biofilms may explain why Campylobacter persists on the surface of meat, and also in water systems that may have implications in food manufacture.
These studies exemplify the challenges food producers face due to the ability of Camplyobacter to congregate and form super-resistant armies. Being aware of the mechanisms involved in biofilm formation is crucial in devising cleaning programs and ways to reduce persistence and transmission. Eliminating such reservoirs of contamination early on in food manufacture may go some way to reducing the incidence of campylobacteriosis and other food-borne infections.
References
Phenotypic and Genotypic Characterizations of Campylobacter jejuni Isolated from the Broiler Meat Production Process, Current Microbiology, October 2012, Volume 65, Issue 4, pp 398-406
Biofilm Formation by Campylobacter jejuni Is Increased under Aerobic Conditions, Appl. Environ. Microbiol. April 2010 vol. 76 no. 7 2122-2128
Characterization of mono- and mixed-culture Campylobacter jejuni biofilms, Appl. Environ Microbiol. 2012 Feb;78(4):1033-8
See also Thermo Scientific Culture magazine pieces on Campylobacter and biofilms: http://www.oxoid.com/culture/Culture-32-2.pdf, http://www.oxoid.com/culture/30-1.pdf, and http://www.oxoid.com/culture/25-1.pdf