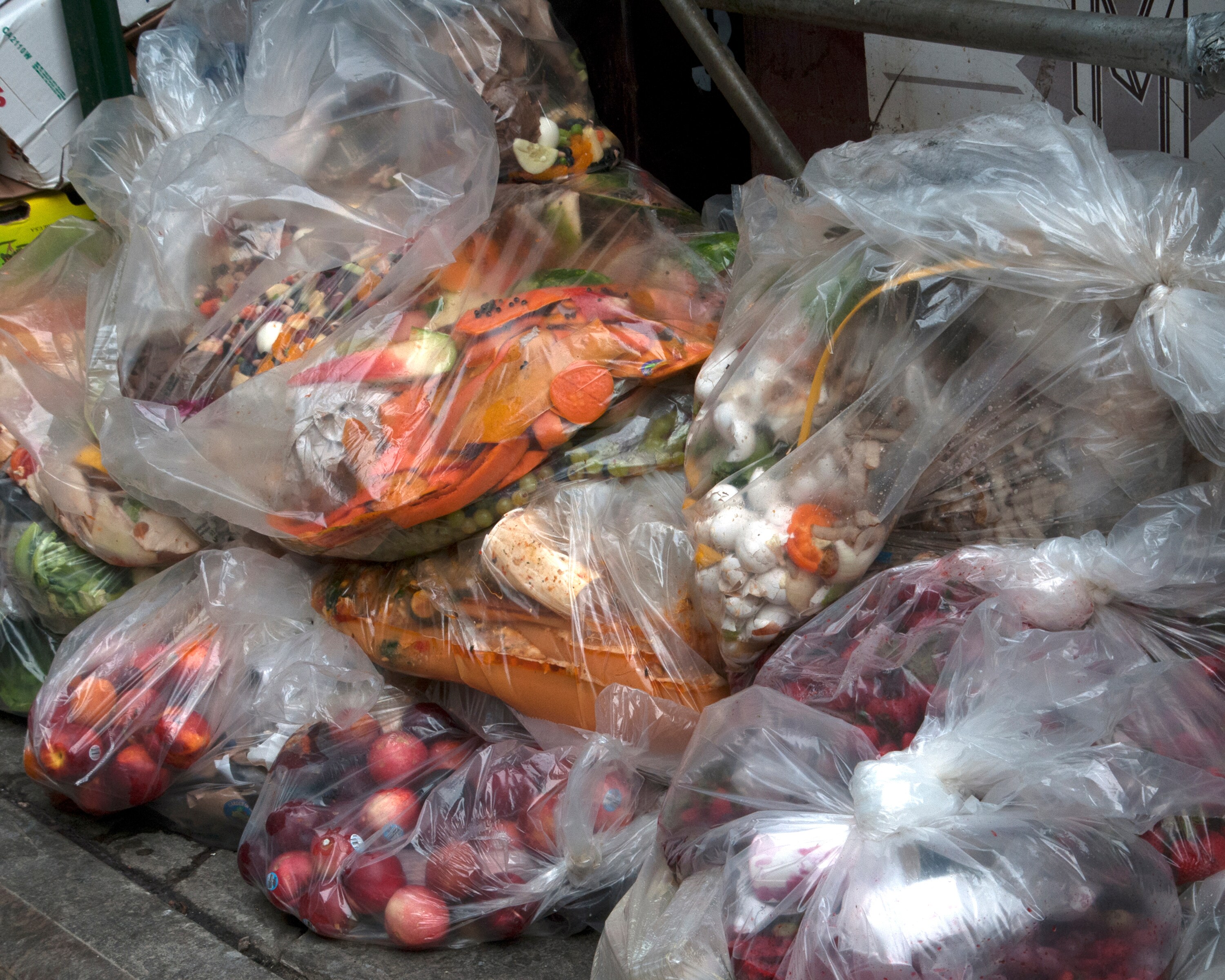 Between 30 and 40 percent of food in the United States goes uneaten – as much as 20 pounds of food per person per month, which adds up to about $165 billion in food each year (according to the U.S. Food and Drug Administration). That food ends up in landfills, which are major contributors to methane emissions – a factor in global warming.
The FDA notes that "within the food industry, waste occurs at every step — on the farm and with packers, processors, distributors, and retailers. Some of it is the result of economic forces, some of management problems, and some is caused simply by dumping products that are less than perfect in appearance."
There is a global movement to reduce food waste and loss. SAVE FOOD is a joint initiative of the Food and Agriculture Organization of the United Nations (FAO), the United Nations Environment Programme (UNEP), Messe Düsseldorf, and Interpack, a leading global trade fair for packaging and processes.  The organization has called for smart and sustainable production and packaging concepts, among other things, to improve the supply of food to a growing global population.
The World Packaging Organization believes better packaging plays a huge role in reducing spoilage and retaining nutrition for those who need it most, and has announced a competition and exhibition that will be held at Interpack to identify the one packaging design or development or material breakthrough that best meets the goal of fighting food waste and loss.  (We will be exhibiting at Interpack in Dusseldorf, Germany, May 4-10, 2017, Hall 8a / C77.)
A representative from a WPO member organization was quoted in a Packaging World article as saying: "This is a chance for packaging to serve the greater good. It's an opportunity for packaging companies to show that packaging—through its protective properties or through portion control or by extending shelf life or through some other breakthrough in getting food efficiently from farm to fork—really can make a difference."
Part of these plans will have to include considerations and possible upgrading of package inspection technology. We previously wrote how packaging matters to the everyday consumer. If packaging does not work, or if customers are dissatisfied with it, then the contents will go unused and into the waste stream. If consumers suspect a company does not properly inspect or label its products, they will avoid them and even throw away anything they have already purchased. Better safe than sorry, they think.
You may think you have everything covered because you have equipment on the floor.  However, even if your food inspection equipment currently meets safety standards, new packaging designs and new packaging materials may call for new packaging inspection equipment.
For instance, to keep food fresher, manufacturers may choose to use metallized liners in snack bags.  This metalized material is formed into a bag and has heat seals on either end. This kind of packaging helps keep out moisture, oils, air, and odors – which will keep it fresh longer and help reduce waste. However, since the package contains a form of metal, a thin layer of aluminum in most cases, metal detection is not a good choice for contaminant detection.  These types of packages call for an X-ray detection and inspection system,which is one of the first lines of defense to identify the presence of foreign contaminants in food products before they have the chance to leave the processing plant.
Checkweighers are becoming even more important to help ensure accurate weight control; an extra ounce added to each single serving multiplied by the tens of thousands of packages going out the door will add up to a lot of waste if consumers are relying on your nutrient label to try and control portions.  There may be legal ramifications if the consumers find out they were underestimating in their careful consideration of calories and nutrients per container because your food labeling was incorrect.
And what if a contaminant is found or a product mislabeled, and a recall happens?  One company recalled 36,000 cases of cheese products due to the possibility that a thin strip of the individual packaging film may have remained adhered to the food after the wrapper had been removed.  A large bakery recalled 14 brands of products throughout 11 states which added up to 48,000 packages of bread products, due to reports of small pieces of glass found in the package.  The manufacturer suspects a single light bulb broke at one of their production facilities.
Is it necessary to throw away 47,999 packages because one may be suspect?  It might not be.
There are programs available to keep consumers safe, minimize brand damage, and help ensure maximum product recovery – which means less waste.  Product Assurance Services & Solutions (PASS) offers product recovery when contaminants or irregularities are known or suspected. This product inspection service can identify a wide range of issues – whether dense contaminants, product damage, defects, missing products, and over or underfilled packages. PASS can provide a fast, confidential way to have packages thoroughly tested and inspected when you suspect contamination or nonconformity. Using state-of-the-art  X-ray and metal detection systems, an experienced staff detects ferrous, non-ferrous, and stainless steel metals, glass, stone, bone, PVC-based plastics and rubber, and other dense contaminants.   The products are inspected and those deemed safe can go back onto the shelves instead of into the waste stream.  If the latest, appropriate, packaged product inspection technology and programs are used properly by food processors, food may be saved and a huge impact could be made on the waste stream.
We look forward to seeing the innovative packaging options to help support the SAVE FOOD initiative while we're at Interpack in the Spring.
Interpack Details:
May 4-10, 2017
Hall 8a / C77
Dusseldorf, Germany 
Need help figuring out which checkweigher is best for your business?  Here's a Checkweigher Selection Guide.