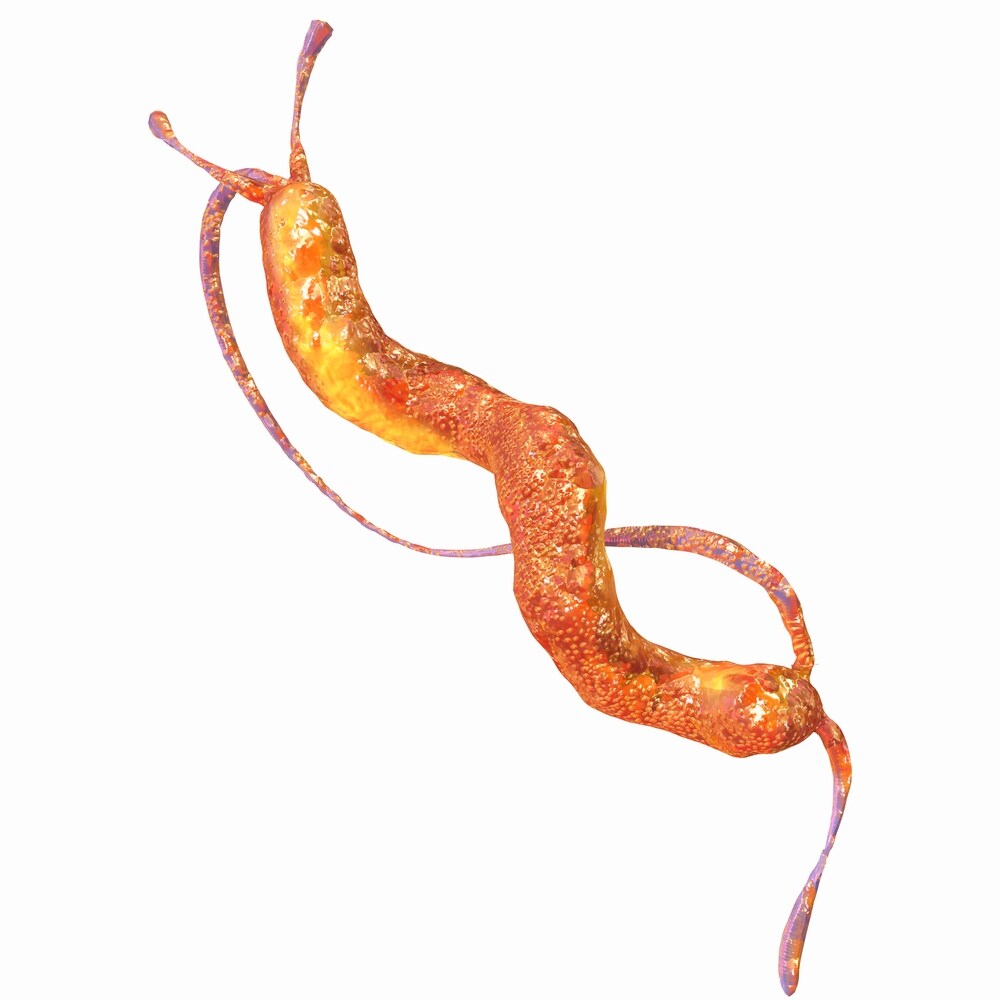 Campylobacter infection (Campylobacter jejuni, Campylobacter coli) is a serious public health concern across the globe. In the developed world alone, 1% of the population experience Campylobacter impact each year. C. jejuni is responsible for up to 90% of clinical infections and has been linked with serious post-infectious complications, including Guillain-Barré syndrome and reactive arthritis.1
C. jejuni relies on contaminated food products for transmission and demonstrates a preference for poultry items. Indeed, supermarket sampling indicated that up to 70% of available chicken may be contaminated with this microbe at any given time.1 Since C. jejuni is not particularly hardy, researchers hypothesize that its survival depends on the formation of biofilm, which serves a protective role and imparts resistance to antimicrobial compounds and disinfectants.
Recently, Brown et al.1 turned to the "chicken juice" model, the collection of poultry exudate for media supplementation, in order to more closely mimic typical transmission conditions. They report that the presence of chicken juice positively impacts C. jejuni biofilm formation and attachment, including adhesion to abiotic surfaces like those found in food processing environments. They observed the following:
Supplementation with chicken juice produced an increase in biofilm formation when compared to straight brucella broth even after a simple washing procedure.
While cultures incubated in three treatments (straight brucella broth, 5% chicken juice, 100% chicken juice) exhibited similar cell viability, the highest degree of biofilm formation occurred in 100% chicken juice samples.
There was no statistical difference in Campylobacter growth in the three treatments over 24 hours in shaking culture, indicating that increased biofilm formation is the result of enhanced adhesion to the abiotic surface.
Chicken juice increased biofilm formation for multiple strains of C. jejuni (81116, 81-176, and RM1221) and one C. coli isolate (15-537360) on varied abiotic surfaces: sterile borosilicate test tubes, 24-well polystyrene plates, and food-grade stainless steel coupons. The increase in biofilm formation was particularly notable for C. jejuni RM1221 and C. coli 15-537360, which exhibited very low levels in straight brucella broth.
In the absence of C. jejuni, chicken juice increased crystal violet and Congo red staining, measured using a Biomate 5 spectrophotometer (Thermo Scientific), while TTC staining came up negative. This indicates that chicken juice binds to the abiotic surface without impacting TTC staining protocols.
Particulate formation suggests that chicken juice may promote bacterial adhesion by forming a conditioning layer on sterile surfaces. Scanning electron microscopy revealed that C. jejuni cells preferentially bind to the observed particulates rather than the abiotic surface itself.
Pre-coated assay tubes and stainless steel coupons inoculated with C. jejuni exhibited significantly increased levels of biofilm formation for a broad range of chicken juice concentrations (10 to 100%). Variations in chicken juice concentration did not impact biofilm formation.
Chicken juice enhanced biofilm formation levels in aflagellated mutant C. jejuni ΔflaAB, which normally produces significantly less biofilm than wild-type isolates, elevating mutant strain biofilm production to wild-type levels.
Overall, these findings indicate that poultry exudate can exacerbate contamination by food-borne pathogens like C. jejuni by conditioning abiotic surfaces to increase bacterial adhesion and providing a nutrient-rich scaffold for biofilm formation. While poultry is the most common vector for Campylobacter infection, other food products have tested positive for contamination by this organism, including turkey, pork, beef, duck, lamb, oysters, and milk. Further investigation using expanded matrices, as well as targeted investigation of chicken juice components, may offer strategies for intervention and prevention of Campylobacter persistence in the food chain.
Learn more about improving enumeration of thermotolerant Campylobacter species, in particular C. jejuni and C. coli, in poultry products.
Reference
1. Brown, H. L. et al. (2014) 'Chicken Juice Enhances Surface Attachment and Biofilm Formation of Campylobacter jejuni.' Applied and Environmental Microbiology, 80 (22): 7053 DOI: 10.1128/AEM.02614-14