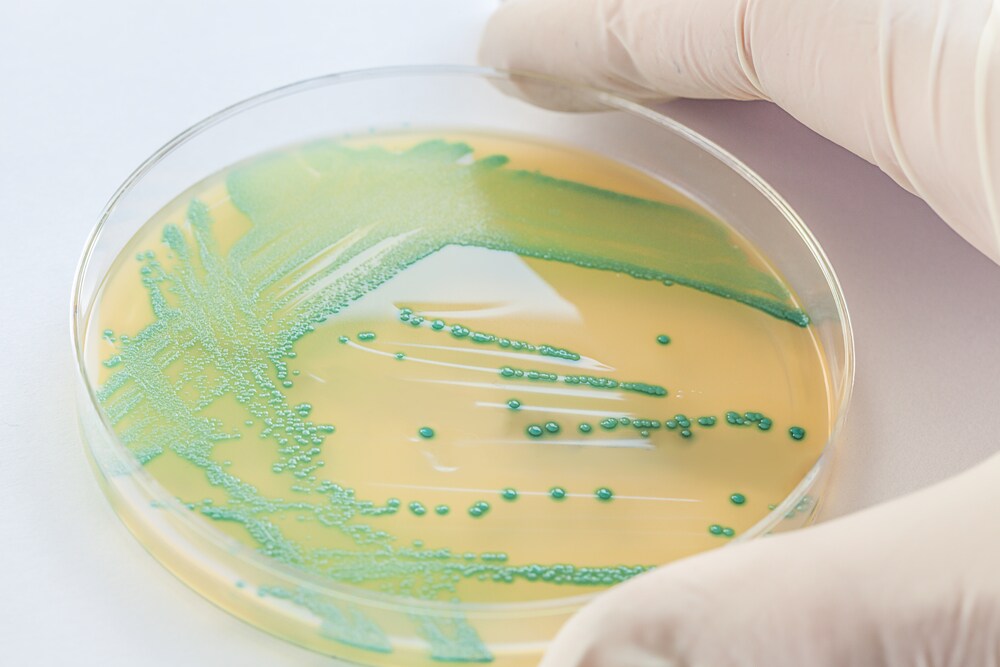 Chromogenic agar contains a colorless substrate that changes to a discernible color as the result of an enzymatic reaction. An entry in the Encyclopedia of Food Microbiology recently gave an excellent summary of the background and history of chromogenic agars and their use.1 This information is of use to food scientists and microbiologists who may be interested in designing new chromogenic agars and other substrates.
Up until the late 1940s, researchers used MacConkey agar and Eosin methylene blue agar to detect genetic mutants. Researchers took advantage of the gene regulation involved in the lac operon to detect these mutants by introducing lactose analogs. As bacterial colonies began to be established, a yellow color was seen both within and surrounding the colonies. Later, in the mid1960s, researchers also used this technique in genetic experiments with E. coli using the now widely used substrate X-Gal, which causes a deep, blue-green pigment.
Using different chromogenic substrates may result in a variation in the variety or hue of color displayed. The mechanism for this reaction can vary and may or may not require an operon depending on the organism, the chromophore, and the substrate used. In the case of the lac operon, an inducer binds to the control region of the operon. The lac operon contains 3 genes: LacZ, lacY and lacA, which encode functional enzymes necessary for lactose metabolism. LacZ encodes β-galactosidase, which hydrolyzes the ether or ester bond found in β-galactosides (or di and trisaccarides) into two parts, galactose and a sugar or a chromophore. When these bonds are hydrolyzed, a colorless molecule called indolol is released. In the presence of oxygen, this molecule dimerizes, causing the pigment indigo to form. Color variations of blues, greens and even red and purple are possible by substituting halogen groups on the indolol molecule. LacY and lacA encodes the gene to initiate the formations of permease, and acetylase transferase, respectively.
Chromogenic agars have been commercially available since the 1990s. Today, there are multiple manufacturers that produce media for many organisms of interest to food scientists. Some notable targets of commercially available chromogenic media include gram negative pathogens such as E. coli, and Salmonella, in addition to methicillin-resistant S. aureas (MRSA), Listeria, and various Candida yeast species.2 The major benefit of using chromogenic agars is the ability to see a clearer differentiation of bacterial colonies, thereby improving the specificity and efficiency of experiments. As time goes on, chromogenic agars are continuing to improve in specificity, and provide a greater range of coverage of targeted organisms.
References:
1. Druggan, P. & Iversen, C. (2014) "Chromogenic Agars", Encyclopedia of Food Microbiology, Volume 2, (pp. 248-258)
2. Rank, E.L (2012) "Chromogenic Agar Media in the Clinical, Food, and Environmental Testing Arenas, Part I", Clinical Microbiology Newsletter, 34(6) (pp. 43-47)