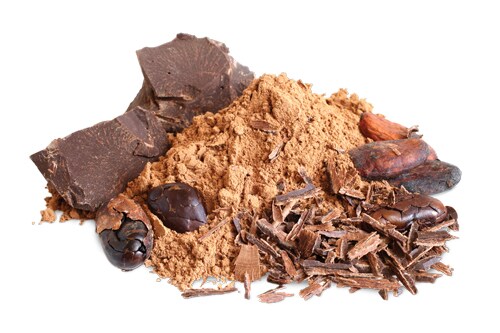 If the average member of the public was asked the question, "how is chocolate made?", I wouldn't be surprised if the response was less than confident or even close to the right answer at all. A mystery to some, the lengthy process of chocolate manufacturing is a highly refined procedure that ferments, dries, cleans, roasts, de-shells, winnows, grinds, cooks, presses and tempers the raw ingredient of cacao beans into a tasty treat that's good to eat. While most could appreciate this extensive course of processing, few would anticipate the challenges presented to a microbiologist by cocoa and cocoa-containing products when testing for food borne pathogens.
Cacao beans are subject to contamination with Salmonella at the early stages of their processing where beans are removed from ripe pods by hand and left to ferment in the sun on large trays. The beans ferment for approximately 1 week, giving plenty of opportunity for contaminants to find their way into the crop during this time.
The further processing of the beans includes drying and cooking steps that can kill bacteria which may be present post-fermentation. Studies have shown that, despite the efforts to kill any harmful bacteria present, drying and heating of cocoa beans may not be 100% efficient in killing Salmonella and very low numbers of injured cells can survive and persist in cocoa-containing products1.
When screening for the presence of Salmonella in cocoa-containing products, microbiologists are faced with challenges that can make detection more difficult than many other foods. Using culture media to recover low numbers of highly injured cells can be difficult as the balance of nutrients has to be just right to encourage growth from such conditions. Traditional culture methods can be lengthy and involve more than just a single step of preparation for microbiologists to go through before conducting any tests so optimising these tests is essential to obtain a reliable result.
Thermo ScientificTM Cocoa Sample Recovery (CSR) Broth is a culture medium designed for the recovery of low numbers of injured cells of Salmonella from cocoa-containing products, in a one-step enrichment that is faster and simpler than traditional culture methods.
Cocoa often contains polyphenols which are known to be toxic to bacteria, making recovery of injured cells difficult. The formulation of CSR Broth includes acid-free casein to reduce this bactericidal effect, providing a better environment from which to grow low numbers of stressed Salmonella. This is crucial in encouraging the target pathogen to grow to a level that can be detected (Limit of Detection, LOD).
Not only can CSR Broth be used as a single-step enrichment medium for the detection of Salmonella in culture-based methods, but it can also be used for more rapid PCR methods. Under traditional circumstances, PCR methods may struggle to perform well when used to test cocoa-containing products, due to the presence of polyphenols. Polyphenols are able to inhibit PCR reactions due to their ability to irreversibly bind covalently to free nucleic acids. This binding makes extracted DNA unavailable for amplification and halts the continuation of a PCR reaction, leading to potential false negative results or internal control failures.
To overcome this issue, the Thermo Scientific™ SureTect™ Salmonella protocol for cocoa and cocoa-containing products uses an additional 1:5 dilution step post enrichment to remove these compounds without diluting the recovered Salmonella below the LOD, and without the use of lengthy centrifugation steps that may be used to remove inhibitors.
To read more, follow these links to technical posters evaluating the performance of CSR Broth as an enrichment medium for rapid culture and rapid PCR methods:
Learn more about Cocoa Sample Recovery Broth or visit our food and beverage community for further discussion on food safety testing
References
da Silva do Nascimento, et al., 2012. Inactiviation of Salmonella during cocoa roasting and chocolate conching. International Journal of Food Microbiology. 159 (2012), 225-229