Protecting the public from food contaminants, however, can be more tricky than protecting airline passengers from concealed weapons. The size and type of anomaly being detected is challenging and the rapid speed in which the detection needs to take place makes the process more complex. In fact in many cases, the real test isn't finding the contaminant, it is ignoring the product, packaging or environment. False detections can be costly and frustrating. These are the reasons that food processors frequently set up food metal detectors and food X-ray systems at different points in the production process, on the same production line.
Metal detectors and X-ray systems for food applications must be very sensitive, easy to use, fully automatic, fast, extremely robust, reliable, and cost effective. This is a tall order for any automated system, particularly one that must run for many years in a hot, sometimes wet factory and make reliable pass/fail decisions in a split second on literally millions of products. But foreign contaminants in food are unacceptable, so food processors must determine which technology is best to use for their unique applications. Both metal detectors and X-ray systems can help detect foreign objects, but one technology may be more appropriate than the other, depending on the situation and contaminant type.
Foreign object detection performance is determined in three ways: detectable contaminant types, minimum contaminant size and probability of detection. Detectable contaminant types can include shells from products that should have been unshelled, or broken glass, or even metal shavings from equipment. Here is a basic summary of detectable contaminants and which type of technology is the most useful. These are general guidelines; situations can occur when contaminants can be missed, or conversely, foreign objects can be found even though you thought it would not be possible.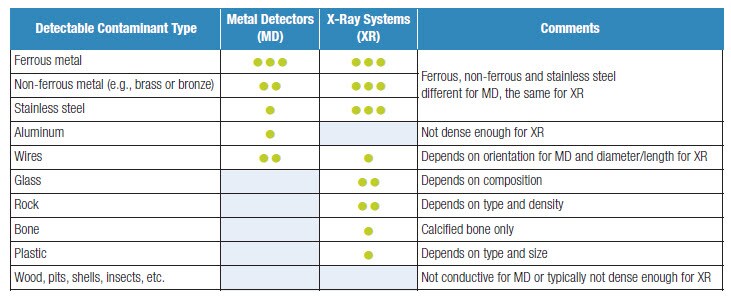 Contaminants can come in many sizes. Minimum contaminant size depends on the system design/technology and the product effect (how much the food itself "looks like" a contaminant to the system). Probability of detection means "what is the chance of missing a contaminant in real production with real products running at real speeds?" Typically, the larger the contaminant, the higher the probability of detection.

This fundamental trade-off is addressed by building in margin for error, setting periodic mandatory audits and performing preventive maintenance. Policies, procedures, training and discipline are the order of the day.

How should you choose? The best practice is to test many samples with different contaminants prior to deployment. Applications expertise from the manufacturer of the equipment you are considering can be invaluable in helping you determine how the product and contaminant react when in the detection system. Some manufacturers have the capability to do a test run of your packaged products using their technology. Being armed with comparative information, application insights, and a trial run of your packaged products using the technology under consideration enables food companies to make the right decision to meet their individual product and processing requirements.

For additional information, read the white paper: What food processors should know: metal detection vs. X-ray inspection

In security applications, such as airport screening, metal detectors use radio frequency signals to react to moving metal (e.g., coins in your pocket). X-ray systems produce density images that are analyzed for irregularities.