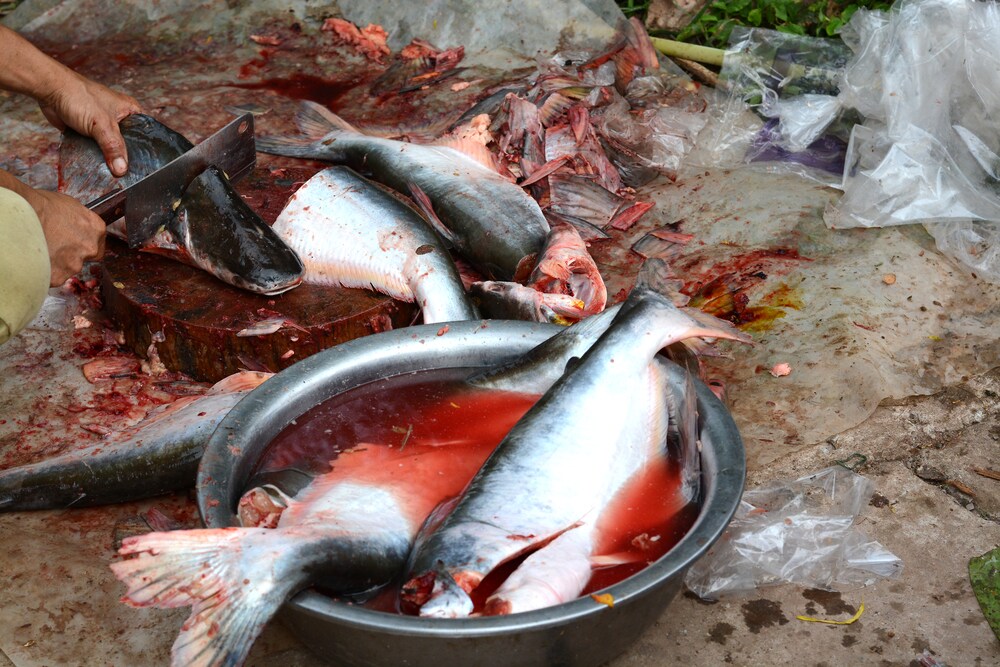 Fish are known to be an excellent source of long-chain n-3 polyunsaturated fatty acids, iodine, selenium and vitamins A and D. Yet, fish are also susceptible to absorbing and accummulating potentially harmful contaminants and toxins present in their environment. While many contaminants are present in (ultra) trace levels, there is some concern that long-term exposure can lead to endocrine problems, neurotoxicity and cancer.1
Researchers in Prague have developed a new method of measuring contaminants in fish using GC–MS/MS.2 A key aspect of their experimental design was an ethyl acetate QuEChERS (quick, easy, cheap, effective, rugged and safe) based extraction followed by a silica minicolumn clean-up. Using this method to prepare the samples, the researchers improved the ionization and decreased the background noise. They also eliminated contamination of the GC–MS system, a TRACE GC Ultra gas chromatograph coupled to a TSQ Quantum GC triple quadrupole mass spectrometer which was operated in electrospray ionization mode. The GC system was equipped with a TriPlus™ autosampler (all instruments from Thermo Scientific).
Before testing their method on real-life samples, the researchers used samples of fish muscle and fish feed spiked with contaminant compounds at concentrations chosen to simulate known levels of contaminants found in fish. To optimize the GC-MS/MS system, the researchers acquired MS spectra in full-scan mode (m/z 100–1,000 mass range). They selected precursor ions and obtained ion scans at different collision energies. Lastly, they calibrated the collision energy in selective reaction monitoring (SRM) mode. The researchers also included an internal standard to the samples (BDE 37and 13C-labelled CB 77) that was added prior to the extraction.
Once the experimental design had been fully optimized, the researchers applied their method to five species of fish (n=50) including wild caught and farmed trout, pangasius, salmon, whiting, and cod from Czech Republic, Germany, Spain, Vietnam, Norway and France. They also analyzed three types of fish feed. The researchers found that all of the samples (both fish and fish feed) surveyed contained at least one of the target contaminants; however, the levels of contaminants were within safe levels as determined by the EU. Ranking the fish species based on their levels of contamination revealed whiting > salmon ≈ trout > pangasius ≈ cod. The researchers determined that fish originating from the Baltic Sea were the most contaminated.
In all, GC-MS/MS was able to detect 73 target organic environmental contaminants including 18 polychlorinated biphenyls, 16 organochlorinated pesticides, 14 brominated flame retardants and 25 polycyclic aromatic hydrocarbons present within the range of 0.005 to 1 μg kg(-1) and from 0.05 to 10 μg kg(-1) for fish muscle tissue and fish feed, respectively. For both fish and fish feed, the recoveries were at an acceptable level, between 70-120%.
The researchers noted that steric interactions during the mini-column cleanup could cause low recoveries for some samples of organochlorinated pesticides and polycyclic aromatic hydrocarbons. Despite this limitation, they maintain that this GC–MS/MS method can reliably determine many other environmental contaminants found in fish and fish feed.
References
1. Sánchez-Avila, J ., et al. (2011) "Development of multi-residue method for the determination of organic micropollutants in water, sediment and mussels using gas chromatography-tandem mass spectrometry.", Journal of Chromatography A. 1218(38):6799-811
2. Kalachova, K. et al. (2013) "Gas chromatography-triple quadrupole tandem mass spectrometry: a powerful tool for the (ultra)trace analysis of multiclass environmental contaminants in fish and fish feed.", Analytical and Bioanalytical Chemistry, 405(24), (pp. 7803-15). doi: 10.1007/s00216-013-7000-4. Epub 2013 May 10.