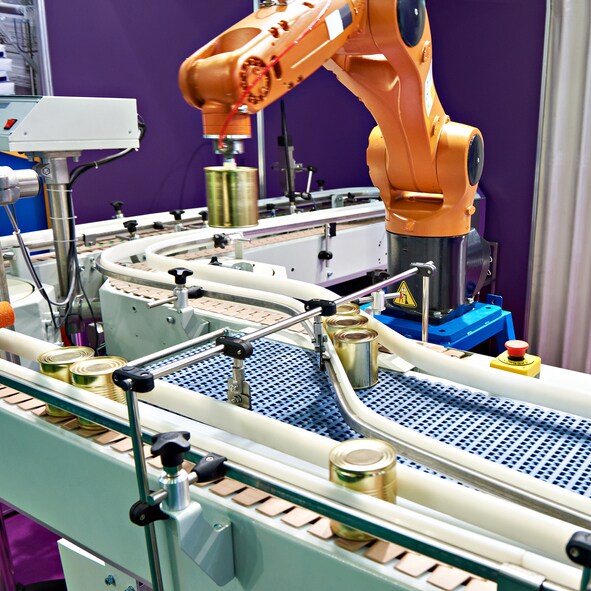 We've often written about metal detection technologies used in food production facilities as part of food safety and quality product inspection programs. But we haven't addressed what one should do after the metal contaminant is found and removed. That's where portable XRF analysis technology can be utilized.
Industrial food metal detectors have been an important safety tool in the food industry. These systems provide reliable, cost-effective protection from even the smallest metal contaminants found anywhere in a food-production process. It is not uncommon for pieces of mesh screen or broken-off parts from metal food processing equipment to find their way into packaged foods. Food metal detectors are one of the ways that food processors help ensure only metal-free food products are being shipped to consumers.
However, after a piece of metal is found, what does the operator do with it? Yes, it's great that it has been found and removed from the food processing line so it doesn't end up in a consumer's hands. But there are many questions that still need to be answered:
Where did the metal come from?
Was the metal piece contained in the raw materials or part of the machines running in the facility?
Is there a broken machine still running?
Has a blade snapped so slicing is no longer working properly?
Will there be additional metal pieces falling into food products that will need to be found by the product inspection equipment?
Should the line be shut down?
Should the whole facility be shut down?
Will a recall have to be made?
In food processing plants where there are hundreds, maybe thousands of screws, rivets, screens, and other metal pieces, it is difficult to know the origin of the metal contaminant. Thus, it may not be possible to prevent further damage to machines or stop metal contaminants from entering the process.
There is XRF technology available now that can help determine the contaminant source so fast corrective actions can be taken. Portable XRF analyzers, which are used to identify metals and alloys in manufacturing plants, can also be utilized in food processing facilities.
There is some preparation needed, though. First, the production line must be mapped. A spectral fingerprint library of potential contaminants must be created through XRF scans of parts and components throughout the line, using a portable XRF analyzer. This way, after a product is rejected by the product inspection equipment, the metal contaminant can be analyzed by the same portable XRF analyzer, right on the plant floor. The cause can be identified by comparing the contamination 'fingerprints' revealed through detection to the XRF analyzer's library that has been created. If there is a match, plant personnel will know the source of the problem and can immediately mitigate any issues – whether it's fixing the machine or replacing parts. If there is no match, then there is a probability that there were metal contaminants in the raw materials, so supplies should be thoroughly checked before entering the production process.
Many food facilities are using this 4-pronged approach to food safety and quality:
Inspect products or ingredients with Food Metal Detectors or X-Ray inspection systems
Detect by using technology that will determine contaminant type and size
Reject and remove product containing foreign body from the production line
Identify utilizing XRF technology to help determine contaminant source in order to implement fast corrective actions
The quicker the problem source can be identified, the minimal amount of downtime the facility will face, and the better your brand and bottom line are protected.
Editor's Note: If you happen to be going to the AOAC Annual Meeting September 6-12, 2019 in Colorado, Mark will be presenting on this subject in the Grand Ballroom on Tuesday at 10:15. You can also find him in Booth #409-411-413 where he will be happy to answer any of your questions.
Upcoming Event:
133rd AOAC International Annual Meeting
September 6-12, 2019
Sheraton Denver Downtown Hotel
Denver, Colorado 80202 USA
Booth #409-411-413
Presentation Session:
Food Fraud Detection Goes Mobile
Tuesday, September 10, 2019
10:15am ‐11:45 am
Grand Ballroom 2
Follow the show on twitter #AOAC2019AM and #FraudDetection2Go