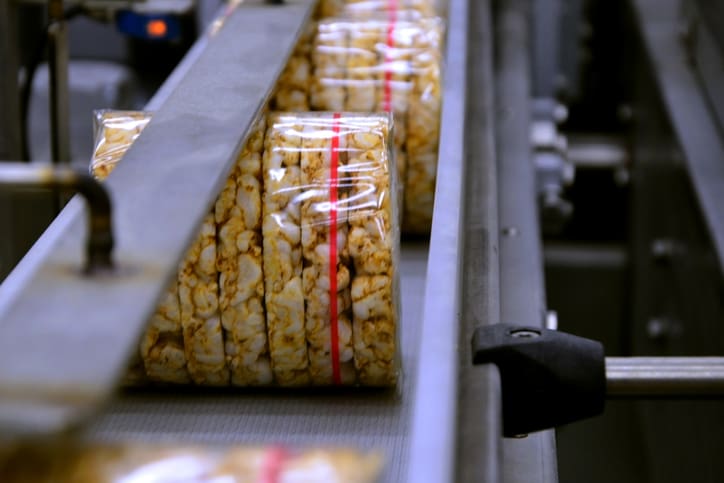 We have previously looked at "product effect" as one of the biggest food safety and quality challenges in the food industry, especially for baked goods, meats, and dairy products. Product effect becomes a challenge when a product has a conductive property which affects the magnetic field generated by a food metal detector. This effect is typically found in high salt, high moisture products and can affect the ability of the food inspection equipment to accurately 'find' metal contamination.
Orientation is a second challenge for many food metal detectors on the market today. It is not uncommon for pieces of metal, especially wires from filters and strainers to break off and contaminate packaged food products. This past year there was a voluntary food recall for cottage cheese due to the potential presence of pieces of metal that may have been introduced during production. The company worried that consumption of a sharp foreign material could cause injury to teeth, mouth, throat, stomach or intestine tissues if swallowed. Another voluntary recall involved infant formula because of the potential presence of metal foreign matter in a single lot of the product.
If food production companies utilize food metal detectors in their plants, they may think they have no reason to worry. However, they should be concerned that there is a possibility that their food metal detectors are not catching all foreign metal objects.
Food grade metal detectors find small particles of ferrous, non-ferrous and stainless steel using coils wound on a nonmetallic frame and connected to a high-frequency radio transmitter. When a particle of metal passes through the aperture, the electromagnetic field is disturbed under one coil, changing the output signal by a few microvolts. The output is used as an indicator that metal is present.
With some metal detector technology, an oblong contaminant must have a specific orientation to be detected when passing through the metal detector. Depending on how the metal detector is configured, horizontal, vertical, or diagonal contaminant orientation could go undetected. And in a fast-running food plant, there's no predicting how a piece of wire or shaving will land in a product.
Fortunately, there is technology that can alleviate this concern. A food metal detector that utilizes Multiscan technology can inspect product with up to five frequencies at once. A Multiscan metal detector enables users to detect not only smaller contaminants, but contaminants in the most challenging orientations. It is like having five metal detectors in one, which gives food processors the highest probability of finding ferrous, non-ferrous, and stainless steel metal contaminants. (See poster.)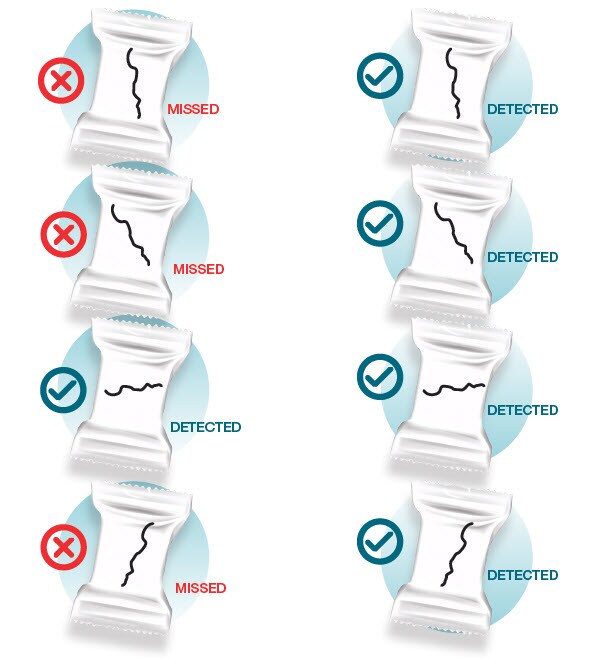 As previously mentioned, in addition to being able to detect metal at different orientations, Multiscan metal detectors also help mitigate product effect. Most metal detectors employ a limited number of frequencies (e.g., one or two simultaneously) to protect product from metal contamination. The goal has been to pick the best frequency to optimize detection. Unfortunately, this is a compromise because there is no single ideal frequency to detect any contaminant inside the product. The result is that sensitivity is impacted, leading to "escapes."
The best way to overcome the challenge of product effect is to utilize additional frequencies. Food metal detectors that are equipped with Multiscan technology enable operators to pick a set of up to five frequencies from 50 kHz to 1000 kHz. Running five frequencies helps to get the machine close to ideal for any type of metal you might encounter, optimizing sensitivity.
With Multiscan technology, contaminants can be detected at any orientation even in salty or moist products that exhibit difficult product effect. With the ability to employ five flexible frequencies at once, the probability of detection increases dramatically and escapes disappear…no matter which way you look at it.