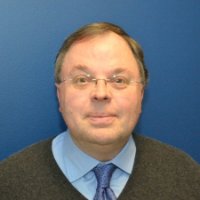 For Dr. Ian Acworth, a lifetime of work and research in the biochemistry field has always stemmed from an interest in the unknown components of the world around us. The roots of his curiosity, however, may have come from a television program about plants.
"I remember seeing a BBC documentary when I was maybe eight years old about this person that was growing weeds in his garden, and they turned out to be medicinal plants," said Dr. Acworth. "Everybody thought how ludicrous it was that somebody in England should have a garden devoted to these weeds. After that, I started getting more and more interested in medicinal plants, their benefits and why they are important."
Decades later, Dr. Acworth is still deeply involved in the field. He is currently working as the Director of Customer and Applications Support in Thermo Fisher Scientific's Chelmsford, Massachusetts office, where he focuses on the development and marketing of primarily HPLC-based applications.
"My group has been active in the area of natural products and botanicals for many years, and we've got a number of established customers we work with," said Dr. Acworth. "With Thermo now we can bring all these very powerful mass spectrometers to bear and really advance the field analytically. That to me is very exciting."
Dr. Acworth's early curiosity led to an extensive education in biochemistry at the University of Oxford, where he earned his B.A., M.A. and Ph.D. His doctoral research, which examined the effects of changes in peripheral metabolism on central neurotransmission leading to central fatigue, garnered the attention of the Department of Brain and Cognitive Sciences at MIT, where he was invited to be a postdoctoral fellow in 1986.
Soon after his arrival in Boston, Dr. Acworth had the opportunity to extend his research on central fatigue to one of the city's most storied events: the Boston Marathon. In a study that he still names as the most exciting work of his academic career, he was able to gather blood samples from marathoners before and after the 1987 race.
Based on his doctoral research, which indicated that the fatigue experienced by endurance athletes was not entirely accounted for by changes in metabolism, Dr. Acworth theorized that something was happening at a higher level. The entry of precursor amino acids like tryptophan that are involved in sleep and fatigue, he thought, could be sending a chemical signal to the brain telling the athlete to slow down, even while muscles could still function effectively. Studying the profiles of amino acids and hormones of the marathon runners provided evidence that he was correct, and further support was found in looking at the brains of animal models. As a result of the findings, sports drinks with extra amino acids were formulated to help runners perform.
Following his fellowship at MIT, Dr. Acworth went to work for ESA Inc., the manufacturer of the electrochemical detector he had used in his research. ESA was later acquired by Dionex before becoming part of Thermo Fisher Scientific. He also taught pharmacology as an adjunct professor at the Massachusetts College of Pharmacy and Health Sciences for more than 20 years, up until 2013.
Fully outside of academia for the first time in about 40 years, Dr. Acworth's curiosity has yet to wane. He is particularly interested in orphan molecules—molecules that have been identified but whose biological significance, much like the significance of the weeds in the documentary he watched as a child, has yet to be discovered and understood.
"They're metabolic dead ends and nobody knows what they do, so people dismiss them, but come to find out they play important roles in regulation of pathways and things like that," he said. "That sort of thing fascinates me."
Dr. Acworth also has his own garden, which he likes to tend to in his spare time, but he has not filled it with weeds in hopes of discovering new medicinal plants. Instead, he specializes in hellebores and daylilies.
To learn more about opportunities to work at Thermo Fisher Scientific visit http://careersat.thermofisher.com