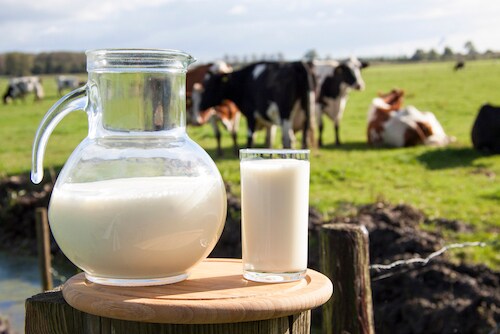 Milk is a staple of the western and, increasingly, the global diet. According to the World Health Organization, the average person living in an industrialized country – particularly in Europe and the United States – consumes more than 200 Kg of milk per year. People in Latin America and Asia consume nearly that same amount, however, their demand for milk products is expected to increase by 70% by 2030. With revenues worth $442 billion in 2019, the milk industry is witnessing a steady rise in both supply and demand that presents additional challenges to laboratory technicians that test milk for quality and safety.
Milk is a high-volume, fast-turnover and short shelf-life product that needs to be consumed fresh. As a result, food safety and quality testing are essential for this animal-based product due to the high levels of bacterial flora that can contaminate the supply. Listeria, Salmonella, Staphylococcus aureus and E. coli O157:H7 are just a few of the bacterial species that technicians may need to test for to ensure the safety and quality of the product.
Challenges for testing milk include large volumes to handle, multiple target organisms to test for, and high background flora that can overwhelm and mask target organisms. Traditional culture-based methods require several days of growth enrichment and plating taking up to five days or more before results can be processed.
However, PCR-based pathogen testing offers a much more rapid strategy to determine the results needed. Thermo Scientific™ SureTect™ Real-Time PCR Assay enrichment protocols are optimized and standardized to simplify the workflow of detecting microbial targets with single overnight incubation step and rapid PCR proteol for next-day results enabling critical decisions to be made sooner resulting in cost savings while also helping to reduce operator error. The SureTect PCR Assays have been rigorously tested and validated for a broad range of food and environmental samples including dairy samples. In addition, with the increasing trend towards consuming raw milk and products made with raw milk – with its increased likelihood of background flora – the SureTect Assays cope well with raw milk matrices.
Lab technicians want reliable, accurate, robust and easy-to-use workflows and the SureTect PCR Assays for detection of Salmonella, Listeria species, Listeria monocytogenes, Staphylococcus aureus and E. coli O157:H7 offer a simple solution with minimal room for error and automatically interpreted results. Testing dairy samples with the SureTect PCR Assays can provide significant speed improvements compared to culture-based methods while giving confidence in results and helping to protect manufacturers' brand and the safety of consumers.
Learn more about the SureTect PCR Assays and the benefits of using them to test for pathogens in dairy samples.
Post Author: Heather van der Hoop.