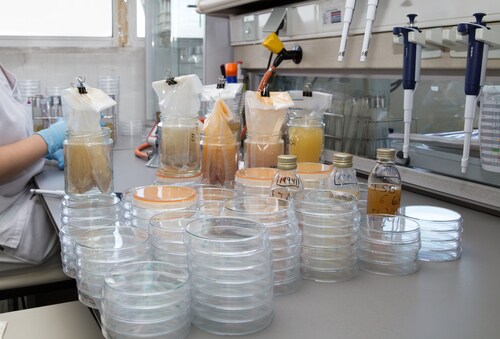 Workflow efficiency is a prime consideration for running a food safety lab effectively. One of the ways in which lab managers achieve this is through automation, freeing up skilled workers from manual and repetitive tasks such as media and sample preparation.
Products designed specifically for these automated workflows, such as the Thermo Scientific range of bagged enrichment media and allied instrumentation, simplify the switchover. In addition to saving time and money, automating labor-intensive tasks also helps reduce error from human interaction and delivers results faster.
Each food microbiology lab will require a different approach to automation. For example, a smaller lab will benefit from automation that reduces the requirement for equipment space, whereas a larger lab handling more samples might value sample handling, data centralization and instrument versatility for multiple tests. Experts suggest conducting a complete workflow analysis to identify steps in the analytical chain that might benefit. Managers should complete a cost–benefit analysis, including time saved, labor costs and materials, to make the decision.
Mme. Duplantier, quality Manager for A.Bio.C, an analytical service offering food and feed, water and environmental testing in southwest France, identified media preparation and sample handling as areas that have benefited from automation. The three A.Bio.C laboratories offer pathogen analysis, in addition to GMO detection and vegetal speciation for cereals. Foodborne pathogens under surveillance include Salmonella and Listeria species, plus Escherichia coli O157:H7. These are detected by both culture-dependent and non-culture-dependent tools such as polymerase chain reaction and immunoassay.
The labs handle more than 15,000 food samples per month. For pathogen analysis, sample preparation includes an enrichment step, which requires preparing 250 liters of Half Fraser Broth and 600 liters of Buffered Peptone Water per week. Before switching to Thermo Scientific Dry-Bags Enrichment Media, technicians prepared all enrichment buffers from dehydrated culture media. This required running autopreparators in a dedicated facility, which caused high levels of moisture in the environment. This caused problems with sterility, instrument function and maintenance, and delayed workflows.
According to Duplantier, switching to the Dry-Bags Media workflow has cut both costs and time spent in preparing the enrichment media. Within 20 minutes, technicians can prepare 20 liters of enriched media simply by adding the correct volume of filtered water to the sealed and sterilized bags of gamma-irradiated dehydrated culture medium. Furthermore, they can then hook the closed system up to a dedicated automatic dispenser for sample preparation, thus saving more time.
Since the Dry-Bags Media system is closed, the laboratories do not experience the same environmental moisture problems that caused problems in the past. Laboratory workers also report better working conditions since they do not come into contact with the culture media, a known potential irritant.
Automating procedures such as media and sample preparation to maximize staff abilities and enhance quality control also helps curb costs and provide a safer working environment. It also provides the possibility to focus laboratory resources, including staff time, on higher value activities.
Find out how making the switch to bagged media and automation can help your laboratory efficiency and safety at thermofisher.com/enrich, where you can check out our videos for more information and arrange for a specialist to contact you.
Reference
1. Case study: Thermo Scientific Dry-Bags Enrichment Media transform sample handling in A.Bio.C's laboratory