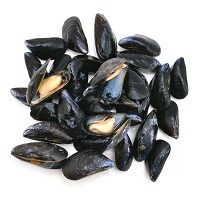 One emerging food-borne enteropathogen, Arcobacter butzleri, has received worldwide attention due to its prevalence and its potential as a human health hazard. Once excreted by human and animal hosts, this microorganism persists in the environment, potentially posing a threat to aquatic environments and the edible shellfish that thrive there. Since mollusks filter-feed, contaminated sea water could result in the bioaccumulation of A. butzleri and human consumption of these contaminated food products poses a potential public health concern.
Recently, Ottaviani et al.1 evaluated the risk of A. butzleri bioaccumulation in mussels. To do this, they collected blue mussels (Mytilus galloprovincialis) from the Adriatic Sea and inoculated their tanks with A. butzleri grown in Tryptone Soy Broth (Thermo Scientific). The researchers created four test tanks with final A. butzleri concentrations of 5×106 CFU/mL, 5×104 CFU/mL, 5×102 CFU/mL, and 0 CFU/mL (negative control). They counted bacterial colonies and confirmed their identity using Gram staining, oxidase testing, and polymerase chain reaction with genotyping of the rpoB gene.
They found that the negative control always produced negative results for A. butzleri. In the tanks that contained mussels, A. butzleri declined approximately 1 log every 24 hours. The tanks that did not contain mussels experienced reductions of less than 0.5 log every 24 hours for the first 48 hours. The researchers believe this difference points to the ability of the mussels to filter the microbes. They also note that the counts they performed on the digestive tissue and liquor from the mussels demonstrated no appreciable differences, indicating that digestive tissue may not be an elective tissue for bioaccumulation of A. butzleri.

Overall, the researchers determined that A. butzleri cannot be grown in cultivable form in seawater. They acknowledge that it is possible that the microbe could differentially select another species, such as zooplankton, to successfully root in seawater. However, in terms of both digestive tissue and liquor, A. butzleri does not bioaccumulate in mussels beyond the 96 hours evaluated in this experiment. Ottaviani et al. acknowledge that their study contains limitations, particularly the use of a single microbial strain that is not of marine origin. They assert that this study is preliminary and express their intent to further investigate the issue using additional strains and marine organisms for comparison.
Reference
1 Ottaviani, D. et al. (2013) 'Bioaccumulation Experiments in Mussels Contaminated with the Food-Borne Pathogen Arcobacter butzleri.' BioMed Research International, 153419 doi: 10.1155/2013/153419.