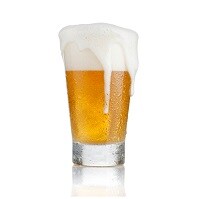 In a laboratory on the Wilmington, North Carolina waterfront, a team of chemists is hard at work. Through the powers of liquid chromatography and ion trap mass spectrometry, they are analyzing bottle after bottle of wine and beer.
Their mission: to find your next glass.
Next Glass, the startup company the chemists work for, is the brainchild of 25-year-old founder and CEO Kurt Taylor. Taylor is neither scientist nor wine expert, but a man with an idea; one that he believes will revolutionize the wine and beer industry.
"What we're working on is really groundbreaking stuff," Taylor said. "I think it does have the opportunity to change an industry, the way Pandora has changed music."
Comparisons between Next Glass and Pandora are common. The up-and-coming beverage "recommender," which will be available as an app for smartphones and tablets and also at kiosks in stores, will employ the same machine learning technology that allows Pandora to determine its users' preferences. The difference is that Next Glass will couple that software with science.
Frustrated by the subjective rating systems that serve as the only classification for wines and beers, Taylor wanted to develop a way to recommend beverages the way Pandora recommends music—by creating a playlist based on users' favorite songs.
The problem lay in classifying those beverages. Pandora relies on algorithms supported with data from experts who listen to and classify music. That approach would not work for Next Glass.
"We realized that we couldn't have people tasting wine and beer all day, because it would be a popular job and we wouldn't get much work done," Taylor said. "That's when we realized that wine and beer are different from music in the sense that you can run them through a scientific instrument and learn exactly what compounds make them up."
So he left his job as an investment banker in Charlotte and brought his idea to life.
Enter Next Glass's team of chemists. Headed by Chief Science Officer Dr. Connell Cunningham, the crew plans to test about 98% of the readily available U.S. market—more than 25,000 wines and 10,000 beers—by the time their application launches in June 2014.
Beverage samples are analyzed using a mass spectrometer with Thermo Scientific Orbitrap technology, providing information that is mathematically converted into a spectrum of compounds—thousands for each beverage—that functions as that beer or wine's "DNA."
Each bottle's DNA is added to Next Glass's Genome Cellar, the database from which the application's software matches it to users' preferences. User taste profiles allow them to discover new wines and beers that will align with their palate, and to merge profiles with other users to find a bottle that fits both of their tastes.
"This technology already exists and has been proven, as far as mass spectrometry is concerned," said Dr. Cunningham. "What's exciting is that we're applying it in combination with these algorithms in a way that can really help people."
Taylor hopes that Next Glass will become a valuable tool for consumers, transforming the purchase of new wines and beers from a daunting task into an enjoyable experience.
An unadventurous wine drinker for most of his adult life, Taylor stuck to Cabernets he knew well. "Interestingly," he said, "on the opposite end of the spectrum from a Cab would be a Pinot Noir. Through our software I've already found three or four Pinots that have a lot of the same chemical notes, and they've become some of my new favorites."
Through his combination of science and software, Taylor has found his next glass. Soon, Next Glass will help you find yours.
To discover more about Next Glass, read the full article on thermoscientific.com