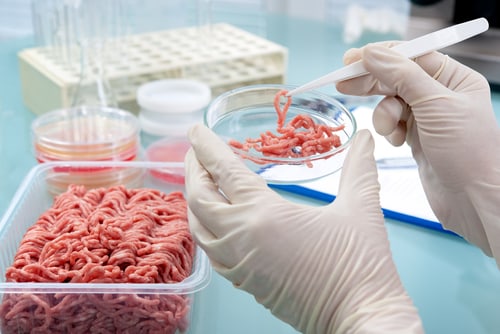 Foodborne disease (FBD) is a rising risk to the health of many communities around the world. Food producers involved in all steps, from primary source through processing to consumer retail, need to minimize and eradicate contamination risks. To accomplish this, many choose laboratory testing for microbial isolation or faster non-culture-based molecular identification methods such as the SureTect suite of analytical kits (Thermo Scientific) to alert them to the presence of FBD pathogens in product and the processing environment.
Common causes of FBD include Salmonella species, Escherichia coli species (including O157:H7 and non-O157 Shiga toxin-producing [STEC] species), coagulase-positive Staphylococcus aureus and Listeria monocytogenes. The risk of contamination with these pathogens is present at many stages during the production chain, from animal waste products such as feces or gut contents in the abattoir to unclean equipment and poor worker hygiene or infection during processing. To maintain food safety, food manufacturers must continually monitor both product and preparation environments, using accurate and efficient detection methods that alert management to potential hygiene breakdowns.
Regular and effective surveillance for monitoring the production environment allows producers to respond promptly to contamination, recalling product and cleaning up machinery. It should also prompt them to think about the worker training side of good manufacturing practices (GMPs), which researchers Leotta et al. (2016) found valuable in improving ground beef quality in their recent study of Argentinian butcher shops.1 Through quantifiable risk assessment followed by specific individual and group training plans, the researchers demonstrated a reduction in FBD pathogens.
With endemic occurrence of hemolytic uremic syndrome due to ingestion of enterotoxigenic E. coli transmitted in raw meat, Leotta et al. describe a pilot project initiated in butcher shops in Berisso, Buenos Aires, to tackle contamination of ground beef with FBD pathogens. This foodstuff is a common risk factor in cases of FBD since it is an ideal microbiological support medium for bacterial growth.
At the start of the project, researchers gathered environmental (equipment and buildings) and worker (hands and clothing) samples, in addition to testing ground beef product. They used non-culture-based methods in addition to traditional microbial recovery with in vitro culture tools such as cefixime-tellurite sorbitol MacConkey (CT-SMAC) agar (Oxoid, Thermo Fisher Scientific). From this comprehensive baseline evaluation, the team graded the 86 participating butcher shops according to risk: high, moderate or low. From 2010 to 2011, Leotta et al. collected 672 environmental samples and evaluated 172 ground beef products.
Following initial sampling, the team devised customized training programs for the shops. The programs included advice on suitable building conditions, equipment and tool hygiene, handler cleanliness, and pest and waste management. They delivered these in 12 collective meetings for 61 shops and 168 workers, and then completed a further 86 individual sessions for 498 handlers. In addition to training butcher shop workers, Leotta et al. also started a public awareness campaign, with 76 kindergarten teachers delivering consumer training materials to 4,506 students (aged three years to five years).
In 2013, Leotta et al. reevaluated the butcher shops, repeating the microbial assessments as before. They found that the number designated high risk reduced following worker training (n = 19 vs. n = 43), increasing those categorized moderate (n = 42 vs. n = 34) and low risk (n = 25 vs. n = 9). Furthermore, the team noted that microbial contamination in ground beef decreased for both FBD pathogens and indicator bacteria.
Although they did not obtain a significant reduction in Salmonella species contamination, Leotta et al. consider that the combination of microbial testing followed by customized training and risk quantification worked as a strategy for reducing FBD pathogens in ground beef.
This type of combination strategy may also be valuable to other producers, who may like to consider non-culture molecular detection methods for monitoring progress. Validated protocols such as the Applied Biosystems™ RapidFinder™ STEC Detection Workflow (Thermo Fisher Scientific) will screen raw meat such as ground beef for major FBD E. coli pathogens, including O157:H7 and six additional STEC strains, in 12 hours. Speed is essential to profitable food production, but only if it can be accomplished without sacrificing safety. Adding rapid and efficient workflows such as this can help improve GMPs and food safety without delaying product release to consumers.
Reference
1. Leotta, G.A., et al. (2016) "Comprehensive evaluation and implementation of improvement actions in butcher shops," PLoS One, 11(9) (e0162635), doi:10.1371/journal.pone.0162635.