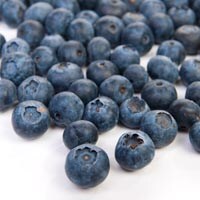 Anthocyanins are a class of flavonoid that is attractive for both its antioxidant properties and vibrant colors. These compounds are linked to protection against and treatment of a variety of health concerns. They also function as food additives for the purpose of coloration. For these reasons, there exists a market for simple, robust protocols for the qualitative and quantitative analysis of anthocyanins.
Recently, Cretu et al.1 used high-performance thin-layer chromatography (HPTLC) with bioassay to discern the specific anthocyanin content of five berry extracts, including acai berry, bilberry, blueberry, chokeberry, and cranberry. The researchers applied this efficient, low cost approach, which had previously demonstrated success in the analysis of animal feed, to the characterization of anthocyanins. They also collected MS spectra to confirm the findings.
The researchers used threefold determination to confirm the presence of anthocyanins in the powdered berry extracts. Bilberry boasted the highest anthocyanin content (59.5%), followed by chokeberry (15.5%), blueberry (2.5%), acai berry (0.14%), and cranberry (0.08%). Quantitative HPTLC revealed that the total anthocyanin content reported by the manufacturers for blueberry and chokeberry powdered extracts (2.5-3.5% and 15.4%, respectively) were accurate when compared to the findings of Cretu et al. However, the other commercially available samples lacked labeling information, and the manufacturers did not respond to requests for this information. The researchers agree with the European Food Safety Authority that all manufacturers should be required to list major anthocyanins, content levels, and extraction process details on labeling available for consumers.2
Cretu et al. also used bacterial assay with A. fischeri to evaluate the samples for bioluminescence. They determined that the apolar malvidin anthocyanin presented a particularly strong response within the various samples and that this response became stronger over the 30 minute testing window. Finally, the researchers used DPPH reagent to analyze the samples for radical scavenging activity. They found that the specific compounds pn-3-glc, mv-3-glc, dp-3-glc and cn-3-glc demonstrated radical scavenging and that the anthocyanidins present in the cranberry powdered extract were particularly active.
Overall, the researchers report that the HPTLC method presented rapid, easily visualized results for the quantitation of major anthocyanins as compared to HPLC methods, including approaches that promise rapid results. Indeed, the HPTLC method required 1.6 min for anthocyanin separation and 1 min for application per sample, which rendered the method faster than HPLC by a factor of 21. HPTLC also allows researchers to analyze for both anthocyanins and anthocyanidins using a single sample and provides for the cost-effective use of mass spectrometry instrumentation. However, HPLC remains the preferred method for evaluating for minor anthocyanins. Cretu et al. point to metabolism studies and functional food product development as areas of research that may benefit from this approach.
References
Cretu, G. et al. (2014) 'Analysis of anthocyanins in powdered berry extracts by planar chromatography linked with bioassay and mass spectrometry.' Food Chemistry 146, 104–112.
EFSA Panel on Food Additives and Nutrient Sources added to Food (ANS) (2013). 'Scientific Opinion on the re-evaluation of anthocyanins (E 163) as a food additive.' EFSA Journal, 11, 3145–3196.