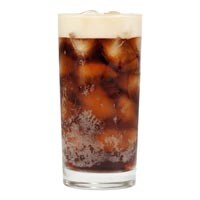 When manufacturers add caramel coloring to carbonated beverages and food items, some undesirable byproducts occur during the production process. These include 2-Acetyl-4-tetrahydroxybutylimidazole (THI) and 2- and 4-methylimidazoles (2-MI and 4-MI). Another undesirable compound, 5-Hydroxymethylfurfural (HMF), forms when carbohydrate-based food products undergo thermal heating. HMF can also be used to determine the quality of certain food products since it concentrates during storage. While it remains unclear whether these compounds have an adverse effect on human health, interested parties require a reliable method to quantify the compounds in order to provide consumers with accurate information. Wang et al.1 report on a novel high-throughput ultra high performance liquid chromatography (UHPLC-MS/MS) method for the simultaneous quantification of THI, 2-MI, 4-MI, and HMF in carbonated beverages. To accomplish this, the researchers used sonication to degass the samples prior to dilution and analysis by liquid chromatography using a UHPLC system, and a C30 reversed-phase column (Thermo Scientific). Using selected reaction monitoring (SRM), 17 samples were analyzed for THI, 4-MI, and HMF. Deprotonated molecular ions (THI) and protonated molecular ions (4-MI and HMF) were used as precursor ions, allowing to choose the two most intense subsequent fragment ions to represent quantitation (Q-SRM) and confirmation (C-SRM) values. Since 2-MI and 4-MI are isomers with identical molecular weights, their SRM transition values were identical. However, the relative intensity of each isomer differed with 2-MI demonstrating a more intense response at 83-42 and 4-MI at 83-56. For this reason, those relative values were used for each isomer's Q-SRM value. In all, 9 SRM transitions were processed into 3 timed segments in order to simplify the analytical process and improve quantitative accuracy. 2-MI was not detected in any of the carbonated beverage samples. 4-MI was found in samples 1 through 12 and sample 17, all of which contained caramel color. 4-MI concentration varied from 284 to 692 ng/mL. THI was only observed in sample 9 (root beer) at 6.35 ng/mL. HMF was found in all samples, excluding sample 14, at high concentrations (706 ng/mL to 4.94 μg/mL). The researchers note that some samples contained concentrations for the target analytes that were outside the calibration range and would benefit from reanalysis with differing dilution factors. The method described in this study met or exceeded industry standards. The lower limit of quantification (LLOQ) was 1 ng/mL for all target analytes. The method detection limit (MDL) ranged from 0.81 ng/mL to 0.89 ng/mL. Each analyte also demonstrated excellent linearity and a correlation of determination (r<sup2) greater than 0.999. Precision was also deemed excellent with a relative standard deviation (RSD) of <7% and accuracy values between 84% and 105%. Recovery values ranged from 89% to 100%. Overall, the researchers presented a streamlined approach for the quantification of undesirable compounds in beverages and food products. References
Wang, J. and Schnute, W. (2012)  'Simultaneous Quantitation of 2-Acetyl-4-tetrahydroxybutylimidazole, 2- and 4-Methylimidazoles, and 5-Hydroxymethylfurfural in Beverages by Ultrahigh-Performance Liquid Chromatography Tandem Mass Spectrometry' Journal of Agricultural and Food Chemistry, 60, pp. 917-921.
Do you work in this field? Let us know if you've found this useful, or would like to know more.