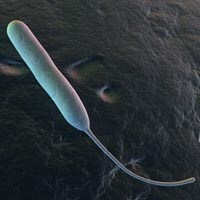 Description
Campylobacter are Gram-negative, motile (flagella), oxidase-positive, spiral-shaped rods (curved appearance).
The Campylobacter genus is part of the family, Campylobacteraceae. All species are microaerophilic organisms, having a requirement for reduced levels of oxygen (3 to 5% oxygen and 2 to 10% carbon dioxide for optimal growth). They are relatively fragile, and sensitive to environmental stresses (e.g., 21% oxygen, drying, heating, disinfectants, acidic conditions).
Two key species/subspecies within this genus are:
Campylobacter jejuni
Campylobacter coli
Both are clinically indistinguishable, although C. jejuni is recognized to cause the majority of diarrheal illness.
Incidence
An estimated 2.5 million infections every year result in 13,000 hospitalizations and 124 deaths. C. jejuni is the leading cause of bacterial diarrhea in the U.S.. Estimates indicate that approximately 100 people with Campylobacter infections die each year.
Infective dose
The infective dose of C. jejuni is considered to be small (<500 bacteria). Human studies suggest that about 400-500 bacteria may cause illness in some individuals, while in others, greater numbers are required. The pathogenic mechanisms of C. jejuni are not completely understood, but it does produce a heat-labile toxin that may cause diarrhea. C. jejuni may also be an invasive organism.
Foods affected
Undercooked/raw poultry and dairy (raw milk) products are the major sources of infection. Non-chlorinated water has been identified as a source of infection along with sausage and other meats, shellfish, fruits, and mushrooms.
Learn more about other common and less common food bugs in our series of posts containing Fact Sheets.
References
Center for Disease Control (www.cdc.gov)
Food Microbiology, Fundamentals and Frontiers, 2nd edition, Eds. M. P. Doyle, L. R. Beuchat, and T. J. Montville,2001, ASM Press, Washington D.C.
US FDA/CFSAN Foodborne Pathogenic Microorganisms and Natural Toxins Handbook (Bad Bug Book) (http://www.cfsan.fda.gov/~mow/intro.html)