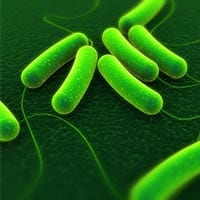 Description 
Escherichia coli (E. coli) are Gram-negative, facultative anaerobic, rod-shaped bacteria. E. coli are commonly found in the intestine of humans and warm-blooded animals. Many strains of E. coli are not pathogenic; however presence of E. coli in food is an indicator of fecal contamination.
E. coli isolates are serologically differentiated based on three major surface antigens: O (somatic), H (flagella), and K (capsule) antigens. Diarrheagenic E. coli isolates are categorized into specific groups based on virulence properties, mechanisms of pathogenicity, clinical syndromes, and distinct O:H serotypes. There are six types of pathogenic E. coli:
Shiga-toxin producing E. coli (STEC): may also be referred to as enterohaemorrhagic E. coli (EHEC)
Enterotoxigenic E. coli (ETEC)
Enteropathogenic E. coli (EPEC)
Enteroinvasive E. coli (EIEC)
Enteroaggregative E. coli (EAEC)
Diffusively adherent E. coli (DAEC)
The most significant group based on severity of illness is enterohemorrhagic E. coli (EHEC) and includes E. coli O157:H7 strains. E. coli O157:H7 strains are unusually tolerant to acidic environments and can survive at pH values of 4-4.5.
Incidence
In the United States, E. coli contaminated food causes approximately 1,000 reported disease outbreaks and an estimated 48 million illnesses, 128,000 hospitalizations, and 3,000 deaths annually.
Infective dose
In affected ground beef patties associated with disease outbreak, 0.3 – 15 CFU/gram were detected suggesting an infectious dose of <100 cells. However, indications are that the organism causes disease by adhering to the host cell membrane and colonizing the large intestine where they produce one or more Shiga toxins.
Foods affected
Undercooked ground beef and unpasteurized milk are well-recognized sources of E. coli O157:H7 infection. A variety of other foods have been identified as vehicles for transmission: roast beef, cooked meats, venison, jerky, salami, milk, yogurt, cheese, unpasteurized cider, orange juice, cantaloupe, handling potatoes, radish sprouts, alfalfa sprouts, fruit/vegetable salad (lettuce and spinach), and coleslaw.
References
Centers for Disease Control and Prevention. Estimates of Foodborne Illness in the United States.
United States Food and Drug Administration. Bacteriological Analytical Manual (BAM). Chapter 4. Enumeration of Escherichia coli and the Coliform Bacteria.
United States Food and Drug Administration. Foodborne Pathogenic Microorganisms and Natural Toxins Handbook. Bad Bug Book.
Food Microbiology, Fundamentals and Frontiers, 2nd edition, Eds. M.P. Doyle, L.R. Beuchat and T.J. Montville, 2011, ASM Pess, Washington DC.
This is an extract from a series of Application Notes on pathogens in the food industry. For the full PDF please click on the attachment. For more Application Notes, please visit Thermo Scientific's food library.