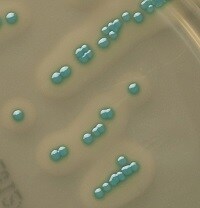 Description
Listeria are Gram-positive, non-spore forming rods containing flagella. The genus Listeria contains at least six species:
Listeria monocytogenes
Listeria innocua
Listeria ivanovii
Listeria seeligeri
Listeria welshimeri
Listeria grayi
All are Gram-positive, non-spore forming, catalase-positive rods, which often form short chains, and which use flagella for motility.
L. monocytogenes, consistently associated with human illness, is widespread in nature and has been isolated from soil, vegetation, marine sediments and water. It has been identified as the cause of listeriosis in humans and can initiate growth at temperatures from 0 – 45 °C and at pH values of 4.4 – 9.6.
Incidence
There are nearly 2,500 cases of listeriosis annually in the US, leading to almost 500 deaths per year. The vast majority of cases are sporadic, making epidemiological links to food very difficult. Those at highest risk include those with compromised immune systems, including cancer patients, individuals taking immunosuppressive drugs, alcoholics, pregnant women and persons with low stomach acidity.
Infective dose
The infective dose of L. monocytogenes is unknown but is believed to vary with the strain and the victim. From cases contracted through raw or supposedly pasteurized milk in susceptible persons, fewer than 1,000 total organisms may cause disease.
Foods affected
Ready-to-eat processed foods pose the highest risk for Listeria contraction as they are usually preserved by refrigeration and offer the appropriate environment for multiplication during manufacture, aging, transportation, and storage.
L. monocytogenes has been associated with such foods as raw milk, supposedly pasteurized fluid milk, cheeses (particularly soft-ripened varieties), ice cream, raw vegetables, fermented raw-meat sausages, frankfurters, deli meats, raw and cooked poultry, raw meats (all types), and raw and smoked fish (including shrimp, lobster, and surimi).
Learn more about other common and less common food bugs in our series of blog posts containing Fact Sheets.
References
Center for Disease Control (www.cdc.gov)
Food Microbiology, Fundamentals and Frontiers, 2nd edition, Eds. M. P. Doyle, L. R. Beuchat, and T. J. Montville, 2001, ASM Press, Washington D.C.
US FDA/CFSAN Foodborne Pathogenic Microorganisms and Natural Toxins Handbook (Bad Bug Book) (http://www.cfsan.fda.gov/~mow/intro.html)