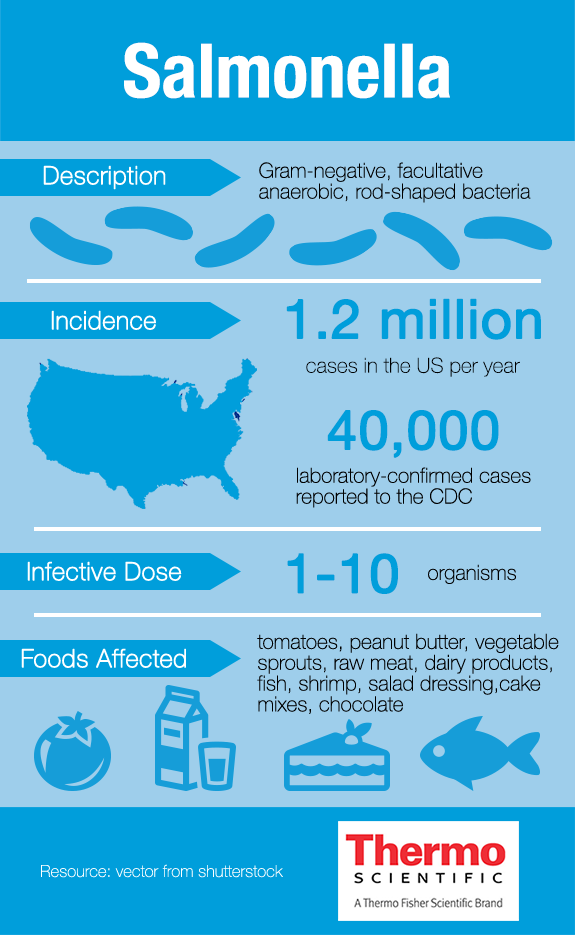 Description 
Salmonella are Gram-negative, facultative anaerobic, rod-shaped bacteria; most with peritrichous flagella. Salmonella spp. belong to the family Enterobacteriaceae. Salmonellae are chemoorganotropic, with an ability to metabolize nutrients by both respiratory and fermentative pathways.
The bacteria are oxidase and catalase negative, grow optimally at 37°C, and catabolize D-glucose and other carbohydrates with the production of acid and gas (hydrogen sulfide). However, they readily adapt to extreme environmental conditions and can grow at both elevated and refrigerator temperatures.
Incidence
Salmonellosis is the most frequently reported cause of foodborne illness. An estimated 1.2 million cases occur annually in the United States; of these, approximately 42,000 are laboratory-confirmed cases reported to Centers for Disease Control and Prevention.
Infective dose
The ingestion of 1-10 cells can constitute a human infectious dose. Low cell numbers can be highly infectious, especially in high fat foods where the microorganism can escape the gastric acidity and be released in the intestine through bile mediated dispersion of the lipids.
Foods affected
Despite the general perception that chicken and egg products are the primary source of Salmonella infections, many outbreaks in recent years have been associated with tomatoes, peanut butter, and vegetable sprouts. Other affected foods include: raw meat, milk and dairy products, fish, shrimp, salad dressing, cake mixes and chocolate.
References
United States Food and Drug Administration. Bad Bug Book: Foodborne pathogenic microorganisms and natural toxins handbook: Salmonella
Centers for Disease Control and Prevention. Salmonella.
Food Microbiology, Fundamentals and Frontiers, 2nd edition, Eds. M. P. Doyle, L. R. Beuchat, and T. J. Montville, 2001, ASM Press, Washington D.C.
This is an extract from a series of Application Notes on pathogens in the food industry. For the full PDF please click on the attachment. For more Application Notes, please visit Thermo Scientific's food library.