Description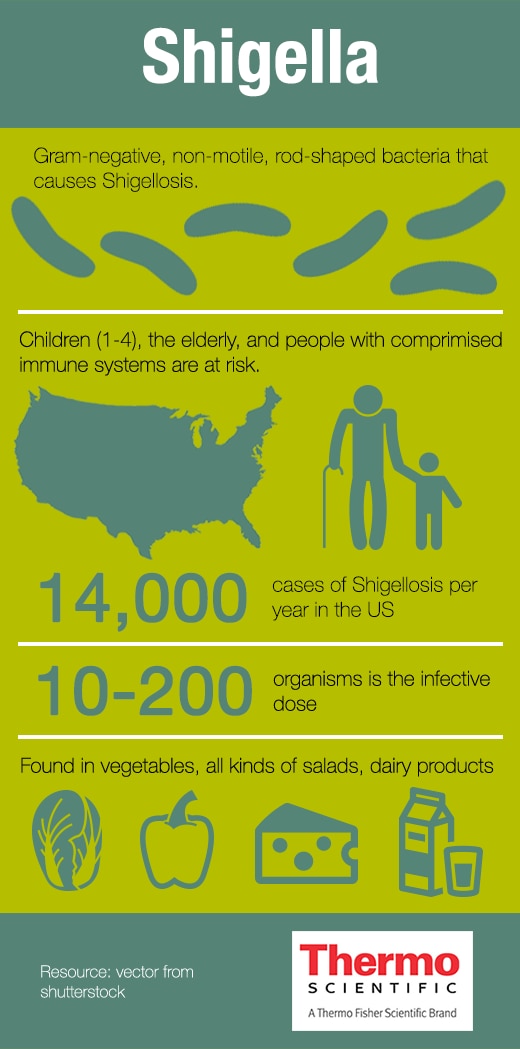 The Shigella genus is composed of Gram-negative, non-motile, rod-shaped bacteria which are non-spore forming and highly sensitive to changes in the environment. They are heat sensitive and unable to survive dairy processes such as pasteurisation and cooking temperatures.
There are several different Shigella species which include:
S. dysenteriae
S. flexneri
S. boydii
S. sonnei
Shigella species cause Shigellosis (also known as bacillary dysentery) which ranges in severity from mild through to life threatening.
S. dysenteriae is the only strain responsible for the Shiga toxin (Stx) that is also produced by some strains of Escherichia coli. This causes the severest form of dysentery which is characterised by bloody diarrhoea, fever, vomiting and abdominal cramps. Infection can also lead to haemolytic uremic syndrome (HUS) and haemorrhagic colitis. S. flexneri and S. boydii cause infections which are either mild or severe.
The S. sonnei strain causes the mildest form of Shigellosis; symptoms of which include watery diarrhoea.

Incidence
No one is immune to developing Shigellosis. However, children between 1 and 4, the elderly and people with compromised immune systems, are particularly susceptible. Around 14,000 cases of Shigellosis are confirmed in the US each year, although it's probable that milder cases are not reported. Shigellosis is the sixth most common foodborne illness, with a higher percentage of outbreaks in the summer months.
Infective dose
The number of organisms needed to cause disease is low, at around 10-200 cells.
Foods affected
Shigella bacteria are present within humans and higher primates and are often found in unclean water which has been polluted with contaminated faeces. Shigella can be found in raw foods which have become contaminated during preparation. Vegetables, all types of salads, unpasteurised milk and dairy products are at particular risk of contamination.
Shigellosis develops via the faecal-oral route:
from the ingestion of food which has been handled by people with poor hygiene
foods which have been left standing for a long period of time, attracting flies and other insects that have previously inhabited faeces
raw foods such as vegetables which have been grown in a field where there is infected sewage
immersion in water which has been contaminated with Shigella bacteria.
References
United States Food and Drug Administration. Bad Bug Book: Foodborne pathogenic microorganisms and natural toxins handbook
Centers for Disease Control and Prevention: National Center for Emerging and Zoonotic Infectious Diseases.
Learn more about other common and less common food bugs in our series of Thermo Scientific Application Notes, some of which are available to download as PDFs. Alternately, visit our food document library.