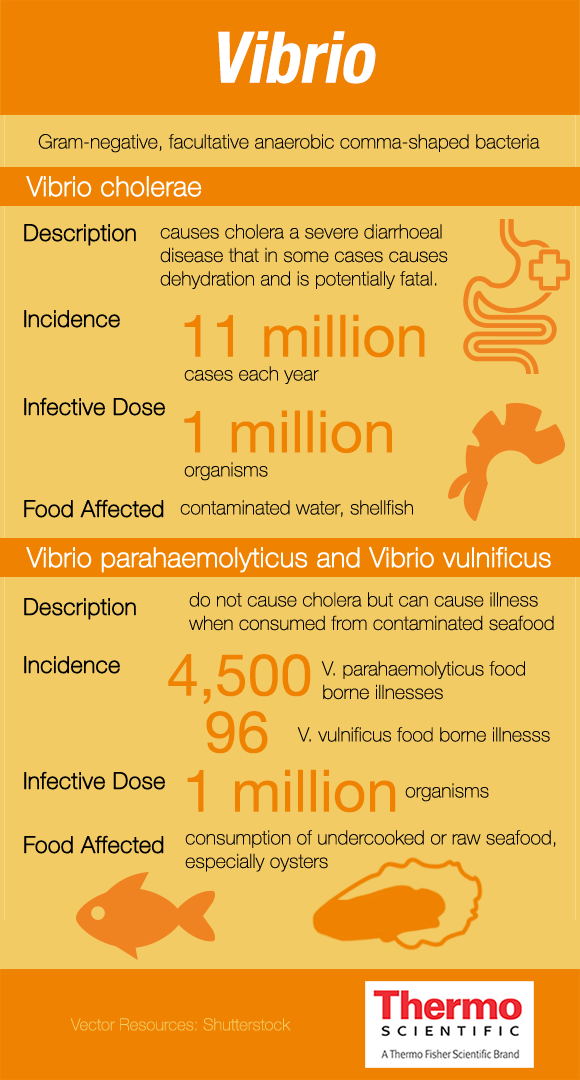 Description
Vibrio is a genus of Gram-negative, facultative anaerobic comma-shaped bacteria. Many species of Vibrio are halophilic (salt-loving) and therefore can be found in seawater and seafood. Large numbers of Vibrio are found in the summer months as the temperature of water rises, causing them to multiply. This genus contains several pathogenic species, including Vibrio cholerae, Vibrio parahaemolyticus and Vibrio vulnificus.

i) Vibrio cholerae
V. cholerae causes cholera, a severe diarrhoeal disease that in some cases causes dehydration and is potentially fatal. There are four serotypes of V. cholerae that cause disease: O1, O139, non-O1 and non-O139.
V. cholerae O1 and O139 are the most robust forms of this pathogen, able to withstand a high concentration of salt. They produce the cholera toxin (CTx) and toxin co-regulated pilus (TCP) which are responsible for epidemics/pandemics of cholera, particularly in countries with poor sanitation levels.
V. cholerae non-O1 and non-O139 do not produce CTx but are a known cause of gastrointestinal diseases and, in extreme cases, can cause septicaemia in people with compromised immune systems.
Incidence
The World Health Organization (WHO) estimates that the amount of cases reported each year represents just 5-10% of the number of actual cases due to poor surveillance systems. There are an estimated 11 million cases each year, excluding outbreaks.
Infective dose
The infectious dose is quite large; around 1 million organisms is required to cause disease and it can take a few hours up to 3 days for symptoms to appear following ingestion. Symptoms are usually resolved within 7 days, but can take longer with O1 and O139 cases which may require antibiotic treatment and rehydration therapy.

Foods affected
Exposure to contaminated water supplies is the most likely cause, although cholera can develop from the consumption of infected contaminated shellfish.
ii) Vibrio parahaemolyticus and Vibrio vulnificus
These species do not cause cholera but can cause illness when consumed from contaminated seafood. Although illness caused by V. vulnificus is less common than other Vibrio species, the mortality rate is very high and it is the leading cause of death related to seafood.
Incidence
There is an estimated 4,500 cases of food-borne illness caused by V. paraheamolyticus each year in the US; outbreaks are more common in warmer months. There are an estimated 96 cases of food-borne illness caused by V. vulnificus each year in the US.
Infective dose
Like V. cholerae, the infectious dose of V. vulnificus and V. parahaemolyticus is high at around 1 million organisms. Following ingestion, the incubation time of V. vulnificus is 1 – 7 days. In comparison, the incubation time of V. parahaemolyticus is much shorter; symptoms can occur less than 24 hours after consumption. Both V. vulnificus and V. parahaemolyticus can cause:
Gastroenteritis. In healthy individuals, symptoms include nausea, vomiting, fever, abdominal cramps and watery diarrhoea. This is usually self-limiting, lasting 2 to 8 days.
Septicemia. In immunocompromised individuals (i.e. those with serious illnesses such as liver disease, cancer and HIV/AIDS), both V. vulnificus and V. parahaemolyticus can cause septicaemia that may develop from gastroenteritis. The mortality rate of V. vulnificus blood stream infections is very high at around 50%.
Wound infections. These can occur when handling shellfish or exposing wounds to contaminated water but cases of this are rare.
Foods affected
Most cases are caused by the consumption of undercooked or raw seafood, especially oysters. A less common source of infection is exposure of open wounds to warm seawater. 

Learn more about other common and less common food bugs in our series of Thermo Scientific Application Notes, available to download as full PDFs. Alternately, visit our extensive food document library.
References
Vibrio infections – Food Safety.gov
United States Food and Drug Administration Bad Bug Book: Foodborne pathogenic microorganisms and natural toxins handbook
Centers for Diseases Control and Prevention: Vibrio parahaemolyticus and Vibrio vulnificus.