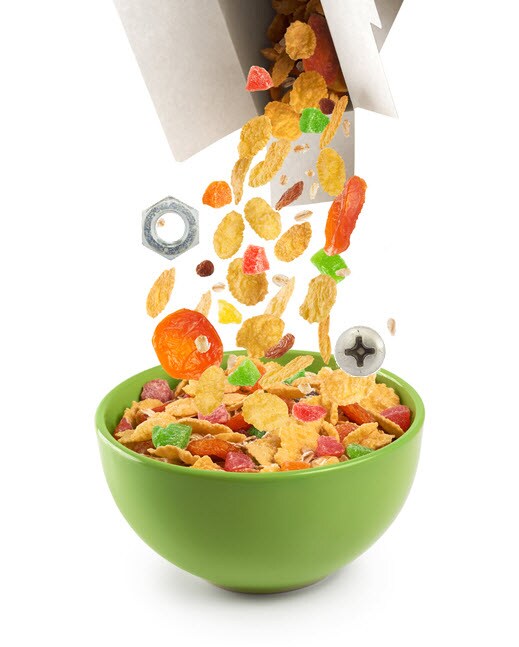 In a previous article, Test Before You Buy Food Inspection Equipment, we wrote about the various ways food metal detector results could be influenced by different factors. For example, before running products through a food metal detector, one should understand the orientation and presentation of the package, the temperature of the product, and the placement of the metal. Each of these elements can be critical to helping ensure the performance of your food metal detectors meets your expectations.
The placement of the metal is one of the most difficult elements to test, yet this is a critical step. Testing should be performed in multiple locations on the package; a thorough assessment includes tests on the package's leading and trailing edges, absolute center, and sides to help ensure the detection of metal within it.
Just as important as the metal's placement is its type. There are basically two kinds of metals: ferrous and non-ferrous. Ferrous metals include mild steel, carbon steel, stainless steel, cast iron, and wrought iron. Non-ferrous metals include aluminum, brass, copper, nickel, tin, lead, zinc, and precious metals. (If you are really interested in knowing more about the different types of metals, read Ferrous Metals Analysis: Making Sure You Have the Right Alloy for the Right Application in our sister blog, Analyzing Metals.)
If a piece of mesh screen, a loose bolt, or a broken piece of equipment has contaminated your packaged product, why should it matter whether it is ferrous or non-ferrous? If these contaminants are all made of metal, shouldn't they all be detectable by any industrial food metal detector? The problem is that some metal detector frequencies can only find ferrous metals, while others will only find non-ferrous ones.
Food metal detectors help find small particles of metal using coils wound on a nonmetallic frame and connected to a high-frequency radio transmitter. When a particle of metal passes through the aperture, the electromagnetic field is disturbed under one coil, changing the output signal by a few microvolts. This output is used as an indicator that metal is present, so the product can be kicked off the line and the appropriate personnel can be alerted.
Ferrous metals are easiest to detect due to their magnetic properties. Magnets attract iron. An electromagnetic field reacts most when a ferrous metal is in it, and the lower the frequency, the greater the reaction. Stainless steel, which contains only a small amount of ferrous metal, has little or no magnetic property. To find stainless steel, a metal detector must run a high frequency to induce a current in the stainless steel, creating a new field that interacts with the metal detector's original field to cause a signal.
To complicate matters, a metal inside a product that has product effect can be hidden by the product at one frequency and not at another. The interaction of the metal AND the product is what is important — not just the metal type. (Read more about product effect in How to Beat The Challenge of Baked Bread's Physical Properties During Inspection.)
We previously addressed frequency in the article What Is the "Best" Frequency for a Food Metal Detector? and explained that most metal detectors on the market use a limited number of frequencies (e.g., one or two simultaneously) to help detect any type, size, or shape of metal anywhere inside both dry and "wet" (conductive/magnetic) products. The goal has been to pick the best frequency to ensure 100% detection.
But as you can see in this video taken at one of the large packaging shows, no one frequency can detect both types of metals. When a piece of stainless steel — a non-ferrous metal — was run with the product as a contaminant, it was detected at high frequencies (725 kHz and 900 kHz). A metal detector running at a 450 kHz frequency would not have detected this particular metal. You might think a simple solution is to operate a high frequency at all times. However, when a piece of ferrous material was included with the product, only low frequencies detected it. So what's the solution? Because you can't predict whether ferrous or non-ferrous metal will be the problem along your line, it's time for multi-frequency detectors. When it comes to detecting metal in food products, the more frequencies, the better.
Using multiscan, multi-frequency technology, packages can be scanned with up to five completely adjustable frequencies at a time to find previously undetectable metal types and sizes. With multiscan food metal detectors, you pick a set of up to five frequencies from 50 kHz to 1,000 kHz, and the technology scans through each frequency at a very rapid rate, effectively acting like five metal detectors in one.
With multiscan technology, it doesn't matter if the contaminant is ferrous or non-ferrous metal; it's just a contaminant that won't reach the customer.
Learn more about multiscan technology: