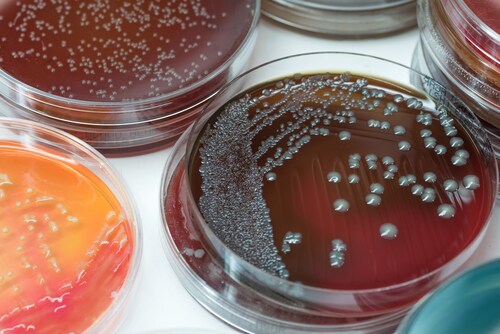 Culture media preparation is one of the routine tasks common to many microbiology laboratories. This is true in the food industry, where producers regularly monitor food and environmental samples for spoilage and pathogenic microbes as an early indication of breakdown in processing hygiene.
It might be routine, but did you know that there are key steps to follow for success in culture media preparation? The way you handle your culture media—from storing it before preparation, to lifting the agar plate lid, to incubation—affects your results. Selective media cannot select for pathogens if the starting materials are poor quality, compromised or contaminated.
Problems caused by faulty culture media preparation include:
Reduced growth/recovery rates

Atypical colonial morphology

Inhibition of target organism

Failure to inhibit competing flora

Reduced shelf life of prepared medium
Bacteria and other microbes use a culture medium as a synthetic nutritional substrate that mimics optimal conditions for growth. To get a representative microbial population from samples, it is important to give the very best growth conditions that support microbial flora. Furthermore, when dealing with pathogen isolation, it is essential to provide conditions that help select for low-abundance populations amidst flourishing background species. Starting with a good-quality medium prepared to give optimal support is key to success.
We've listed a few things to remember to get you started, so you can show some good laboratory practice love to your microbial culture media reagents.
Storage
Good storage is key. Don't put your dehydrated medium packs on any old shelf in the lab; pay attention to the surrounding environment. Is it too hot, too cold, getting a direct draft from where technicians vent the autoclaves? Although Thermo Fisher Scientific media are securely packaged, packaging alone cannot protect against extremes of temperature or moisture. Heat will alter protein profiles and other nutrients, while moisture will wreak havoc on powdered reagents. If the dry media is clumped, you can be sure that moisture has crept into the package and nutrient levels for microbes have been affected.
Preparation
Do all staff members know what they're doing? Don't leave culture media preparation to the newbie in the lab until they have been properly trained by an experienced technician. Make sure they know how to use equipment for weighing, measuring and so on, and that they have the right labware for mixing media. There's nothing worse for accuracy than using a flask that's too small, for example, or trying to measure the correct volume of water with a cylinder that's too large for the job.

Sterilization
Sterility matters in culture media preparation; it's the most common area for things to go wrong. It is essential that the stated directions are followed when sterilizing culture media so that vital microbial nutrients and other factors aren't destroyed and so that toxins aren't developed through excessive heating. For example, did you know that microwave sterilization is not advised? Although microwaving is a great way to heat up leftovers (although we're hoping you don't do this in lab facilities), inconsistency and temperature gradients generate hot spots that can damage media. Using autoclaves or media preparators with cycles that enable rapid heating and cooling is best.
Additives
If you're preparing selective culture media from scratch in the lab, it's likely that you need to supplement the base media with antibiotics and other selective agents. As well as making sure the additives are properly stored before use, knowing how and when to add them to media will help to ensure success. Do they dissolve better in hot or cold solution? Is it okay to add before sterilization, or will heat processing destroy activity? Always follow the directions provided by the supplier or in the method you are following to prepare the culture medium.
Storage (again)
And back to storage. Investing in time and staff for culture media preparation pays off only if you pay attention to storing the finished plates and broths. Storing in the right conditions maintains product quality to ensure optimal growth and culture conditions for microbial isolation. Correct storage can also extend shelf life and reduce waste.
There's certainly a lot to remember, but ensuring that staff pay attention to these five key steps should translate into successful culture media preparation for valid laboratory results.
Want to learn more? Check out our handy guide, which expands the five key steps with helpful tips and hints for successful culture media preparation. Download our guide to media preparation here.