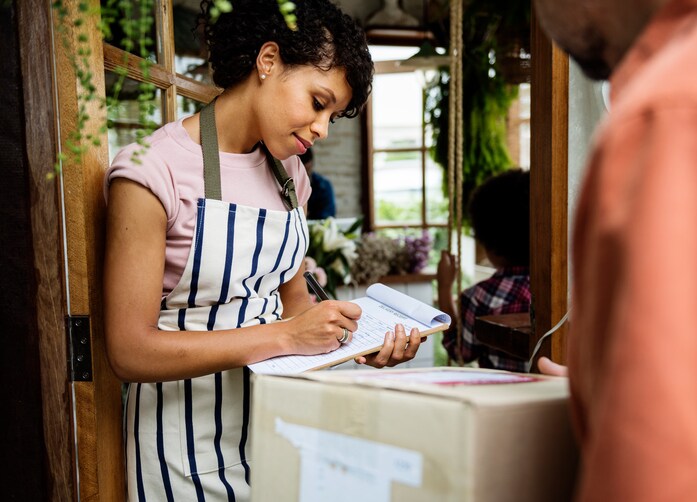 In some cultures, people visit their local butchers, bakers and produce shops every day. They buy only the ingredients they need to prepare the day's meals. A new trend has developed where one can obtain a day's worth of ingredients but avoid the multiple trips to different shops. And high-tech companies are taking advantage of this trend.
Several years ago, supermarkets started offering customers the ability to order groceries online and have them delivered, thus avoiding a trip to the grocery store after a long day at the office or a tiring commute. More recently, specialty companies have offered a meal in a box. This is not the TV dinner of the 1950s or today's convenience meals found in the freezer aisle of every supermarket.
This latest trend is a service that mails you a box of fresh, premeasured ingredients with the recipe included. It's similar to the buy-only-the-ingredients-I-need-for-one-meal shopping habit, but there's no need for trips to several shops every day.  And it's similar to prepackaged food, because your whole dinner comes in one box, but you get to make it yourself. CNN recently published an article on this trend and the competition that is brewing among the boutique shops, the large grocery chains and the online shopping sites to gain new customers and investors.
The one issue that all these online providers share is making sure the ingredients that are being supplied from food manufacturers are quality products. With competition heating up, consumers will choose the suppliers who have the highest-quality ingredients. If a package arrives that is missing products, the company's reputation is at stake. Can you imagine opening up a box and finding that the pasta package is only half filled, or a 16-oz can contains only 12 oz of a main ingredient? Or what if a critical ingredient was not included? What's the use of paying for premeasured ingredients if the measuring is off or an ingredient is missing? Having to run to the store to pick up something that wasn't included defeats the purpose of purchasing the service. And if too much of a required ingredient is included, the customer may not realize it, and it might throw off the recipe. Even if it doesn't matter to the taste buds, it matters that companies are giving away product and losing profit.
Worse yet, what if consumers find stones mixed in among the bag of grains or a piece of metal nestled in the flour? They might cancel their subscription on the spot. And they will probably light up their social media accounts with what they found, or didn't find, in their expensive box.
Technology to Ensure You Get Everything You Expect
There is technology readily available to help ensure that these issues don't crop up very often. A checkweigher weighs every product in motion and classifies, counts and rejects products that are off spec. Checkweighers help ensure that the weight of a packaged product being shipped out the door matches the weight on the label, and can even confirm that all the intended pieces are included in the final package. (You can view a video of how a checkweigher is used in a tortilla factory here.)
Food X-ray systems are now lower cost, more reliable, easier to use and more sensitive, and can detect a wider range of food safety and quality problems than before. Food metal detectors are a mainstay where the main concern is metal contaminants. (For details about the two methods, read the previously published article X-ray Inspection vs. Metal Detection.)
The technology is here to help ensure that what's in the little bags, jars and boxes—within the bigger box—is a quality product and matches the amount that is noted on the recipe card. It's just a matter of the online providers making sure they are working with food suppliers who are using the best technology so that they can ship out the best products.