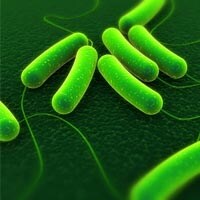 Digging through the archives of the Thermo Scientific Culture magazine, we found this article – where Professor Haroun N Shah and Professor Saheer E Gharbia of the UK's Health Protection Agency review how they tackled the challenge of identifying the toxicity of a rare E. coli strain during the Germany 2011 outbreak. The outbreak resulted in the presentation of a large number of cases of haemolytic-ureamic syndrome (HUS), which implicated the Shiga toxigenic enterohaemorrhagic E. coli (EHEC) strain. However, the unusual genotype of this strain prevented an accurate identification of its origins and the cause of the outbreak. The Health Protection Agency collaborated with Thermo Fisher Scientific to apply an innovative form of mass-spectrometry combined with a proteomics approach, based on the nano-LC-MS/MS system (liquid chromatography tandem mass spectrometry). They used this approach to identify the offending strain, building up a profile of its pathogenic markers and virulence factors. The result was the identification of a unique variant of the 0104:H4 agent, which had acquired the ability to produce the deadly Shiga 2 toxin and was responsible for the mass outbreak of food poisoning. How did it all start? May 2011, Germany: a deadly outbreak of foodborne illness was recorded which was caused by the rare serotype E. coli 0104:H4 strain. This outbreak resulted in over 4,000 reported cases of E. coli which included a high percentage of patients presenting with HUS, that implicated the Shiga toxin Escherichia coli (STEC) 0157:H7 strain. Things didn't match up However, clinical laboratory tests discovered a serotype characterisation which matched this strain to the 0104:H4 pathogen. The 0104:H4 species is categorised as enteroaggregative E.coli (EAEC) which does not have the capacity to produce Shiga toxin, but the symptoms presented by these patients suggested the opposite. Unique pathogen These analyses suggested a unique strain which combined features from enteroaggregative E.coli (EAEC) and enterohaemorrhagic E. coli (EHEC). It possessed the enterocyte effacement pathogenicity island but also exhibited aggregative factors which are attributed to EAEC. It was able to attach itself to epithelial cells within the human intestinal tract where it produced Shiga toxin 2, causing cell death and manifesting itself as E. coli poisoning with symptoms such as abdominal cramps, watery then bloody diarrhoea and a high risk of developing HUS. Research challenge This unusual mosaic pathogen hampered efforts to isolate the strain and determine the source of the outbreak, which put undue pressure on microbial diagnostics laboratories. They needed to understand this strains ability to produce toxin proteins which cause foodborne illness and use this information to develop an appropriate treatment programme. Continuation of the outbreak posed a series of questions which required a methodological solution.
Was this an entirely new E. coli strain, or
an EAEC hybrid species which produced Shiga toxin, or
an EHEC hybrid that had aggregative properties?
Conventional mass-spectrometry methods utilise MALDI TOF-MS (MALDI time-of-flight mass spectrometry) which is effective at identifying bacteria strains based upon detecting amino acid sequences. This effectiveness combined with its usability has resulted in a database of more than 500 pathogenic species, which makes it an ideal method for identifying normal bacteria strains. However, this method is less effective at identifying individual ions which characterise the mass spectrum of a pathogenic strain – and there was nothing in the database to match this latest E. coli strain. Time for a new approach The nano-LC-MS/MS system is a bottom-up approach whereby proteins are extracted from the unidentified strain, and then broken down into peptide fragments for analysis (see Figure 1 (for a clearer rendition see original article)). The peptides were searched against protein databases in order to identify their derivation. The derived proteins were then used to identify the bacteria strain. This process was applied to five strains of the STEC 0104:H4 species. Two parallel methods were employed and the recorded MS/MS peptides were matched against databases to identify specific proteins. These peptides were then searched for virulence and E. coli factors and EHEC/EAEC virulence-dominant markers.
Results The mosaic E. coli strain virulence signatures were compared to EHEC and EAEC protein signatures and showed similar profiles for both. The nano-LC-MS/MS technique also detected expected features in this strain, such as the ability to produce Shiga toxin. The list of peptides was then filtered, excluding physiological and controlling proteins; the now simplified list was searched for E. coli virulence factors and resulted in a confirmation of expressed virulence elements of this mosaic strain. The conclusion was the identification of a unique mosaic strain of E. coli 0104:H4 which was categorised as an EAEC strain but with the capacity to produce Shiga toxin. Want to know more? Read the full article, with references, in volume 33 of Thermo Scientific's Culture magazine. For research use only, not for use in diagnostic procedures.