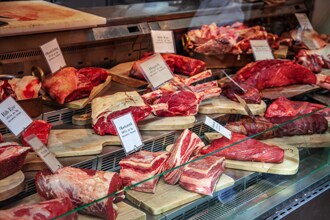 The inclusion of ingredients or substances not declared on a food label—is a serious issue in the modern world. Most food-processing companies deal with many different food products at the same time, and shared equipment and supply chains create the risk of accidental contamination. Much more insidiously, some food providers intentionally adulterate their products, usually to save costs by passing off a less expensive foodstuff as something more lucrative. Accidental contamination or deliberate adulteration of foods take away the consumer's ability to make informed decisions about their diet, leading to health risks and other consequences. Authorities, both inside and outside food-supply companies, devote substantial effort to assessing the integrity of their foods and ingredients, but as both inferior hygiene practices and deliberate adulteration reduce the cost of doing business, they remain tempting ways to increase profits.
Past food-adulteration incidents have ranged from olive oil mixed with less prestigious vegetable oils to high-end saffron extended with flavorless fillers. Perhaps the most famous recent food-adulteration scandal was the detection of horsemeat in a significant number of processed beef products in the UK in 2013. Processed meat is a common place to discover adulteration, particularly once the shape, size, and other distinctive properties of the original cut are lost. Later inspections of the British meat-supply chain have revealed that the problem of mislabeled food is ongoing. Earlier this year, the British Food Standards Agency undertook a detailed investigation of British meats from retailers, restaurants and food processing plants, checking 665 samples from England, Wales and Northern Ireland using standard genetic techniques.
Of the 665 samples, 145 contained proportions of something other than the ingredients specified on the label in high enough levels to suggest intentional fraud. The one-fifth of British meat samples found to be contaminated in this study included; samples that contained at least four different meat species, meat sold as ostrich that was actually much-cheaper beef, and lamb and goat samples containing beef and pork. The most commonly contaminated meat products were mince, sausages, kebabs, and similar foodstuffs in which processing makes the origin of the meat difficult to visually discern, especially once cooked.
The report also noted that an even larger number of samples had "incidental" inclusion of undeclared meat species low enough to suggest poor processing-equipment hygiene rather than deliberate adulteration. That is small comfort to people with religious or medical reasons for avoiding particular foodstuffs, who must face the entire food supply chain with mistrust in light of such widespread malfeasance.
Perhaps the most frustrating finding in the report, however, is that detecting food contamination and adulteration is currently limited by the availability and accessibility to suitable tests. Conventional assays based on PCR or ELISA-technology allow the analyst to check only for a small number of possible contamination targets and limit how many can be screened for in the available time and budgetary constraints. In most cases, this means that food safety agencies and internal quality controllers check only for the most common possible contaminants—typically other domestic animals processed in the same facilities or those commonly used as adulterants. It generally isn't possible to check for nearly as many targets as would be ideal. A determined fraudster with, for example, access to more unusual domestic animals, or even local wildlife, can therefore elude detection. Contracting out more expansive analysis to specialized laboratories is costly, and developing and using in-house assays for additional targets is both expensive and time-consuming, preventing many businesses from attempting either.
One technology that can be applied to avoid these limitations is next-generation sequencing (NGS). This state-of-the-art technique enables screening for multiple species in a sample with a single test.The method is growing in popularity, and some contract testing laboratories are beginning to offer NGS services for food testing. This year Thermo Fisher Scientific will commercialize the first complete NGS workflow for meat, fish and plant species that can be implemented into the routine testing laboratory.
The workflow utilizes kits developed by SGS, a leading inspection, verification, testing and certification provider, to uniquely barcode all DNA present in a sample. The uniquely labeled DNA from multiple samples can then be mixed. Thermo Fisher's Ion Torrent instrumentation is then used to prepare and sequence the barcoded DNA. Next the DNA sequences are compared to reference sequences in an extensive database of meat, plant and fish DNA developed by SGS to determine the species present. The pooled sequencing dramatically speeds up the screening process and simplifies the workflow with the resulting output specific to each sample thanks to the barcoding system
By reducing the difficulty, necessary expertise and cost involved, this workflow makes it possible to test for thousands of possible contaminants. The workflow has been successfully used simultaneously for meat- plant- and fish-based product analysis in a single NGS run. The whole process, from DNA extraction to species identification, takes under 24 hours. Much of the workflow is automated via the Thermo Scientific Ion Chef and Ion GeneStudio S5 Systems together with automatic software-based analysis for species, reducing the need for handling steps and the workflow's learning curve. This speed and simplicity makes this the first credible solution for in-house screening of samples for species identification in routine food analysis laboratories.
Learn more about how the NGS Food Authenticity Workflow can help you combat food fraud