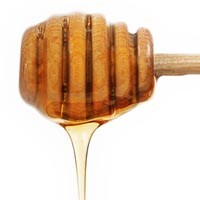 If you're thinking about the diet aspect of your New Year's Resolutions, then this might give you food for thought…
When protein-dense food products are exposed to reducing sugars, free amino acids, and creatine, heterocyclic amines (HCA) may form. These toxic compounds may pose carcinogenic risk to consumers.1
Recently, Hasnol et al.2 evaluated the role marinades play as HCA inhibitors by analyzing the effects of marinades composed from differing sugar sources on grilled chicken. To accomplish this, the researchers prepared standard marinades using 10g table sugar (95.1g sucrose/100g), 10.3g brown sugar (90.5g sucrose, 1.21g fructose, 0.99g glucose/100g), or 14.7 g honey (0.08g sucrose, 34.4g fructose, 30.2g glucose/100g). The researchers used standard measurement protocols and Thermo Scientific high performance liquid chromatography equipment for the quantification of amino acids, sucrose, reducing sugars, and HCAs.
All three marinade types demonstrated comparable internal temperatures and post-grilling weight reduction during processing. The honey marinade sample produced the lowest loss of mass (35.2%), most likely due to the increased viscosity of the honey marinade itself. The control sample and samples marinated with table sugar and brown sugar demonstrated mass decreases of 41.2%, 38.5%, and 38.4%, respectively.
In terms of amino acid composition, the marinated samples demonstrated significantly higher concentrations of histidine, arginine, and alanine and significantly lower concentrations of proline, valine, methionine, and phenylalanine as compared to the control samples. All other amino acids were present at comparable concentrations for both marinated and control samples.
Hasnol et al. analyzed the samples for HCA concentration, specifically interrogating for IQ, IQx, MeIQ, MeIQx, DiMeIQx, PhIP, norharman, AaC, and harman. Of these, IQ, IQx, MeIQ, MeIQx, DiMeIQx, and PhIP have been previously classified as likely carcinogens.1 The researchers determined that the chicken marinated with table sugar produced significantly higher concentrations of the first five likely carcinogens with concentrations of 27.3, 7.60, 9.03, 12.9, and 56.3ng/g, respectively, as compared to the samples marinated with either brown sugar or honey. Three of the likely carcinogens (IQ, IQx, and Di-MelQx) demonstrated the lowest concentrations in samples marinated with honey.
When compared to the control, samples marinated with table sugar reduced MelQx, IQx, and Harman below 40% and PhIP, MelQ, and norharman between 45% and 76%. No reduction was quantified for DiMelQx or IQ, and AaC was not detected. Samples marinated with brown sugar demonstrated a 77% reduction in PhIP and a 67% reduction in MelQx. The samples marinated with honey achieved the most notable reductions. The concentration reductions included MeIQ by 70%, PhIP by 66%,DiMeIQx by 78%, IQ by 78%, IQx by 46%, and norharman by 73%.
Overall, the researchers determined a significant positive correlation between sucrose and HCA concentration (with the exceptions of norharman and harman) in samples marinated with table sugar and a significant negative correlation between reducing sugars and HCA concentrations (with the exceptions of PhIP, MelQx, and Aac) for samples marinated with honey. These findings are consistent with previous assertions that the reducing sugars in honey prevent the formation of HCAs.3 Hasnol et al. recommend the preferential selection of honey as a sweetening agent for grilling marinades.
References
IARC (1993) 'Some naturally occurring substances: food items and constituents, heterocyclic aromatic amines and mycotoxins.' IARC Monographs on the Evaluation of Carcinogenic Risks to Humans, 56, 165–195.
Hasnol, N. et al. (2014) 'Effect of different types of sugars in a marinating formulation on the formation of heterocyclic amines in grilled chicken.' Food Chemistry, 145, 514-521.
Shin & Ustunol, Z. (2004) 'Influence of honey-containing marinades on heterocyclic aromatic amine formation and overall mutagenicity in fried beef steak and chicken breast.' Journal of Food Science, 69(3), 147–153.
ow your view.